Boston Marathon
Autistic Twins to Run Boston Marathon Once Again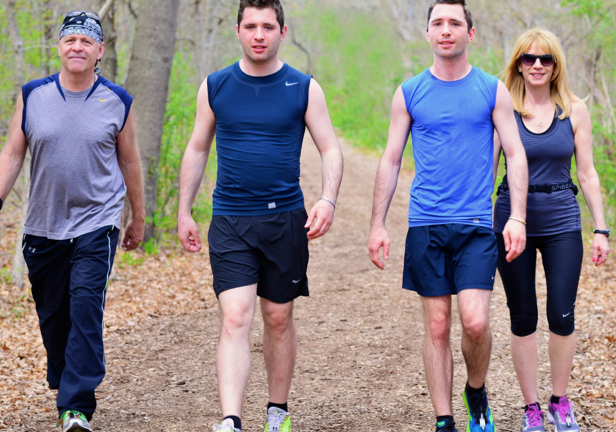 The Schneider family runs through its troubles.
Alex and Jamie Schneider are 24-year-old identical twins from Great Neck, New York. They are both nonverbal and require round-the-clock care, but on Monday, they'll be among those running the 119th Boston Marathon, after a year away.
Their father, Allan, will run with them. He started running with Jamie years ago, after he received a multiple sclerosis diagnosis.
His wife, Robyn, started running shorter distances with Jamie after enduring chemotherapy for an aggressive breast cancer. She recently completed her first half marathon, and has written a book about her family's experiences, Silent Running: Our Family's Journey to the Finish Line with Autism.
Robyn and Allan, who have been together for 30 years, received news of how severe the autism was when the twins were 5 years old.
"They're very low on the spectrum,'' Robyn recently told Boston.com. "Our sons will be dependent, but [running] gets them out into the world, and it's a wonderful feeling.''
Alex is particularly fast. His personal best is a hair under 3 hours and 27 minutes. Jamie's best time is just over six hours.
Theirs wasn't a running family – until they made it one.
Prior to discovering the twins' passion for running, Robyn said she and her husband had "no experience at all'' with racing. But running has proven therapeutic.
Not only does it mean quality time together, she says: It has also helped Allan's MS symptoms.
Asked for any running memories that stick out, she laughed. In the marathon two years ago, she said, he and her husband were running together.
"They stopped at one of the hydration stops,'' Robyn said, "and there was water and Gatorade in different cups on the table, and one special cup in the middle of the table.''
That cup belonged to Olympic marathon runner and U.S. half-marathon record holder Ryan Hall.
"My husband caught my son and grabbed it before he could drink it,'' she said.
The story made it into the book, which details the struggles and triumphs of dealing with the twins, as well as the couple's battles with MS and cancer.
Robyn got a chance to tell Hall her son's story in person, and they shared a laugh. He wrote a blurb for the book's back cover.
For all the good that running has done the family, the 2013 bombing nearly undid Jamie's progress, Robyn said.
Alex finished the race before the bombing, but Jamie was among runners who had to stop at mile 22. He was severely traumatized, his mother says, and was unable to lace up his running shoes for three months.
She's confident Jamie will successfully complete the race Monday. "Seeing him interact and get high fives and smiles from the runners, and for people to see that he can do it and be out in the world, it means so much,'' Robyn says.
She says Alex uses his obsessive-compulsive tendencies to his advantage as a runner. When he runs, she says, he is far less social than his brother, choosing instead to focus on the task at hand.
"He's getting there as fast as he can,'' Robyn says.
Read more coverage of the 2015 Boston Marathon.