Boston Marathon
Meet the New Face Behind the Chair of Team Hoyt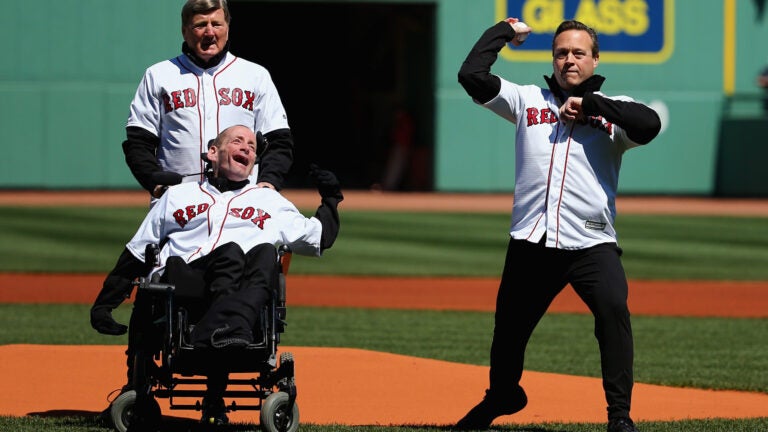 Though Dick Hoyt — one half of the wheelchair duo team that's been a fixture along the Boston Marathon route for decades — may have run his final Boston Marathon last year at the age of 73, Team Hoyt will be back at this year's race.
While Dick serves as Grand Marshal at the finish line, his son Rick, who was born with cerebral palsy, will participate with a new partner: Bryan Lyons. Lyons, who has known the Hoyts since 2008, ran the marathon as a part of Team Hoyt from 2009 to 2014.
Dick called Lyons in February 2014 to ask if he would be willing to run the race with Rick this year. Lyons told the Boston Heraldthat he was rendered "speechless,'' and accepted almost immediately.
"I am not replacing Dick — no one can do that,'' Lyons said in an interview with the organization Take the Magic Step. "I'm merely a fresher set of legs.''
Part of Lyons's training for the race involved pushing a wheelchair containing two 60-pound sand bags.
Lyons, 45, works as a dentist in Billerica and is an alum of the University of New Hampshire and Tufts Dental School. He's been a runner for years, but that hobby was sidetracked for several years after Lyons was struck by a drunk driver when driving home from work in 2001.
It took Lyons years to be able to run five miles without pain. What really got him back into the swing of things was participating in triathalons, which he told the Herald he got hooked on around 2006. Two years later he met the Hoyts.
While he hopes to run a good time, Lyons told Take the Magic Step that Rick's comfort during the marathon is his top priority.
"I know that if he's smiling when we cross that finish line, nothing else matters,'' he said.
Read more coverage of the 2015 Boston Marathon.