Boston Marathon
No Longer Running, Dick Hoyt Still a Fixture at Marathon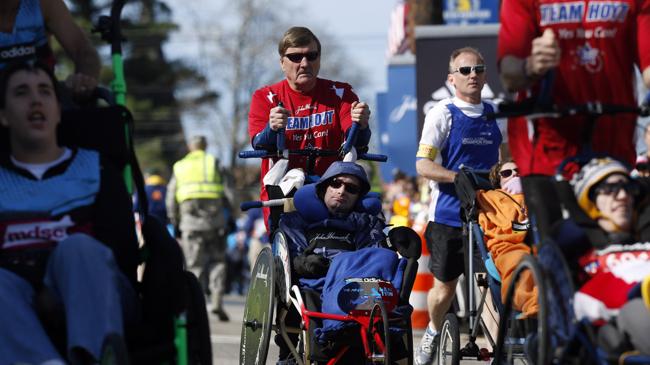 Few names have as close an association with the Boston Marathon as Dick Hoyt.
The Massachusetts native has pushed his wheelchair-bound son, Rick, along the lenght of the course 32 times since 1980, becoming one of the race's most recognizeable figures.
The 2014 marathon was his last as runner, but he'll be back as Grand Marshal this year, marathon organizer Boston Athletic Association announced last week.
"I got a letter in the mail from the BAA asking if I would, and I was kind of shocked,'' said Hoyt, 75. "I just think it's a great honor.''
As Grand Marshal, Hoyt will ride ahead of the elite group on race day, greeting spectators along the course before the runners arrive. Then, he'll join the mayor, governor and other dignitaries at the finish line.
Despite his dad's bowing out, Rick, 53, will again participate, this time pushed by Bryan Lyons, who has run with the Hoyt Foundation since 2009. The Hoyt Foundation is a non-profit formed by the Hoyt family that seeks to improve confidence and self-esteem among disabled youth in America.
Hoyt made the decision to bow out two years ago after chronic back pain left him hardly able to lift a cup, let alone jog 26 miles. He has since overcome the injury through weekly massages and core strengthening exercises, but has decided to forego marathons. He still plans to do about 20 races a year with Rick, just of shorter distances.
The 2013 marathon was to be Hoyt's last, but he delayed his swan song a year due to the bombing.
His new gig will be cushier than running the course, but Hoyt said there's little like the applause he used to get as he and his son passed spectators.
"I think it's really the greatest thing,'' Hoyt said. "We just love it so much, because there's so many people that say and email, 'we watch you go by, and as soon as you go by, we turn on our TVs so we see you go across the finish line.''
Hoyt had another honor this weekend: he was asked by the Red Sox to throw the first pitch at Sunday's game against the Orioles.
Hoyt has often been asked in the lead-up to this year's marathon whether he'll be sad to no longer participate, but he says as long as he gets to watch Rick, he'll be happy.
"It's not going to be sad,'' Hoyt said. "I'm 75. I really, really love running Boston – to us, it's the best marathon in the world. My big thing is for Rick to be able to continue…and there's tons of people who want to push Rick.''