Boston Marathon
And Now There's Video of Dan Koh's Finish Line Proposal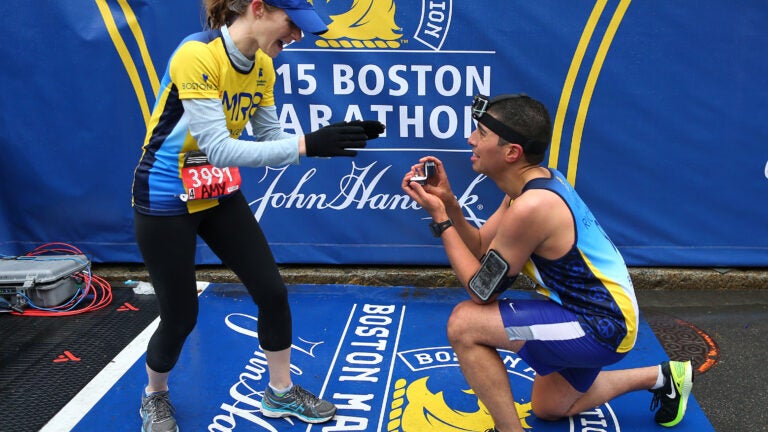 Dan Koh, Mayor Marty Walsh's chief of staff, proposed to his girlfriend Amy Sennett at the Boston Marathon finish line on Monday wearing a silly-looking GoPro on his head.
Now that we can see the heart-warming moment that was immortalized on video, the headgear seems much less silly. It's downright adorable.
[fragment number=0]
In the video, Walsh comes up to Koh, hugs him, and surreptitiously passes him an engagement ring box. Koh then turns to Sennett and gets down on one knee.
"Rain or shine, you stood by me,'' Koh says. "Every person makes their bets. Today I'm betting on you. Marry me?''
"Yes!'' Sennett says before he can even get the final words out.
Before that, Koh had arranged for friends to hold up 12 individual signs along the marathon route, each bearing a line from a poem Koh wrote for Sennett:
Amy, you've changed my life

We've been through it all

From Boston—(Kaya!)

To DC—(M Street!)

To New York—(Cramped Studio!)

To Philadelphia—(Talula's Garden!)

… and back.

There's a lot we have left to learn

But I know one thing for sure

I love you, and will love you, forever

You're the answer to all my questions

But I have one question left to ask …
Koh and Sennett now join the litany of runners who have proposed at the Boston Marathon finish line.
The couple met when Sennett asked her Harvard Business School classmates if anyone was willing to be her running buddy. Koh quickly said yes.
And now Sennett has done the same.[fragment number=1]