Boston Marathon
10 bars where you can watch the Boston Marathon live
The runners aren't the only ones who get thirsty.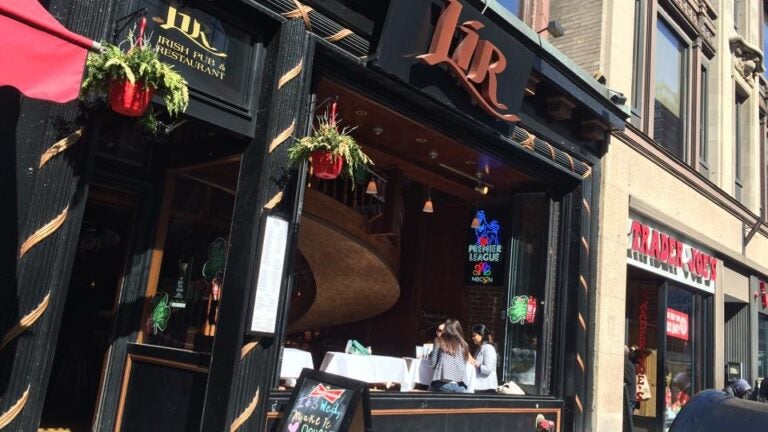 About 30,000 runners will fill the streets from Hopkinton to Back Bay on Marathon Monday. The big race will also attract around half a million fans along the 26.2-mile course, and history suggests they're going to want somewhere to grab a drink.
From the opening stretch in Ashland to the home stretch on Boylston Street, here are 10 bars worth checking out on Marathon Monday.
Prior to Heartbreak Hill
TJ's Food and Spirits
355 West Union St., Ashland
Located along Mile 3, TJ's is kicking off its annual Marathon Monday party at 6 a.m. this year. Known for its plentiful outdoor seating, robust breakfast buffet, and very reasonable pricing, TJ's is the ideal spot to watch the earliest stretch of the race.
The 4's Sports Pub
666 Waverly St., Framingham
The 4's Pub, just after Mile 6, has been serving thirsty patrons since 1933, making it one of the oldest bars on the route. The restaurant will be open for marathon festivities by 8 a.m., with $5 pizza, Bloody Marys, and $3 drafts.
Mile 24
Cityside
1960 Beacon St., Brighton
There isn't much in the way of bars along the marathon route after Framingham until just after Heartbreak Hill, when you get to Cityside in Cleveland Circle. Prized for its roof deck, which offers patrons a great view of the runners below, this bar fills up fast on Marathon Monday when it opens at 8 a.m.
The Publick House
1648 Beacon St., Brookline
With one of the most extensive beer lists in the Boston area, the Publick House is a prime place to stop in for a drink while enjoying the ambiance of the crowd and runners on the other side of Beacon Street. The bar opens at 11 a.m.
Mile 25
Audubon Boston
838 Beacon St., Boston
Located along the last stretch of the marathon course just before runners cross over the Turnpike and enter Kenmore Square, Audubon expects to be quite busy all of Marathon Monday. They'll start serving a condensed Marathon Monday menu when they open at 9 a.m.
Eastern Standard
528 Commonwealth Ave., Boston
The closer you get to the finish line, the crazier getting into a bar will be. With an impressive cocktail list and raw bar and a spacious patio, Eastern Standard is worth an early arrival. They will open at their usual time, 7 a.m.
Island Creek Oyster Bar
500 Commonwealth Ave., Boston
Island Creek Oyster Bar is a few steps up the street and a few steps up in price from Eastern Standard, but with plenty of window seats in this corner spot, you might find it worthwhile to stop in for some shellfish and a beer. They will open at 8 a.m.
Mile 26
McGreevy's Boston
911 Boylston St., Boston
With its numerous TVs, ample space, and open-air view onto Boylston, McGreevy's is a top location to check out runners on the home stretch. It'll be open at 8 a.m.
Lir
903 Boylston St., Boston
Lir already caters to raucous early-morning drinking crowds every week as the official bar of the Arsenal Football Club so it's definitely equipped for a capacity crowd of marathon fans. They'll be open for business at 8 a.m.
Whiskey's
885 Boylston St., Boston
The last in the stretch of Irish bars on the 800-900 block of Boylston, Whiskey's already gets full almost every weekend night with its affordable appetizers and upbeat atmosphere. Doors will open at 8 a.m.
Photos: The Boston Marathon through the years:
[bdc-gallery id="138482″]