Boston Marathon
Boston's late, great Eliot Lounge was the marathon's unofficial finish line
Stories from the legendary bar that closed 20 years ago.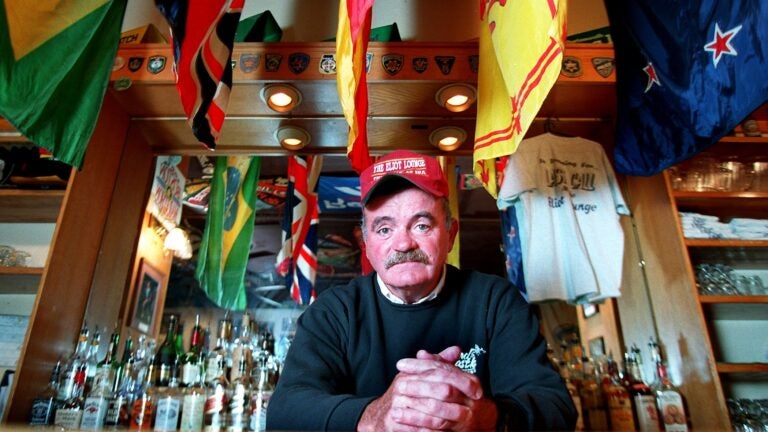 Before Tommy Leonard could become the embodiment of The Eliot Lounge, he needed to simply survive his earliest shifts at the iconic Boston bar.
According to Kathleen Cleary, longtime patron of the establishment who wrote about Tommy in her 2005 book If This Is Heaven, I Am Going to Be a Good Boy, a man pulled a gun on Tommy while he was behind that bar, asking for all of the cash in the register. Glancing at the gun, Tommy said, "Hey, I'm a runner. I know a starter's pistol when I see one."
Any former regular of the Eliot would not be surprised by Tommy's running reference, or even the possible life-or-death situation he may have found himself in. The gunman in the tale, however, responded by blowing a hole in the wall behind the bar, a crater hidden by a Guinness beer sign in the years that followed.
The Eliot Lounge opened its doors long before its most beloved bartender walked through them. The watering hole first came to the corner of Comm. and Mass. Ave in 1946. Over the next fifty years, it changed the way Boston would drink and socialize, especially on Marathon Monday. Two decades after the bar served its final drink, we remember the Eliot Lounge as both a hotspot for runners and hotbed for legendary stories.
According to a June 24, 1946 article in The Boston Globe by Joseph Dinneen, the Eliot was formerly a bank branch. It was converted and reopened as a bar by two brothers, Lawrence and Bernard Herman, a former Navy commander and an Air Force lieutenant colonel, respectively, with the help of their pre-war boss Paul Bromley. For the next 25 years, the Eliot would remain a stop-in spot for cheap cocktails.
A former Marine from Westfield, MA with a passion for distance running, Tommy would finish some 25 marathons through years, including the Boston Marathon. He was hired to keep bar during the day shift in 1972. With the new addition, the Eliot got Tommy's love for Boston's running community as well as his grassroots marketing skills. Both attributes would define the bar, particularly around the Boston Marathon. The year after starting, he came up with the idea to give a free beer to any marathon runner who brought his or her bib number to the Eliot after the race.
"I saw a gap," Tommy said. "I saw an opening, where runners should be able to get together and socialize. There was a need for that. When I used to run in the '50s, you got an apple, maybe, or a cup if you won, and then you were on your own. I wanted to bring people together."
The free beer campaign was a success, and the Eliot became the unofficial finish line for runners, whether it was a race day or not. After setting a Boston Marathon course record in 1975, Bill Rodgers declared in post-race interviews in front of national TV crews, "I'm going to the Eliot Lounge to have a Blue Whale."
"I had great bosses and they gave me a carte blanche," Tommy said. "They supported a lot of my ideas, a lot of which were pretty zany. But that's what keeps me going, I love people."
Officially named a marathon greeter by the Boston Athletic Association in the mid-1980s, Tommy became a race day institution. The Eliot did too. It hosted an annual $1 spaghetti feed the night before the race and became known for its international decor, hanging flags of the many countries that sent runners to Boston each April.
"Many bars with that home base feeling have people behind them who think they're running a community center instead of a business," Carol Stocker wrote for the Globe in 1981. "Bartender/running guru Tommy Leonard is at the heart of the Eliot."
In 1980, Rosie Ruiz was named the winner of Boston Marathon's women's division, but her victory was later overturned after she was found to have cheated. Tommy organized an award ceremony for Jacqueline Gareau, the Canadian runner who was later declared the winner. As she had not been properly honored after the race, Tommy convinced Gareau to return to Boston. Upon her arrival at the Eliot, she was serenaded with "Oh Canada" in a chorus of Boston accents.
"One of the first things that touched me is that when he'd meet you, he'd never forget you, and things about you," Cleary said. "There was always this very vivacious welcome. He had one of those brains where he would just never forget facts about people."
A drink with Tommy became routine for more than a few famous Bostonians. Writers from The Boston Globe, Boston Herald, and the Phoenix were known to bring their typewriters to the bar and plug away at stories while sipping pints.
Bill "Spaceman" Lee, the Red Sox lefty known for his idiosyncratic pitches and antics, would sneak across the street from Fenway during rain delays for a drink with Tommy until the game resumed. Upon hearing of Cincinnati Reds manager Don Gullett's induction into the Baseball Hall of Fame, Lee once told national reporters, "Gullet may be going to the Hall of Fame, but I'm going to the Eliot Lounge."
Audio above: Heidi and The Secret Admirers play their final song, the Thursday night before the marathon in 1978. (via tracksmith)
"It certainly had its place in time," Cleary said. "It was a combination of running in the U.S. really being at its peak, before cross fitness and triathlons came along. The interest in running was really huge in the '70s and '80s in America. And I'm sure that some of the shenanigans that went on were violating all kinds of rules and all that, but he was willing to just do it anyway. There were just so many factors that made it work so well at that period in time."
By 1996, the culture in Boston was changing around the Eliot. No longer could massive horn sections pack inside the small bar for impromptu performances, as they had so many times over the years ("I got a big kick out of inviting all of the college marching bands that came to town—Clemson and Stanford and all of them"). No longer was it no big deal for a horse to walk into this bar, and be fed White Russians by Tommy and friends ("Eddie Burke who worked for the sheriff's office organized that for my fiftieth birthday"). In September of that year, the bar closed its doors once and for all.
Despite the Eliot being a part of Boston's past, Tommy Leonard continues to be a present legend. He founded the Falmouth Road Race in 1973, which has only grown stronger over the years. In 1982, Mayor Kevin White declared July 20 to be Tommy Leonard Day in Boston, and officially dedicated the Tommy Leonard Bridge in Back Bay. Two days before the 2016 Boston Marathon, there will be a rededication ceremony at the bridge.
"I haven't been able to sleep the past couple nights because I'm really excited," Leonard said. "I'm going to see friends that I haven't seen for 25 years, and that, to me, is what the marathon is all about."
As for Tommy, he still works a bar, operating the opening shift at the Quarterdeck in Falmouth. In his 80s, mobility is his real difficulty, but he continues to dedicate time to the running community when he can. Tommy describes his walk as, "a cross between Groucho Marx and the Leaning Tower of Pisa," but he still hopes to catch the marathon on Monday. With friends by his side and the Eliot in all of their hearts, he'll remain proud of what the bar meant to people, and how it will be remembered for years to come.
"What I really wanted to do with the Eliot was extend some Beantown hospitality," Leonard said. "And I loved every second of it for 25 years. I met people from all over the world."