Boston Marathon
Two smart tips for finding a runner after they've crossed the Boston Marathon finish line
Family, friends, and runners: Take note.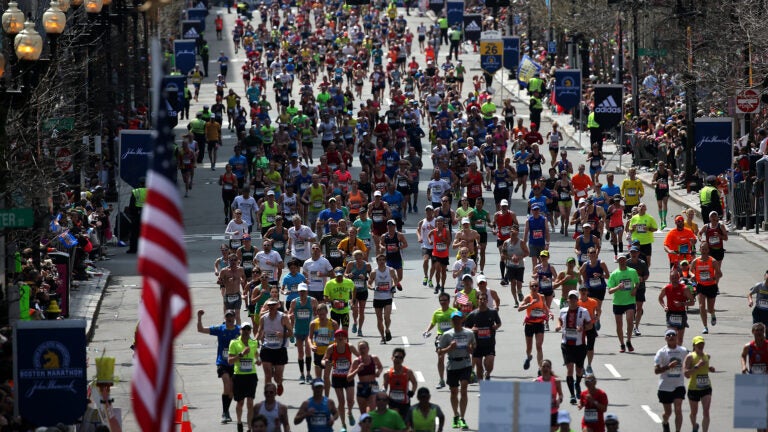 The Boston Marathon finish line, as exciting and remarkable as it is, can be chaotic when it's brimming with people trying to see their favorite runner cross the 26.2 mark. Just consider how congested the area between Hereford Street and Arlington Street on Boylston gets on a regular basis!
So how do friends and family navigate the finish line when trying to find their runner after he or she has finished? Here, some answers.
Tip #1: Use the BAA's family meeting area
For starters the Boston Athletic Association — the organization that puts together this fabulous race — makes it easy by distributing a detailed map of the race-day finish line area.
Here's the 2016 version:
While some runners might not be aware of the family meeting area—the block right by the finish line bookended by Clarendon and Berkeley Streets—it's actually useful and very organized. As shown in the map, lettered signs are posted in alphabetical order around the area so supporters can meet at the sign that matches with the first letter of the runner's last name.
Tip #2: Meet your friends and family off-site. Better yet, call ahead to secure a spot at a restaurant.
Sometimes the race-day chaos at Copley is understandably encumbering, and it might be easier to meet away from Boylston.
Louis Serafini, a 2015 Boston Marathon runner and team captain of Heartbreak Hill Running Company's running club, the Heartbreakers, said he picked a restaurant in Beacon Hill and met his supporters there last year.
"Designate a spot to meet your family and friends," he said, "a place where everyone can go, and reconvene there."
Serafini added that, even though he finished earlier than most runners, he anticipated the crowds getting too crazy to weave through.
"You're not necessarily going to have a charged phone or anything like that," he said.
The extended area of Boylston has barriers beyond the finish line that runners can't really pass over, he said. So he was able to see his family briefly, but the volunteers funneled the runners forward toward the bag check. (Note: Last year's bag check was located at Boston Common. This year, it has been moved up about a half a mile to the end of Boylston Street.)
"I had a couple of other friends who were running too and wanted to meet up, as well," Serafini said. "So we ended up going to the Red Hat, a bar in Beacon Hill. It worked out perfectly."