Marathon
Directing the flow at the finish line taught Kevin Cummings the meaning of the Boston Marathon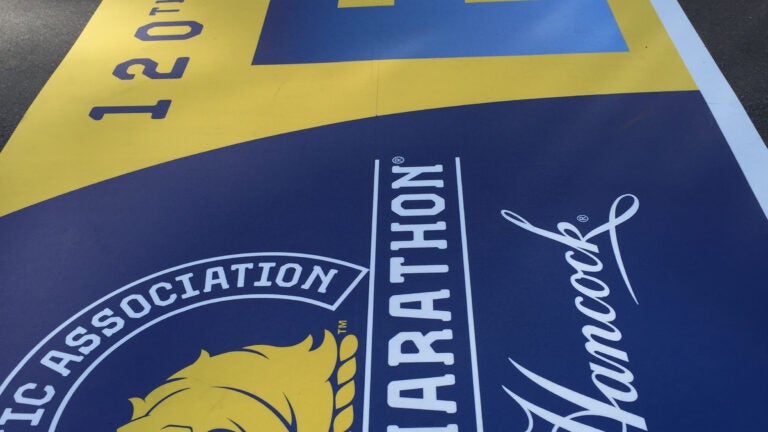 It's time for what Boston Marathon director of volunteer security Kevin Cummings calls "the new normal" to continue on Boylston Street. There will be no less vigilance or security at the finish line, just three years after one of the city's most horrific days. But in 2016, thanks to awareness and preparedness displayed by event officials the last two years, the Boston Marathon can continue to reassert itself as one of city's most jubilant traditions.
"There's always worry, there's always concern," Cummings said in the days leading up to Monday's running of the marathon. "I tell people, 'If you're not nervous, it means you shouldn't be doing it anymore.'
"You're always hoping that things go well, and you don't really know what's going to come your way."
It was in 2013 when Cummings and the marathon's technical producer, Ed Jacobs, rolling up to Kenmore Square in a golf cart, one mile from the fabled finish line, had the unexpected duty of delivering the message to confused and anguished runners, athletes who knew little more than a pair bombs had gone off along Boylston Street.
This was the end of the race.
"When we pulled up upon that scene, it wasn't really like, 'OK, we've got to tell these people that the race is over.' It's just trying to help them. They were scared, they were confused. We all were."
That was a first for Cummings, who has been involved with the marathon for some 30 years. It was a first for everyone. Never in history had the Boston Marathon been halted for any reason, be it searing heat, sleek springtime snow, or any other unforeseen impediment. The bombings posed a graver scenario for Boston Athletic Association officials to deal with.
But amid the horror of the day, there was a memory from that period of around 45 minutes in Kenmore Square that emerged for Cummings as the very definition of the Boston Marathon: The pursuit to reach the goal, one which even an act of terrorism failed to dismiss. In fact, when the racers finally got the clearance to make their way to Boston Common, Cummings said many of them started to run again, down Mass. Ave and toward the point between Exeter and Dartmouth Streets, parallel to the finish line on Boylston.
The race may have been called, but it wasn't stopping the collective marathon perseverance.
"It was a very inspirational moment to see people helping other people but also, what the race meant to all those people," Cummings said. "The lasting memory I always tell people about that moment was that here we are, about to tell them what's going on and they may have had loved ones who were down near the area where things went awry. But the No. 1 question was, 'Am I still going to be considered an official finisher in this race if I can't cross the finish line?' I mean, what the race meant to them, and person after person after person talked about that. 'Am I still considered official? Am I still part of this race?' Because for many people this was like their one chance to finish the Boston Marathon. It meant an awful lot to them."
That may have been the most profound moment, but it wasn't the first time Cummings had found some semblance of inspiration in athletic achievements and aspirations. While a student at Boston College, the Lexington native was manager of the men's basketball team, a squad that went to the NCAA Sweet Sixteen three times during his time at Chestnut Hill.
"That's when I really realized that I wanted to get involved with sports," he said.
Things may not be as rosy at the Conte Forum these days (the Eagles were only 7-25 during the 2015-16 season, including an 0-18 record in the Atlantic Coast Conference) but Cummings still does duty as the team's statistician, a role he also fills for Boston College football as well as the New England Patriots.
"It's just a good way to enjoy the games, working with statistics," Cummings said. "I take down the stats. I don't really analyze them. A lot of the time you're lucky if you know what the score was, you're so focused on what your individual tasks are."
He's been involved with the Massachusetts Amateur Sports Foundation and the Bay State Games, Massachusetts' annual slate of Olympic-style events for amateur athletes, since 1984, only two years following the Games' inception. He's been the group's executive director since 1999.
Cummings began his marathon obligations as a general volunteer for security and the marshal group. He soon became a sector captain, then was asked by race director Dave McGillivray to head the program in 1991. Under Cummings' tutelage these days are 350-375 volunteers and sector captains whose job it is to prevent chaos at the finish line area, trying to keep non-credentialed spectators away, as well as aiding with the athlete flow and getting all the runners out of the system after they finish.
"The footprint of the marathon is right in the downtown area," Cummings said. "There are some people who work that day and just trying to get people around to where they need to go without impeding the race course finish area is really a challenge. But many of the volunteers that work with us have done this for, gosh, 25 or 30 years. So they're very used to it and they have a lot of rapport with people in the area. So, it all goes well on race day."
Cummings points to the volume of peripheral residents and commuters as the biggest hurdles to face each year.
"To those who don't have a connection to the Boston Marathon, you're disrupting someone's normal routine," he said. "Trying to get them to their jobs, trying to get them through the city, trying to deal with their needs is always a challenge. As well as there's only so much space and having to tell people that they can't get right to the finish to see a loved one."
It's once the elite runners pass through Boylston Street's landmark finish, take photos, and go through the ceremonies process that Cummings said his crew tends to feel a tremendous sense of accomplishment. But it also serves as a pivot for what the security team has in store for the remainder of the day. The security members transition into ambassadors to the other thousands crossing the finish line in the hours that follow, answering questions like, "Where's my hotel? How can I locate the cell phone I lost? Where do I find the T?"
"It becomes a very busy role of just dealing with the challenges of these folks who have just finished this race," Cummings said. "Some might be disoriented and, obviously, tired, and just trying to — in a strange city — get them where they need to go."
It's once the "protocol" of the competitive races is finished that Cummings can soak up the real inspiration of the Boston Marathon, watching the dedication that runners have to the event.
"The admiration for the human spirit and the courage that these people have and the hard work that they put in, it's really inspiring," he said. "That's always my favorite time. Later in the day. Come up to the finish and see the sense of accomplishment on these folks. They're not going to win the race, they're going to finish in four, four-and-a-half hours. But it will be one of the lasting memories that they have in their lives. It's an honor to be part of that and try to help them in any way that we can."
After nearly three decades involved, Cummings is still excited about his role in the marathon in 2016. He's looking forward to watching Adrianne Haslet-Davis, the professional ballroom dancer who lost part of her left leg in the blasts of 2013, run the race for the first time. He'll take pride in once again working the finish line with his son Matt, 21 years after he was due to be born on Patriots Day, but instead decided to come two days early, perhaps, in part, just so his dad could still work the race.
In 2013, Cummings' Medford family suffered its own scare related to the bombings. His 18-year daughter, Erin, had been sitting in the stands at the finish line with her mother, directly across the street from where the first bomb went off. "Closer to it than I was," Cummings said. Erin suffered hearing loss for some time, something that Cummings is pleased to say that she has since overcome, ready to enter college in the fall.
Both Matt and Erin have a desire to enter sports management. "I wonder where they got that from," Cummings said with a laugh brimming with his pleasure in their shared interest.
Normalcy is what Cummings is hoping for during this year's race, and not only due to the events of 2013. He points out that this has really been a five-year process to get the race back to a semblance of normal. In 2012, heat in the 80's smothered the course, with temperatures even reaching 90 degrees in some areas. In 2014, there was a recovery theme that infiltrated every proceeding, then there was last year's rain that made the course a sloppy journey.
"We're just looking for a normal year when we can have just a field of 30,000 and a normal race day getting 30,000 people across the finish line," Cummings said. "Things have changed but things are starting to smooth themselves out. It's been a very inspirational past couple of years seeing some of the victims and how they've overcome their adversities.
"It's always a very exciting time. One of the most enjoyable weekends of the year for me and has been for a very, very long time."
Photos: The Boston Marathon through the years
[bdc-gallery id="138482″]