Boston Marathon
Women's marathon pioneer Sara Mae Berman ran Boston to see how fast she could go
"All I ever wanted was the chance to run and improve."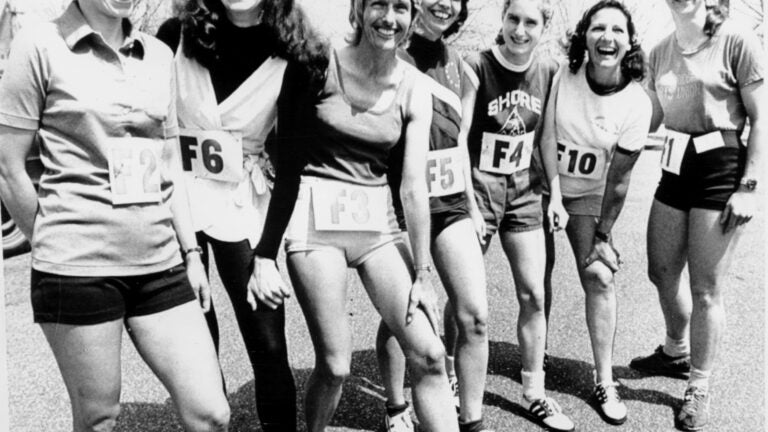 The following is adapted from First Ladies of Running, by 1968 Boston Marathon champion Amby Burfoot with permission from Rodale Books.
Sara Mae never expected to be an athlete or to compete in any sports. She was born in the Bronx, New York, and moved with her family to New Hampshire when she was four. The family owned a small but successful clothing company that specialized at first in sweaters, and then in khaki pants during World War II. Her father was a football fan, especially of Harvard football, and her mother claimed to have been a swimmer in her youth. But Sara Mae doesn't remember them as active athletes, not at all. "I was a proper little Jewish girl, and my parents were watchers, not doers," she says.
When Sara Mae was nine, her mother decided she should experience a life with more cultural enrichment. Every Saturday morning, they drove to downtown Boston, where Sara Mae attended a series of classes in piano, art, and ballet. After six months, Sara Mae's mother allowed her to go alone on the trains and subways to Boston. Sara Mae calls this her time of "structured independence." She learned how to do things on her own, but always with her family's support. Sara Mae met Larry while both were still high-school students. From the beginning, she felt more relaxed with Larry than with anyone else she had dated.
Larry and Sara Mae married, had their first two children in 1957 and 1958 and lived in several places in Providence and Boston, settling into a conventional family life much like any young couple at the time. Except that Larry, a former captain of the MIT cross-country team, began to enter New England road races. He liked the way that running kept him in good shape, and he thought it important for every person (including his wife) to cultivate the body as well as the mind.
One day, before heading to a nearby park where he did much of his training, Larry asked Sara Mae if she wanted to join him. He mentioned that he had just read an article theorizing that an individual's fitness and body condition at age 30 was likely to remain that way for the rest of one's life. This caused Sara Mae to pause and ponder. She hadn't reached 30 yet, but she could see it coming in a few years. So she asked herself these questions: Are you happy with your shape right now? Will you be content to stay the same for the rest of your life? In both cases, the answer was no.
That propelled Sara Mae to join Larry for his next workout in the park. They did a little warm-up, some stretching, and lined up beside each other on a cinder path. Larry didn't give Sara Mae any instruction, so she leaned forward tensely as she had seen track stars do on TV.
"One, two, three . . . Go!" Larry said.
Sara Mae blasted forward like a sprinter, leaving Larry in the dust. This lasted for about 50 yards. Then it was all over. She collapsed at the side of the path, her chest heaving, her lungs desperately begging for air. On her next visit to the park with Larry, Sara Mae started slower and managed to cover 100 yards or more. It was the start of a long, arduous process. But at least she had begun.
By 1965, Larry and Sara Mae had moved to Cambridge, Massachusetts, where they still live today. In Cambridge, they began to organize groundbreaking cross-country races for women. They believed that this was the best way to entice girls and women to run longer distances.
"I was never a self-promoter, but the Cambridge races taught me a lot," Sara Mae says. "I'd call in the results to newspapers, because we wanted people to read about what women runners were doing. In the process, I became more comfortable and better at talking to reporters and other people about our goals."
Thinking they should take the struggle to a higher level, the Bermans attended several national Amateur Athletic Union (AAU) conventions. They argued that the rules should be changed to allow women to run farther than 1.25 miles. But AAU kingpins weren't receptive. "They just laughed at us," says Sara Mae. "Worse, they said we were exploiting young girls by having them run longer races. Nobody said that about boys moving up to greater distances—only about girls and women. The top men in the AAU had an image of where women belonged, and that was in the kitchen."
Larry ran his first Boston Marathon in 1965. Sara Mae dropped him off at the start, and then sped to the finish with their three kids in tow. While she was waiting for Larry, a strange thought flitted through her mind: Maybe she should run the Boston Marathon. No woman had ever done this, but Sara Mae felt the time was right. She dropped the idea quickly when she considered how difficult it would be to train correctly while mothering three young children. Seeing Larry at the finish confirmed that the marathon was different, and much harder, than the every-weekend New England road races. He looked terrible. Despite finishing in a fine 2:54, he was pale, stooped-over, stiff-legged, and looked as though each mile had added a year to his age.
Sara Mae knew that this would never do for a woman finisher at Boston. If a woman runner looked like this, the press would attack ferociously. There would be more stories about her haggard appearance than about her triumphal achievement.
It had happened before, after all. At the 1928 Olympics, several women runners collapsed after the 800-meter race. Major newspapers expressed their disgust that women were being encouraged to attempt such debilitating events. While men received praise for do-or-die determination, the same behavior by women was seen as completely inappropriate. The Olympic Committee dropped the 800 from the women's Olympic schedule until 1960. Many decades later, analyses of the 1928 race footage revealed that the newspaper reports at the time had significantly distorted the events.
The year after Larry's first Boston Marathon, Roberta "Bobbi" Gibb became the first woman to run the Boston Marathon in 1966. While Gibb ran the following two Bostons and was joined by Kathrine Switzer and others, Sara Mae spent all three of those years on the sidelines. She was tempted to enter, but she set high standards for herself—an approach learned from Larry—and decided not to run a marathon until she felt fully trained to run a strong marathon. "I might have been a little sad that I wasn't the first woman at Boston, but mostly, I felt pleased and proud of Bobbi and Kathrine," she says. "I knew I wasn't ready yet. I didn't want to run a marathon until I knew I could feel good and look decent doing it."
In 1969, Sara Mae was ready. She had amassed the training, endurance, and road-racing experience necessary to run smart and fast for 26.2 miles. She entered her first Boston Marathon and won handily in 3:22:46. At age 32, she was the oldest-ever woman to run and win Boston.
She won again the next two years, joining Bobbi Gibb as an early three-peater in the Boston Marathon. She also improved Gibb's best time (3:21:25 in 1966) to a new course record (3:05:08 in 1970). Yes, Sara Mae waited a long time to begin her marathon career, but when she did, she got it right. Of course, at the time, Sara Mae received no official acknowledgment for her accomplishments.
Like Gibb, she was still considered a nonentrant. She might have covered every single step of the historic Hopkinton to Boston course, but according to race organizers, she hadn't actually run the Boston Marathon. It took a long time for Gibb and Sara Mae to receive the recognition they so obviously deserved. That came about in 1996 at the 100th Boston Marathon when Boston Athletic Association officials finally made right on the past by awarding Gibb and Berman medals to signify their victories.
Berman makes little of her first Boston finish in 1969. The truth is, the day was warm, and she didn't run as fast as she had hoped.
At the finish, Sara Mae was surprised by the lack of media attention. In 1966 and 1967, Bobbi Gibb and Kathrine Switzer had produced tidal waves of press clippings. But by 1969, no one seemed very interested in Sara Mae's story. She thought that reporters found her less glamorous than Bobbi and Kathrine. One journalist asked, "Why did you do it?" She took this as an affront, as if he were implying that she must have had an ulterior motive. Perhaps she craved the attention or wanted to draw attention to a "cause." Sara Mae cut him off with a simple, brusque response: "Because I wanted to see how fast I could go."
In 1970, she trained harder than ever—up to 100 miles a week, with frequent mile-repeats on the Harvard indoor track. Larry did the same. Both aimed to set personal records at Boston.
The day dawned unexpectedly cold, windy, and rainy. After the usual charade in Hopkinton—Larry lining up with all the male runners in the starting corral, Sara Mae on the sidewalk—they set off on their individual pursuits. Sara Mae hoped to beat Roberta Gibb's course record, 3:21:25. "I felt good and strong most of the race," she says, "and it was helpful to be more familiar with the course after the year before. The only problem was the cold. I was cold much of the way."
She began begging spectators for gloves, and someone finally offered her a pair of white gardening gloves. Problem was, her hands were too frozen to pull them on. She had to reach down with her mouth, and use her teeth to yank the gloves up to her wrists. She received a big emotional boost when Larry showed up in Kenmore Square with a mile to go. He had finished in a sensational 2:38:03, and now he was telling her she could reach her goal, too.
"You can do it," he said. "Only a mile to go. Just concentrate on holding your pace." Sara Mae reached the finish in 3:05:08, a huge personal record and course record—one that would stand until Miki Gorman ran in 1974. There were five women finishers, but once again she had seen none of them during the race.
That changed in 1971 when Nina Kuscsik glided past Sara Mae at the 22-mile mark. Sara Mae knew that Nina was an experienced marathoner, so this represented a serious challenge. "Nina went past me with a couple of guys from New York," she recalls. "I didn't want to let her beat me, so somehow I found the resolve to speed up a little and pass her back. That was one of the first times I actually raced another woman, but we never had any animosity with each other. We just all tried our hardest, and figured the winner would be the one who had trained best or had the most talent."
Once back in front, Sara Mae held on grittily to win the 1971 Boston Marathon in 3:08:30, almost as fast as the previous year. Kuscsik followed in 3:09. It was the first time two women runners finished so close together in a major marathon. Now, like Bobbi Gibb before her, Sara Mae Berman was a three-time winner of the Boston Marathon. Just as important, she had achieved the kind of serious, outstanding times that had been her intent, and Larry's, from the beginning of her athletic and road-racing career. She didn't run Boston as early as she could have. Instead, she waited until she was tough, experienced, and well-trained.
In 1972, the Boston Marathon finally began to accept women entries. Sara Mae's reaction: "It's about time." She entered, despite having the flu, and finished fifth in 3:48:30. Nina Kuscsik won that first official women's race at Boston in 3:10:26. It was her fourth Boston finish.
"All I ever wanted was the chance to run and improve," Sara Mae says about her years in running. "At first I would finish near the back of New England road races, but after a while, I moved up to the middle. I felt I was part of a women's running movement that eventually couldn't be ignored. I didn't know when the change would come, but I knew it would.
Adapted from First Ladies of Running by Amby Burfoot by permission of Rodale Books.