Marathon
Why a former Patriots cheerleader is now rooting for Boston Marathon charity teams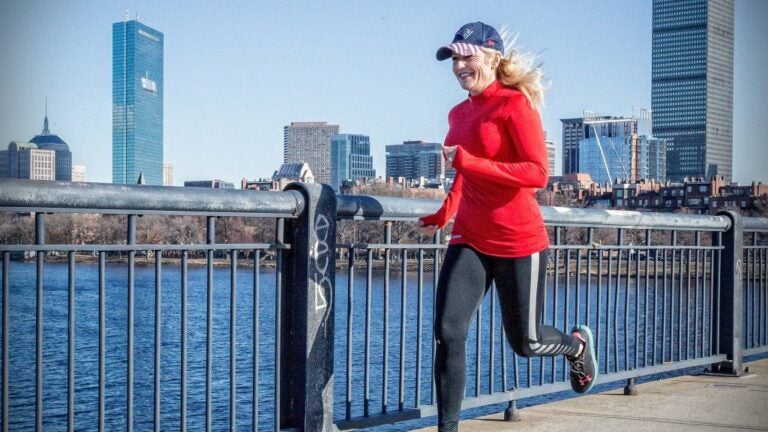 Susan Hurley has always been a cheerleader.
Though she may have started cheering on the sidelines at Sullivan Stadium, this former New England Patriots cheerleader is now more likely to be found cheering on charity-team runners training for the Boston Marathon.
"Cheerleading for the Patriots, I felt like I always had this internal thing of being that cheerleader, of wanting to root people on," Hurley said. "I think it's instinctive. I think we are all born with something, and I think I was born with cheerleader in my heart."
Hurley is the founder of CharityTeams, a consulting business for small nonprofits who are looking to grow its fundraising through races like the Boston Marathon, New York City Marathon, and the Falmouth Road Race. The consulting group has helped teams raise over $10 million in funds, according to the company's website.
For this year's Boston Marathon, CharityTeams is working the Martin Richard Foundation, One Mission, the Last Call Foundation, the New England Patriots Charitable Foundation, the Gronk Nation Youth Foundation, and the Bill Belichick Foundation.
Hurley, a nine-time Boston finisher, said the idea to start CharityTeams came from a conversation with the marathon's race director, Dave McGillivray.
"I was at a point in my life where I needed to do more, and Dave said to me, 'You know, you should get into this charity thing with the marathon. It's becoming quite a phenomenon.' And I said, 'Well, what would I do?' and he said, 'You're smart, build it from the ground and run with it."
Lazarus House in Lawrence was the first charity Hurley worked with, and she said that team raised $130,000 to purchase a food pantry.
"It just seemed to all click for me," she said, "and I realized there was really more to life. I discovered over last nine years I've been doing this, that you can do things on your own, you can be self-motivated, blaze your own trail. You figure it out through trial and error and hard work."
That work includes anything from buying and managing bib numbers for local charities to answering calls from nervous first-time marathoners. She said her main goal is to support each team's members to make sure they meet their fundraising and fitness goals—and that they have fun doing it.
CharityTeams hosts weekly workout sessions for its runners in Newton and holds monthly meetings for team building activities and information about staying healthy and injury free.
"I've recently been giving a lot of referrals for PTs and doctors to help runners get to ready to take the starting line," she said. "The responsibility in fundraising is so great so it's a sad thing for runners if they get injured in the middle or towards the end of their training. They feel so accountable to their donors so getting them to the starting line healthy is really important to me."
Hurley said CharityTeams also hosts training runs every Saturday, with water and snack stations, leading up to the marathon. Hurley runs with the teams every Saturday, too.
It's that support that 24-year-old Katie Corbett, a Last Call Foundation member, said was crucial in reaching both her training and fundraising goals.
"I don't know how else I would have been able to run the marathon without her," Corbett said. "I really don't know how you could train on your own without that support and guidance…She just makes you believe you can do it, and once you believe you can do it, everything else just falls into place and you can tackle the course."
Corbett, who ran her first marathon with CharityTeams in 2015, said she knew as soon as she crossed the finish line that it wouldn't be the last—a feeling Hurley said is common for many of her first-time marathoners.
"To watch [first-time runners] come down Boylston Street and have what I call 'the Boylston moment' is so great," she said. "I tell my runners when you cross the finish line, it's really the starting line."