Boston Marathon
The Boston Marathon almost ran on Sundays, and two other surprise facts
We've got some trivia for you.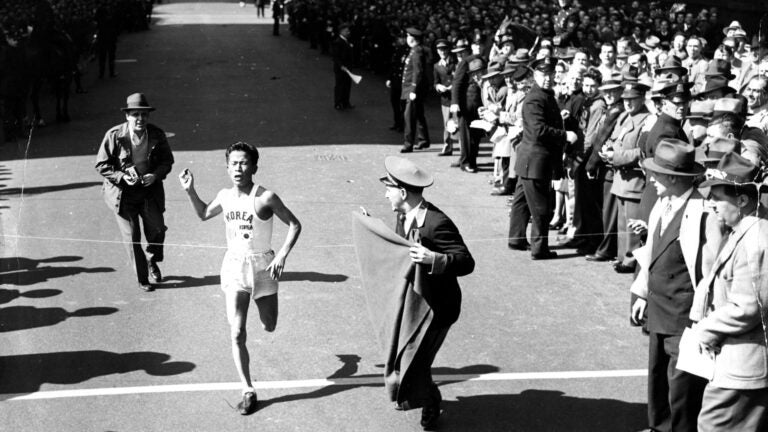 The Boston Marathon that we know and love is deeply rooted in tradition—120 years' worth, to be exact. But throughout the last century-plus—and especially early on—some of those traditions required a bit of tweaking before they were perfected.
Here are some Boston Globe articles from throughout the years that show how the Marathon was, or was almost, changed into something quite different.
The course distance hasn't always been consistent
Get this: The Boston Marathon route has been measured and found to be too short more than once over the race's history.
An April 13, 1927 Globe article shows that MIT had remeasured the course and found it to be 176 yards shorter than the standard length of 26 miles and 385 yards. As a result, the starting line was moved back the appropriate length.
Fool me once, shame on me, right?
Well, in 1957, the route was remeasured again, this time coming up 1,187 yards short. (That's almost three quarters of a mile!) A Globe article from April 14 of that year says that because of the longer course, that year's first-place winner would set the new fastest time record.
Marathon Sunday?
In 1942, Patriots' Day had not yet been declared a holiday. Thus, it was proposed that the Boston Marathon might just work a bit better on a Sunday. However, the Greater Boston ministers and laymen released a statement expressing their disapproval:
"We deeply regret the action of Gov. Saltonstall in calling for the running of the Marathon on Sunday instead of Monday as originally planned. By doing so he has done a serious disservice to the churches."
The race continued to run on Monday.
Backward marathon
In 1964, there was almost a "Wrong Way" Marathon—as in, participants nearly ran their 26.2 from Boston to Hopkinton rather than the normal Hopkinton to Boston.
The purpose was to commemorate Hopkinton's 250th year, giving the town a chance to house the finish line for a change. Walter Brown, BAA president at the time, lived in Hopkinton and initially supported the idea. Runners were not pleased with the proposed change, however, because they'd have to run Heartbreak Hill in reverse. The plan never went into effect.
Photos: Scenes from the 2016 Boston Marathon
[bdc-gallery id="691078″]