Marathon
Meet the marathoner who swears by running in Crocs
"They're totally comfortable, I swear. Nobody believes it."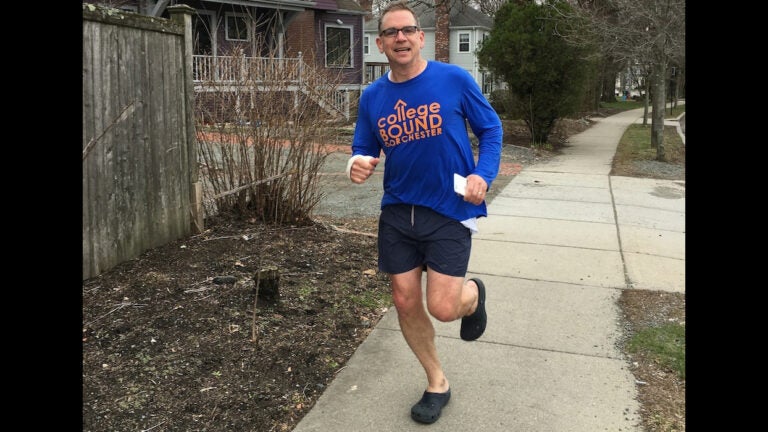 When Mark Culliton and his chunky running clogs get a weird look from fellow runners—and, to be sure, he gets plenty of weird looks—he addresses it with a sense of humor.
"I jokingly say to people, 'I'm very competitive, I know I can always win the Crocs division,'" Culliton said. "[I'm] undefeated, I think, in that division."
On Monday, more than 30,000 runners at the Boston Marathon will compete in a blur of Nikes, Adidas, and New Balances branded and patented for running. Culliton will run in Crocs.
"When people notice, they freak out a little bit," he said. "I'm surprised by how shocked people are about the Crocs. I can't get anybody to really try them. I feel like I'm trying to start a movement, and nobody will go along with it."
Despite the judgmental looks, Culliton swears by Crocs, widely recognized as the footwear choice for unfashionable dweebs everywhere.
"They're totally comfortable, I swear. Nobody believes it," he said.
Like many recent instances of runners with unconventional footwear, Culliton was initially inspired by Christopher McDougall's book Born to Run, which detailed the running prowess of the barefoot members of the Tarahumara tribe in Mexico. In the book, McDougall argues that runners in modern, padded shoes strike the ground with their heel, creating an unnatural gait that can cause injuries.
After reading that book four of five years ago, Culliton and his brother-in-law ditched their running shoes, threw on their Crocs, and hit the road. For his brother-in-law, that was just a temporary phase.
But Culliton has stuck with them ever since. He said he hasn't had an injury since, a fact he attributes to his choice of footwear.
"My foot has gone through the whole rubber soul, so I can feel the cement. It's probably a third of its original thickness," he said. "When you wear them for a while, they get super comfortable."
In addition, they're cheap, and each pair "easily" lasts about a year, he said. Culliton assured Boston.com that he is not paid by Crocs. The company did not respond to a request for comment.
Dr. Christopher DiGiovanni, the chief of Foot and Ankle Service at Mass. General Hospital, cautioned that Culliton's experience with Crocs was just one anecdote unsubstantiated by broader data. He also said he'd seen several patients with Crocs-related injuries after slipping on wet surfaces.
"It may not be a one size fits all," DiGiovanni said. "Feet come in many sizes. While it may work for one person, it may not work for another."
When not running in Crocs, Culliton works as the CEO of College Bound Dorchester, a local non-profit that provides former gang members, incarcerated young people, and high school dropouts with education and support needed to prepare them for college. He and three other Boston Marathon runners have raised about $25,000 for the group.
Still, Culliton said the Crocs don't get much support among the students.
"None of our students would be caught dead in Crocs," he said.
Photos: Scenes from the 2016 Boston Marathon
[bdc-gallery id="691078″]