Marathon
4 things marathoners wish they knew before running Boston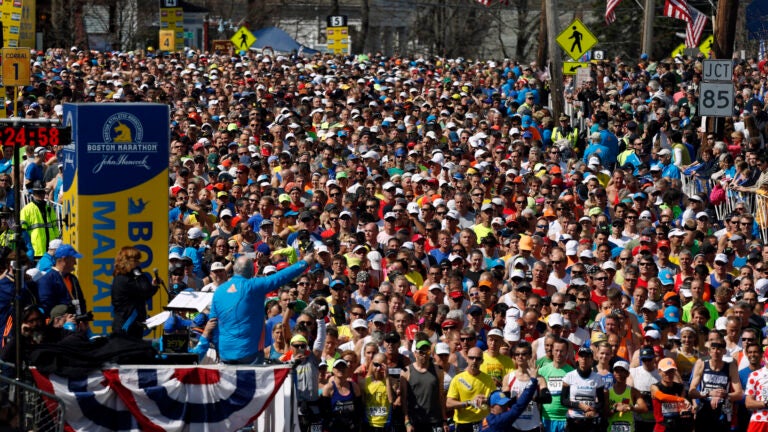 COMMENTARY
You've logged the miles, set aside your running gear, and know exactly what you're having for your pre-race meal. You're as prepared for the Boston Marathon as one can hope to be for most grueling and exhilarating athletic feat of a lifetime. But sometimes, no matter how meticulous the preparation, the little things can still catch you off guard.
Before I ran the marathon last year, I got a lot of great advice: start slow; put your phone on airplane mode to save battery; bring lip balm. But there were definitely some surprises. First, I was unprepared for the all looks on the T the morning of the race. Living in Southie, taking the Red Line to Park Street to meet the buses at the Common seemed like a good idea the night before. But being in full running gear with a flashy, bright yellow race bib during Monday morning rush hour on the MBTA had me blushing.
Another thing I wasn't expecting: Guys were peeing on the side of the road for 20 miles. Maybe nobody told them that the BAA actually has portable toilets along the course.
Finally, I wasn't prepared for the emotion. Whether it was from physical exhaustion, running in the rain for hours, or seeing all the people who stayed outside to cheer even in those weather conditions, I just lost it. I started crying—more like bawling—around mile 20 and didn't stop until I picked up my bag.
The bottom line is that nothing can fully prepare you for Boston. To understand, you just have to lace up and do it. Fortunately, though, there are plenty of people who can offer the advice you never knew you needed. Here, four Boston finishers share what they wish they had known prior to running their first Boston Marathon:
Take in the scene and take out your headphones (at least for a little bit)
"I wish I was told to stress less about the racing part and to look around more. To engage in the scene more, instead of being so focused on how many miles to go. The Boston Marathon is so special, I wish I looked around and took mental images."
-Bryanna Cappodona, Boston.com staff writer
You might actually get hungry
"I ran my first Boston Marathon as a college senior in 2004, when I was relatively new to distance running. As such, I didn't bring [energy gels] or any other type of sports nutrition with me on the course. I wasn't anticipating the acute hunger that would hit around mile 20. Now, I pack an [energy gel] or two and take orange slices and other small snacks from spectators. Never beer, though!"
-Courtney Hollands, editor of Culture magazine
'Boston sore' is a whole new level of sore
"The real race doesn't start until you make the turn onto Comm. Ave. at the firehouse, and that's why you'll have new soreness that other marathons don't 'offer,' be it from the downhills on your quads or how my arms were incredibly sore after last year because I basically jumped and cheered my way through Brookline."
-Jonathan Levitt, sales manager, InsideTracker
Don't underestimate the power of the crowd
"In 2014, my best friend flew in from California to watch. My now husband finished the race in well under three hours. [He then] waited on tired legs for another nearly two hours to greet me at the finish line with a lemonade and a flower. I had a really hard race that year. If I focus on the running, I might be disappointed. But when I think about the relationships I've made in training for the race and the ways people show up for each other on this legendary day, I can feel nothing but complete awe, gratitude, and pride."
-Rebecca Pacheco, yoga instructor and author
Photos: Scenes from the 2016 Boston Marathon
[bdc-gallery id="691078″]