Boston Marathon
Three years after Boston Marathon bombing, Adrianne Haslet hopes to cross the finish line as a runner
Haslet was one of 17 people who lost a limb in the 2013 attacks. On Monday, the ballroom dancer will become a marathon runner.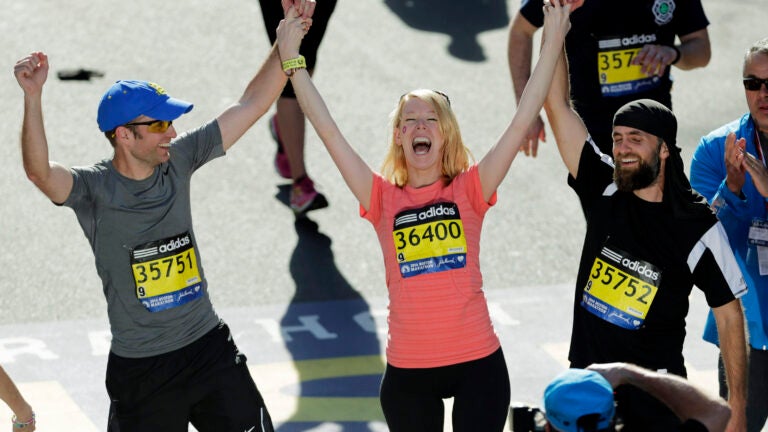 Adrianne Haslet has walked across the Boston Marathon finish line. She's danced across. And on Monday — if all goes to plan — she'll race across.
Haslet, one of 17 people who lost a limb in the 2013 Boston Marathon bombing, will join 30,000 others in running the 2016 marathon. Last fall, she quietly began training, using her new running blade to log one, two, three, five miles at a time.
When she was up to 10, she figured she was ready.
Now, 10 miles is a "short run."
Haslet, a professional ballroom dancer, was never a runner.
"I could do quickstep all day long, I could dance all day, but running, you use different muscles and it takes a different mindset," she said. "But then everything changed in 2013."
Haslet has come a long way from being on Boylston Street in 2013. But, as others injured that day have reminded her, she's still in the early years of her life as a survivor.
"We're all toddlers in this," she said. "We are new to this and figuring it out and figuring out our new normal."
Her run is a thank you to all those who reached out to survivors after the attack — sending letters, cards, donations, and well-wishes.
It's also to support Limbs for Life, a nonprofit that provides fully-functional prosthetic care for those who can't afford it. More than 500 people lose a limb each day.
In the time it will likely take Haslet to run 26.2 miles, 18 or 19 others will become amputees.
Working with the organization reminds Haslet of what it's like to be a new amputee. How without a proper prosthetic, an amputee can't kiss someone at eye level. Or lift a child.
"Limbs for Life helps me keep myself in check," she said.
Haslet already has a marathon bib. Lelisa Desisa, the Ethiopian runner who won the men's field in 2013, gave his bib to her. He also gifted his medal to the city that year. Haslet said she looks at Desisa's bib every day and knows soon, she'll have her own bib and medal to display.
"To think I'll have my own marathon bib," she said. "There are so many people in Boston who want to do this and are so excited. You can feel it in the air right now."
https://www.instagram.com/p/BBP1-wdqCmp/