Boston Marathon
9 ways to be Boston's best marathon fan
Because there's more to supporting runners than orange slices and water.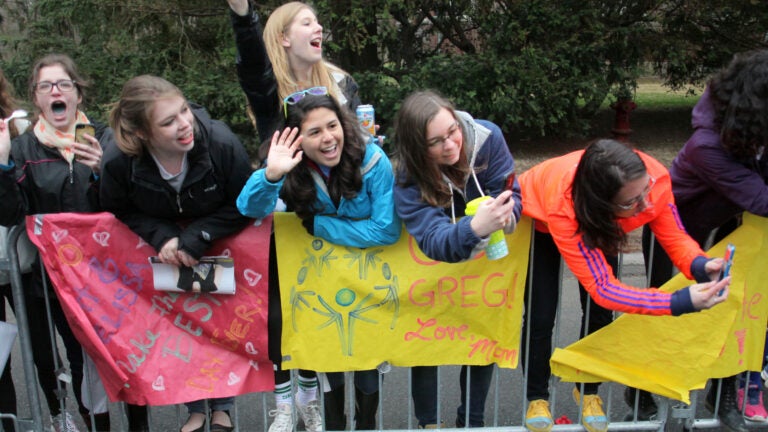 The Boston Marathon includes long-standing traditions for runners and non-runners alike. While about 30,000 people hit the pavement for 26.2 miles, another million hit the sidelines to cheer them on. To stand out from the crowd—and seriously motivate runners when they need support most—use these expert-backed spectator suggestions.
Say my name, say my name
If you know it (or can find it written on their body), yell a runner's name, suggests Jeff Brown, Psy.D., author of The Runner's Brain and Boston Marathon psychologist. The reasoning is simple: "People like to hear their name used, plus it brings specific attention to them in a sea of runners."
Running can also be isolating, he says. But speak a stranger's name and you'll set off a series of stimulation and neural connectivity in their brain that can lead to an emotional boost, he says. "Nothing is more impressive than encouraging a runner in that way."
Compliment a cause
There are two kinds of motivation: intrinsic (which … comes from within) and external (when you're motivated by something outside of yourself). Tap into someone's intrinsic motivation, and you can really keep them going, says Ash Nadkarni, M.D., a psychiatrist at Brigham and Women's Hospital. That's because you'll target their brain's reward system by validating their purpose.
To find their motivation, look at what they're wearing, suggests Brown. "Runners may wear gear related to a charity, a person, or their kids. A couple may run with a tuxedo top and bridal vail." Yell what conclusions you draw: "My sister survived cancer;" "Rich would be proud you're running in memory of him;" or "Thank you for serving our country," he suggests.
Bring the mojo
"More than anything a runner wants a fan to be enthusiastic," says Terrence Mahon, a Boston Athletic Association high performance coach. "Otherwise, it's just another lonely long run out on the roads." Plus, when the crowd is huge, the cheering loud, and the energy festive, adrenaline is pumping through runners' bodies, says Nadkarni. That's what keeps the heart pumping strong, giving racers that extra push.
Follow Mahon's advice: "If you are going to be a fan, don't be a doorstop."
Be very Boston
In the past three years particularly, the Boston Marathon has become about a lot more than just fitness or miles logged. "I think the spirit of the marathon is very much about patriotism for our city," says Nadkarni. She's right. So show it: Boston signs, clothing, and chants can be powerful and emotional motivators. #BostonStrong
Bring signs to hilly areas
A good sign in a remote area or a tough part of the course can be "a beacon of hope," says Mahon. Fill your sign with a clever saying, an inspirational phrase, or something funny. "Anything that gets the runner outside of themselves for a few moments is a great way to get them back on track," he says.
Pace yourself
Fans grow tired, too. But wear out too soon from kegs and eggs or lose your voice by 11 a.m. and you'll miss some of the runners who need your support the most. So stick around and encourage the back of the pack with positive statements that tell the future, suggests Brown. Think: "Enjoy the Finish;" or "You deserve this accomplishment;" or "You're going to do this!"
Park yourself further down the course
"Very few of us need motivation at the start," says Mahon, adding: "the same can be said for the first 25 percent of the race." So think about camping out anywhere from about mile 6 all the way to the finish line. Toward the middle of the race is always a good bet. You lose some of that initial adrenaline surge and this is when medical issues tend to crop up, notes Nadkarni.
…But skip the finish line
We all want to see runners finish, sure. But the truth of the matter is, that's likely not where your encouragement is needed, says Brown. Just the sight of the finish line is enough to flood endorphins through a runner's veins, he notes. Plus: "Logistically, the finish can be hard to see from because so many fans are there." Security is tight and media is plenty; so your efforts in actually making it there may not have a good return on investment, he notes.
Consider new spots
Wellesley College, Boston College, and Heartbreak Hill: These classic marathon hotspots are well-known and well-saturated with fans. And that's a good thing. Runners feed off of them at these iconic race points. But there are other areas that need some lovin' too, like the I-95 overpass near mile 16 and at Newton Hills. "For a runner it is the combination of a remote location on the course along with difficult terrain that presents the greatest mental challenges. It is here where we need motivation the most," he says. This is where, as he puts it, an anonymous person can knock all of the negativity out a runner with just a few cheers. "We will remember you whether we ever know your name or your face."
Photos: Scenes from the 2016 Boston Marathon
[bdc-gallery id="691078″]