Marathon
Hockey's former 'Can't-Miss Kid' Bobby Carpenter is taking on the Boston Marathon
"Running is more mental that I possibly could imagine."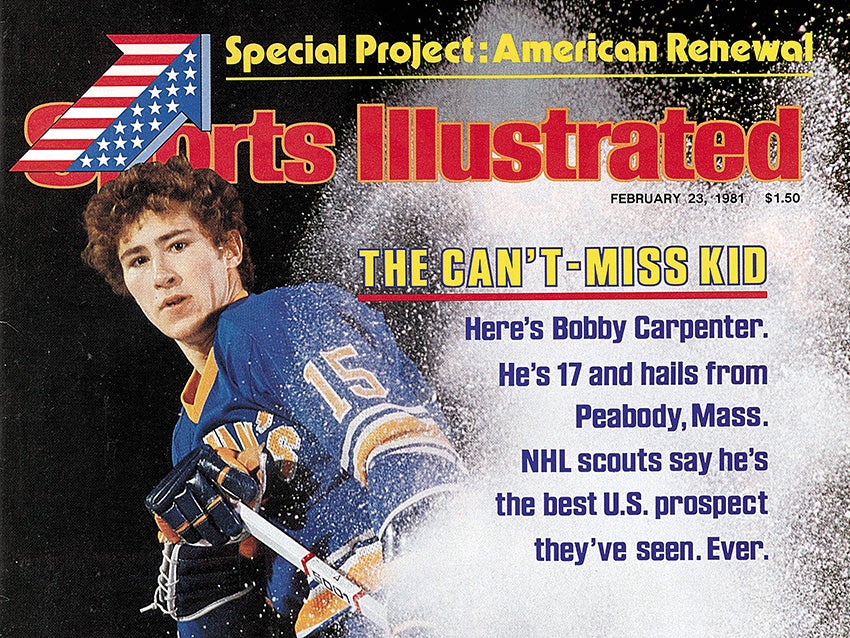 Hockey seemed to always come easy for Bobby Carpenter. Marathon running is different story.
The hockey sensation from Peabody dubbed the "Can't-Miss Kid" by Sports Illustrated in 1981, Carpenter played 18 seasons in the NHL for the Washington Capitals, New York Rangers, Los Angeles Kings, Boston Bruins, and New Jersey Devils. He hung up his skates after the 1998-1999 campaign. In 2016, at age 52, he is running the Boston Marathon to raise money for the Last Call Foundation.
In recent years, Carpenter has again been a part of Boston's hockey scene, only on the other side of the glass. His daughter, Alex, just wrapped up a record-breaking run at Boston College. His son, Bobo, is coming off his freshman season playing for Boston University. Filling the down time between their games is what led him to running.
"Friday, Saturday, Sunday [when his children were playing] was great," Carpenter told Boston.com. "But during the week I was getting pretty bored. I said 'I need to find a hobby.' And I never had the opportunity to do [the marathon] because in April we were always playing."
Last fall, he reached out to Susan Hurley, the founder of Charity Teams, an organization that matches charities with athletic fundraising opportunities. They picked the Last Call Foundation, a charity dedicated to two firefighters killed in the 2014 Back Bay fire and committed to enhancing the safety and capacity of Boston's firefighters.
This interview has been edited and condensed.
How and why did you choose to run for the Last Call Foundation?
"My dad and my brother are policemen and we have lots of friends who are firefighters. I went on a hockey trip to Russia with a bunch of firefighters a couple years ago and got to know a lot of them. It's such a dangerous job and you never know what's going on. When [Susan Hurley, the founder of Charity Teams management] mentioned it, I said that's perfect."
How prepared do you feel to run 26.2 miles? Have you stayed in pretty good condition since your NHL days?
"I've been retired for more than 15 years now and I've stayed OK active; I've done stuff here and there. I think the biggest thing for me was that I didn't work this year.
I grew up with Fernando Braz, who was a famous runner from Peabody. He went to BC on scholarship and was a real top-notch runner. I went and asked him what it entails; would I be able to do it?
He said he needed 22 weeks and he could get me ready. So he gave me a program every Saturday. I think I ran a total of like 725 miles since November.
I do have to say 22 weeks is a long time. I was ready three, four weeks ago. I just said, 'Let's just get this done.' It's been a long time."
How do hockey and long-distance running compare?
"You can't compare the two; it's totally different. Hockey is a team sport. You have people that you can rely on if you make a mistake. I mean, I did find out how much of an individual sport running is, because it's just you. If you don't feel good that day, there's absolutely nothing you can do about it. If you don't feel good in a hockey game, you can get by. Here, you can't. You have to be more prepared, more aware with everything that's going on.
Obviously, hockey is a mental sport too, but running is more mental that I possibly could imagine.
For example, I remember when I first started running long distances. We started out at like 12 miles and when I would finish the 12 miles, I was like 'Whoa, I'm not even half way there, and I'm exhausted. How am I going to do 26?'
But what happened is you go from 12, to 14, to 16, and you say the same thing: 'OK, I ran 14. How am I going to do more?'
Eventually, when you get over that, you say 'OK, I said that the last three times. I found a way to do it. I'm going to find a way to do 16. I'll find a way to do 18. And I'll find a way to do 26.'
Once you say 'I'm going to find a way again' and again and again, it's not a problem."
Does your NHL career in any way help or hinder you in training for this competition?
"There's a little bit of both to that. I think that the mental part of hockey helps me with the running for sure. There's lots of playoff series and lots of game where we got in and we were underdogs and had lots of injuries and we were like 'You know what? We're going to win this thing no matter what happens" I think the mental preparation really helped me with running.
The physical part, I think the only problem I had with all the injuries I had, the only problem I had physically was hockey, skating-wise, my calves were different. My calves were like shorter and thinner and more round. I remember telling my trainer, Freddy, 'You know, my calves hurt.' He says, 'Yeah, they will for a long time. You got to stretch them out. You've got to change the shape of your calves and this is going to take six to eight weeks.'
I remember doing the first eight to ten miles way back in November and I could barely lift my feet off the ground."
Given that you've been at this for 22 weeks, how does training for a marathon match up against a playing a season in the NHL?
"It's not as hard a playing a season of hockey for sure, because it was your living. It was your job. This is for fun."
Any plans in terms of your approach to the marathon? Do you run with music?
"I put my iPod on and I run. It's interesting because at the beginning you pay attention to it and now I'm like I don't even listen to it anymore. You just concentrate on your times. I'm so focused on fueling up and watching my watch that I really don't even hear the music. There was one time when the battery died; I don't think I realized it until I got back to the car. I was like 'Jeez, I wonder how long I had no music.'
Honestly, I'll probably start with it, but at one point, I don't know when, I'll take the headset off and listen to the crowd. [People who have run before] say that's a really good thing to do. I will definitely start with it, but at one point I will take it off and enjoy the crowd."
What is your biggest goal in term of finishing?
"My goal is to do it under four hours. I didn't want to do this marathon and walk. I wanted this as a really good project, where I wanted a really good time for me at my age. I thought that under four hours would take some really hard training and some hard work. That's my goal and hopefully I do it."
Obviously, you still have the actual marathon to run. But what has been the biggest takeaway from this experience?
"I can't thank my trainer, Freddy Braz, enough, because like I said, I am not a runner and when I walked into this totally blind, I learned so much.
I feel so confident now that I will break four hours, if everything goes well. And I am just floored right now by what I can accomplish by listening to my trainer.
You prove a lot of things to yourself. When you put your mind to something and the time, you can really do what you want. If you put the work in and you have the time, you can accomplish what you want to accomplish."