Boston Marathon
Losing the Boston Marathon's most famous duel taught Dick Beardsley to value every step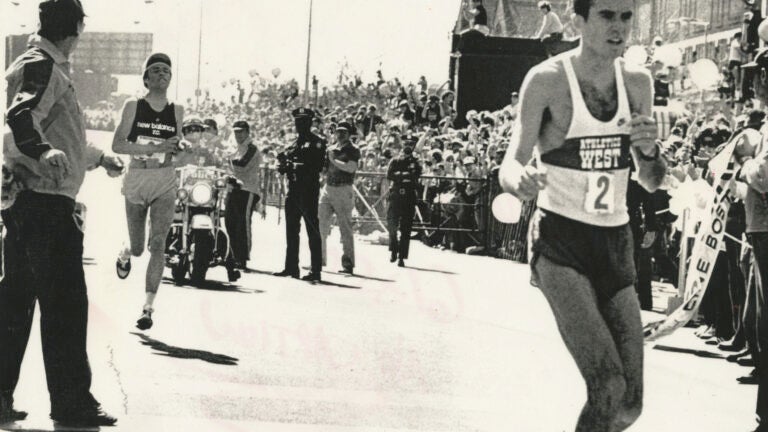 Dick Beardsley sat in a hotel room late on the third Monday of April in 1982.
"I literally went through every step of every mile," he said.
Hours before, under a baking sun, Beardsley, the son of a Minnesota dairy farmer, had crossed the Ring Road finish line of the Boston Marathon two seconds behind local favorite Alberto Salazar.
Both men had broken the previous course record. Neither man would ever run a marathon that fast again.
"I remember crossing the finish line, and the clock is reading 2:08-something. There was only like one or two other people who had broken 2:09, and I'm thinking, 'Wait a minute, I just ran a 2:08, and I finished second,'" Beardsley said, as if still in disbelief 34 years later.
Beardsley, now 60, is indisputably the most well known second-place finisher in Boston Marathon history. A 2006 book, Duel in the Sun, chronicles the race and what came after.
For Beardsley, a series of accidents later in life was followed by a period of intense addiction, an arrest, and then recovery. After a brief running renaissance, Beardsley, who still lives in Minnesota, had both of his knees replaced. He runs 50 miles a week, but hasn't run a marathon since the surgeries.
"I'm slower than molasses in January in northern Minnesota, but I still love to run," he said with a laugh ahead of the 2016 Boston Marathon. "I go to bed at night, and, honest to goodness, I can't wait to get up and go for my run."
***
In his hotel room hours after the most famous race of his life, Beardsley desperately searched for answers: "What could I have done differently to make it so I was in front at the end instead of him?"
He entered the 1982 Boston Marathon as a relative unknown. Salazar, meanwhile, had grown up in nearby Wayland and won the two most recent New York City Marathons—setting an apparent world record the previous fall, before the course was found to be 150 meters short.
"[We were] locked at the elbows from the get go," Beardsley said.
Before the turn onto Comm. Ave., four-time Boston Marathon champion Bill Rodgers fell off the pace. Soon after, only Beardsley and Salazar remained.
A few weeks before, Beardsley had planned a workout where he would run Heartbreak Hill eight times, and then a nor'easter blanketed the hill in snow. Beardsley still ran the hill—eight times.
On April 19, Beardsley wore a white painter's cap to shield his face from the unobstructed sun. In Hopkinton, he had punched holes in the top of the hat for ventilation as temperatures neared 70.
"Going through the hills, I tried everything I could to break him, and I just couldn't," Beardsley said.
"I remember coming down the backside of Heartbreak," he said. "I thought I was sprinting as hard as I could to try and break away, and I remember getting to the bottom, where it flattens out a little bit, and I remember I didn't have to look behind, you know to see where he was, because he was so close I could hear him breathing."
The two turned onto Beacon Street. Soon, Beardsley wouldn't be able to feel his legs.
"The thought of running like four-and-a-half or five more miles at the pace we were running almost was making me sick to my stomach," Beardsley said. "But if I was hurting, I knew Alberto had to be hurting pretty much as bad, and I thought, 'OK, just maintain, just maintain, keep pushing, keep pushing.'"
When Salazar's shadow would begin to creep up on him, Beardsley would will himself to hold it off. As the crowds grew, the course narrowed.
With less than a mile to go, it was Beardsley who began to pull away.
But only for a moment.
"My gosh dang right hamstring cramped up so bad," he said.
Salazar flew by.
"I thought, 'I'm not going to be able to finish,'" Beardsley said.
Beardsley then stepped in a pothole, which stretched out his leg.
As Salazar turned onto Hereford Street, the white painter's cap stalked him—and Beardsley was gaining.
The finish line was then in sight.
"I honestly thought I could win this thing … and you know, we just ran out of room," Beardsley said.
"Honest to goodness, if that race had been another 50 meters, I don't know if either one of us would've finished," he added.
On the podium, Salazar, wearing the laurel wreath, would lift Beardsley's arm in victory.
Back in his hotel room, Beardsley finished analyzing the race; and he smiled.
"Once I realized I had given it everything I had, I was happy," he said. "I mean, I was happy, but I was also, you know, I was a little bit disappointed because, gosh, I came so close to winning the most famous marathon in the world."
https://www.youtube.com/watch?v=xwa3txijJvU&nohtml5=False