Boston Marathon
Military members, first responders march Boston's toughest marathon for fallen heroes
That's 26.2 miles WITH a 30-pound pack.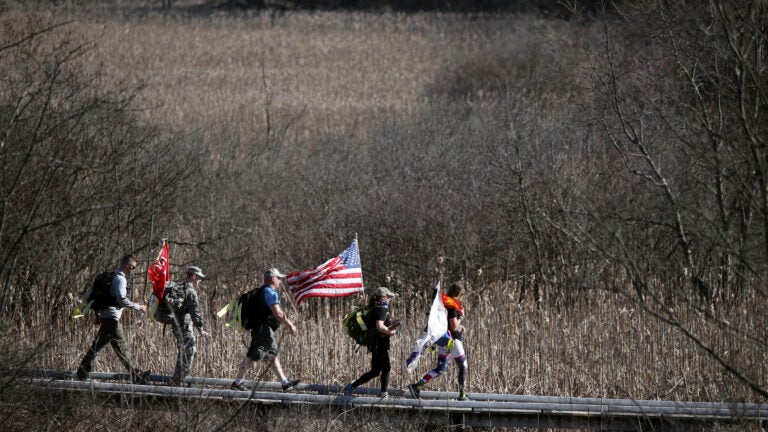 Completing a marathon is impressive. Doing it while hauling a 30-pound pack is … tough.
Approximately 600 military members, first responders and civilian supporters participated in the Tough Ruck on Saturday, marching 26.2 miles along the historic Battle Road Trail in Concord while wearing 30-60 pound rucksacks on their backs. Each "rucker" carried a ribbon with the name of a fallen service member or first responder.
"We Ruck for those who cannot," the event's website states. "It is an honor for Ruckers to wear the name of a Fallen Hero on their Ruck Sack and carry that name 26.2 miles and across the finish line."
[bdc-gallery id="687776″]
Tough Ruck, referred to as "a shadow Boston Marathon," benefits the Military Friends Foundation. The Boston Athletic Association awarded each 2016 Tough Ruck finisher an official Boston Marathon medal.
Up until 2013, the Tough Ruck took place along the actual Boston Marathon route, beginning before the official races started. Many ruckers rushed to help those injured near the finish line during the bombings that year. Carlos Arredondo, the famed "man in the cowboy hat" who helped save Jeff Bauman, was a Tough Ruck volunteer. Due to increased security in 2014, the event moved to Concord.
Arredondo and Bauman were in attendance on Saturday as participants began the course.
"Jeff [Bauman] came here to make sure that we know that he is very grateful for the work that Tough Ruck does and did that day," Arredondo told The Boston Globe.