Boston Marathon
Lemi Berhanu Hayle wins 2016 Boston Marathon men's division race
Hayle pulled away from Lelisa Desisa late in the race.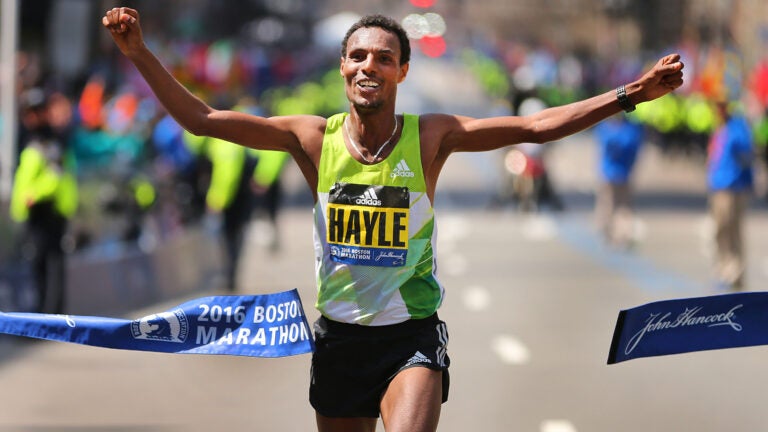 Lemi Berhanu Hayle of Ethiopia won the men's division of the 2016 Boston Marathon Monday in an unofficial time of two hours, 12 minutes and 44 seconds.
Lemi Berhanu Hayle (??ETH) is your 2016 #BostonMarathon men's champion with an unofficial time of 2:12:44 ??

— Boston Marathon (@bostonmarathon) April 18, 2016
Lemi Hayle celebrates the men's race with a victory hop! #BostonMarathon pic.twitter.com/BpfGNC4ODt

— Eric Levenson (@ejleven) April 18, 2016
The 21-year-old Hayle hopped to the finish line after pulling away from fellow Ethiopian Lelisa Desisa. Hayle is fairly new to the marathon game but has been very successful. Before Boston he had run just five marathons, winning three.  In January, he recorded a personal best time of  two hours, four minutes, and 33 seconds in Dubai.
Hayle's personal best is 12 seconds better than Desisa's. Desisa, who won Boston in both 2013 and 2015 (after the bombings in 2013, Desisa gave his victory medal to the people of Boston) crossed the finish line Monday in two hours, 13 minutes, and 32 seconds.
Hayle will receive $150,000 in prize money. Atsede Baysa, also of Ethiopia, won the women's race.
Your 2016 Boston Marathon champions! pic.twitter.com/1nJLUFzRmH

— Boston Marathon (@bostonmarathon) April 18, 2016
Photos: Scenes from the 2016 Boston Marathon
[bdc-gallery id="691078″]