Boston Marathon
Live: The best moments from the 2016 Boston Marathon
We'll be updating this page with everything you need to know throughout the day.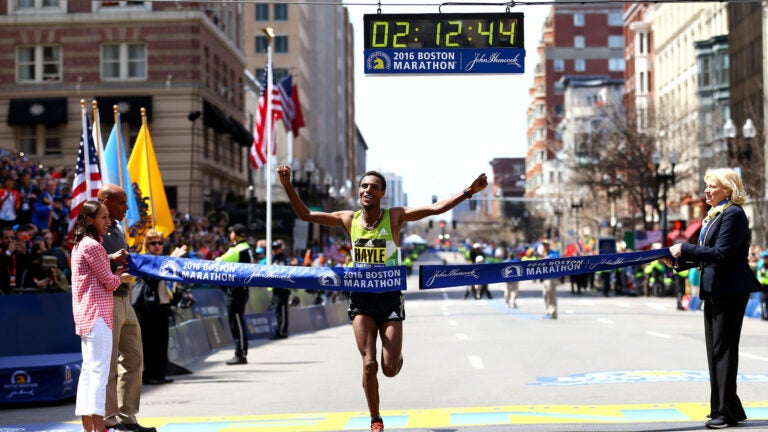 Happy Marathon Monday. Today, roughly 30,000 runners will take on a 26.2 mile course that begins in Hopkinton and ends on Boylston Street. Throughout the day, Boston.com will be updating this page with live coverage and the race's most-talked about moments. 
Linking hands with her team, Haslet paused a step before the Boylston Street finish line and then stepped across with her prosthetic, raising her arms in celebration.
South Hadley native Zachary Hine came in 10th place, finishing the race in an impressive 2 hours, 21 minutes, and 37 seconds.
Bauman was there to meet wife Erin Hurley when she completed the marathon, and their embrace was pure inspiration and love.
ALL HEART. Check out this runner fight SEVERE CRAMPING to cross finish line with help at #BostonMarathon #WBZ pic.twitter.com/Syy4ZaJpOp

— Scott Sullivan (@SullySportsTV) April 18, 2016
According to his bib number, the videoed runner is Michel Rojkind, a prominent architect from Mexico City, who collapsed against the barricades mere feet from the Boston Marathon finish line.
If you don't give up your seat for a marathoner on the T YOU ARE A MONSTER.

— allison manning (@allymanning) April 18, 2016
They just ran 26.2 miles. It's the least you can do.
As waves of competitors continue to cross the finish line, photographers are capturing the triumphant reactions.
Downes, who lost his left leg in the 2013 bombings, was met at the finish line by his wife, Jessica Kensky, who lost both her legs in the attacks. "She pushed through," Downes said of his wife, "and all I did was exercise for a few hours."
The 2016 Boston Marathon marks 50 years of women running Boston.
The GOP frontrunner was the subject of motivational signs that all seemed to make the same joke. 
Bombing survivor @AdrianneHaslet makes her way past Wellesley "scream tunnel." #BostonMarathon pic.twitter.com/JVUorgTr9J

— Zeninjor Enwemeka (@Zeninjor) April 18, 2016
Haslet—who earlier in the day was the subject of a Facebook post from Tom Brady—was one of 17 people who lost a limb in the 2013 Marathon bombings. A professional ballroom dancer who danced across the finish line last year, Haslet is competing in this year's Marathon with a running blade.
Some were encouraging—and some were very much out there. Here's a full roundup of notable signs from the Marathon.
According a Twitter account, the man's name appears to be Brendan Cox, and he's running with a shirt that says, "#RunnerNeedsAJob" on the back. A tweet from Cox says that he is currently a sophomore at University of Maryland studying marketing.
They carried him to the finish. #support #character #whateverittakes pic.twitter.com/Mv5dwlwhiV

— meb keflezighi (@runmeb) April 18, 2016
Meb Keflezighi, the 2014 Boston Marathon champion, tweeted a photo of two runners helping to carry a third to the finish line.
The 2016 Boston Marathon brought a historic sweep for Ethiopia in the men's and women's races as well as a pair of repeat champions in the wheelchair divisions.
Impressive? Yes. But Lemi Berhanu Hayle's victory is also inspiring a bit of age-related dread in some Marathon viewers.
Pikachu the Pekingese was just one of the internet-famous pooches who celebrated the day.
Three years after losing a leg in the Boston Marathon bombings, Fucarile finished the 2016 handcycle race with a time of 2 hours, 21 minutes, and 37 seconds. Afterward, he was thankful for the support he received—and for his bluetooth headset.
The 21-year-old Hayle pulled away from fellow Ethiopian Lelisa Desisa, then celebrated with a victory leap.
At age 29, this was Baysa's first Boston Marathon. After overtaking Tirfi Tsegaye (also of Ethiopia) and Kenya's Joyce Chepkirui, she coasted to a solo finish down Boylston.
My daughter's message to the runners: I have no clue. #BostonMarathon pic.twitter.com/bND79W0eOn

— RunWESTIN Concierge (@RunWestin) April 18, 2016
One dad took to Twitter to share his daughter's message to runners. If you can figure out what it means, let us know.
Lots of people taking advantage of the cooling tent between mile 17 and 18 #BostonMarathon pic.twitter.com/MzSXqQnC56

— allison manning (@allymanning) April 18, 2016
Shingo Igarashi took an early lead in the men's division of the Boston Marathon. Then, he came back down to earth.
McFadden ran on behalf of the Martin Richard Foundation, created in honor of the 8-year-old who was killed in the Marathon bombings three years ago. After her victory, McFadden posed with the Richard family at the finish line.
A runner was spotted on the course wearing an American flag Speedo (and a bowtie) by MetroWest Daily News reporter Danielle Ameden.
Marcel Hug of Switzerland—who won the 2015 men's wheelchair event—defended his title by edging out Kurt Fearnley and 10-time champion Ernst Van Dyk. Watch the finish here.
Rotich, who won the 2015 Marathon in striking fashion, dropped out of the race at the 5-mile mark.
Waves and waves and waves of runners start their journey in Hopkinton. #MarathonMonday #BostonMarathon pic.twitter.com/oR4Bg86Ssc

— Ryan Breslin (@RyBrez) April 18, 2016
Waves one through four begin from 10 a.m. to 11:15 a.m.
Bang goes the gun and the #BostonMarathon elite men are off pic.twitter.com/llFOYfTP2E

— Eric Levenson (@ejleven) April 18, 2016
The first of the elite male runners generally cross the finish line around 12 p.m.
The #BostonMarathon elite women are off and running! pic.twitter.com/02v9qRKbFa

— Eric Levenson (@ejleven) April 18, 2016
Expect them to begin crossing the finish line around 11:45 a.m.
Brian McWilliams has over 71,000 Intagram followers. Today, he's running the Marathon. 
1500 BPD, 6000 volunteers, 225 state police, 61 other agencies here at #BostonMarathon according to announcer. Economic impact $182 million

— Steve Annear (@steveannear) April 18, 2016
Last year, the Marathon generated $181.9 million, according to the Boston Athletic Association.
Mostly empty @mbta subway car today in Boston. Will be packed later. #MarathonMonday #PatriotsDay pic.twitter.com/4MvWRYwenM

— Todd Wallack (@TWallack) April 18, 2016
Public transportation—especially the Green Line—will be very crowded later in the day. Here's our full guide to getting around the city.
#BostonMarathon advice:
-Nothing new on race day.
-Run an even pace.
-When you feel good before mile 20, don't pick it up. #Boston2016

— Josh Cox (@JoshCox) April 18, 2016
Josh Cox—a four-time U.S. Olympic Marathon Trials qualifier—posted these tips on his Twitter page.
And they're off! The 120th #BostonMarathon has begun!

— Boston Marathon (@bostonmarathon) April 18, 2016
Here's a full list of start times.
Patriots' Day, currently set for a 2017 release, follows the events of the 2013 Marathon bombings. Here are more photos of Wahlberg donning a Boston Police Department uniform.
The Boston Police Department painted three thin blue lines on the race's final Boylston Street stretch.
Expect temperatures between 65 and 72 degrees today.
There are several options to watch today's race if you don't feel like going outside.
These are some of the most prized viewing spots along the route.
A fully interactive map containing accessible T stations, dining options, and restrooms.
Many roads along the route (including Exit 22 on the Massachusetts Turnpike) will be off-limits during the Marathon. Here's a full guide to getting around the city. 
Expect plenty of detours today; here's the full list of road closures.
Looking for a place to cheer on the runners? Here are 10 bars along the route, from Ashland to the home stretch.
Backpacks and over-the-shoulder bags are among the items that are prohibited. See the full list here.