Boston Marathon
Marathon bombing survivor Patrick Downes says he ran with Boston in his heart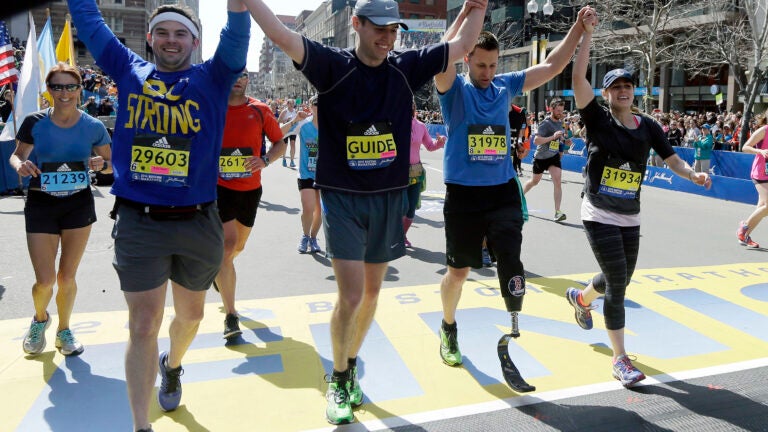 Patrick Downes crossed the finish line of the 120th Boston Marathon with his arms held up in triumph, completing the 26.2-mile race in just under six hours, three years after losing his left leg in the 2013 attacks.
"I ran with the city in my heart — Martin, Sean, Lingzi, Krystle," an emotional Downes told WBZ on Boylston Street.
Downes was met at the finish line by his wife, Jessica Kensky, who lost both her legs in the bombing. The couple embraced, their shoulders shaking as they held each other, surrounded by cameras.
Downes said his marathon feat is nothing compared to what his wife has gone through in the last three years. He ran with tiny medallions with Kensky's portrait on them, tied to his shoe laces.
"I'm so proud of the way she has pushed through all the setbacks that she's had," he said. "And no one should be dealt that hand, but she has pushed through. And all I did was just exercise for a few hours."
Since the end of October, Kensky has undergone four surgeries related to the injuries she sustained.
"Neither of us would be here today if it wasn't for the support and love of Boston and our family, and really the whole country," Kensky said, seated in a wheelchair at the finish line. "We just want to take an opportunity to say thank you to everyone. I'm just so proud of him. I can't believe he just ran a marathon. It's a amazing, that's all."
Kensky spoke of how Downes has supported her as they have worked to heal over the last three years. The Cambridge couple has been living at Walter Reed Medical Center in Bethesda, Maryland.
"We made a vow, and it doesn't matter what obstacles come our way," Downes said. "We just stick together. We work really hard at it, and we have incredible support of our family and friends and medical staff that just help us keep going. And I will love her no matter what."
Downes ran with his brother, Brendan, sister Sarah, and fellow Boston College alum Tom Treacy to support a scholarship at the school, founded by their graduating class in honor of the couple.
"There were points along the way where I really wasn't so sure," Downes said of the run. "Really not until I turned onto Boylston Street — and that's why it's a marathon. You don't have it in the bag until the finish line is in sight. And even still, you've got to cross. But the crowd just kept yelling. Boston College is amazing — my eagles over there. All kinds of people along the way. That helped to really take my mind off things."
Both Downes and Kensky hand-cycled across the finish line in 2014. Downes again hand-cycled with several of his military friends last year.
"I think our city is a really, really beautiful city," he said. "I'm so proud to be from here. I'm so proud to have taken part in this."
Patrick Downes & his wife's emotional embrace at finish line of #BostonMarathon. Incredible.#WBZ #BostonStrong pic.twitter.com/atEIW8MaWN

— Scott Sullivan (@SullySportsTV) April 18, 2016
Photos: Scenes from the 2016 Boston Marathon
[bdc-gallery id="691078″]