Boston Marathon
Shalane Flanagan's favorite post-race meal is a burger and a beer
Flanagan shared her favorite burger recipe from her new cookbook 'Run Fast, Eat Slow.'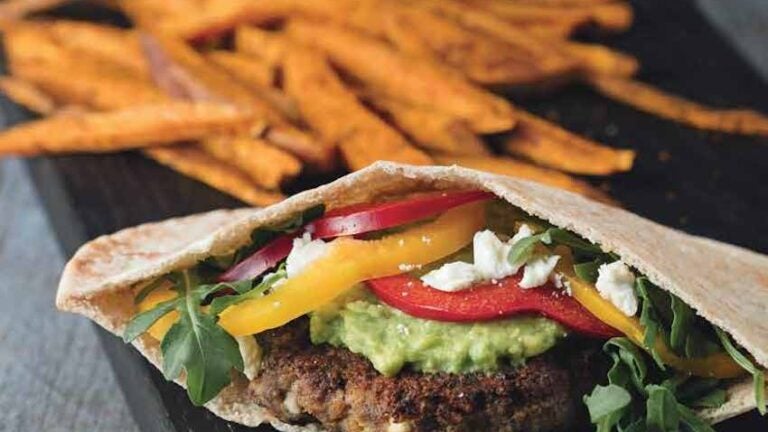 Marblehead native Shalane Flanagan is an Olympic medalist and accomplished marathoner who has consistently been among the top elite women finishers at the Boston Marathon.
During her more than a decade- long running career, she earned a bronze medal in 10,000-meter at the 2008 Olympics in Beijing, setting an American record. But in order to run like a champion, Flanagan knows how to eat like a champion.
"Everyone knows my favorite post-race celebration meal is a burger and a beer," Flanagan said.
So when Flanagan began collaborating with chef and nutrition expert Elyse Kopecky on their upcoming cookbook Run Fast, Eat Slow, they both agreed a good burger recipe had to make the cut. 
"Our Greek Bison Burgers were inspired by Shalane's craving for red meat while training at high altitude," Kopecky said. "Bison is high in iron, a mineral your red blood cells need to carry oxygen to your hardworking muscles."
Flanagan said that in addition to satisfying her craving, the burgers also provide a good source of protein and iron, which aid in muscle recovery.
The cookbook, which contains over 100 recipes for runners, will be available this September.
GREEK BISON BURGERS
For pumping iron
Serves 4
Gluten-free option
Excerpted from Run Fast, Eat Slow by Shalane Flanagan and Elyse Kopecky (Rodale Books, September 2016). For more information and to pre-order your copy, please visit runfasteatslow.com.
These burgers are our jam. In the summer, we make them on a near-weekly basis. Combining the ground meat with egg, feta, almond flour, and Greek-inspired seasonings results in the juiciest and most flavorful burgers you'll ever eat.
Shalane loves to make them with ground bison (buffalo) when training at high altitude for the iron-rich kick, but they're also foolproof made with ground beef, lamb, or turkey.
This recipe is simple enough to double or triple when feeding a crowd.
1 egg
½ cup crumbled feta cheese
¼ cup almond flour or almond meal
1 tablespoon minced fresh oregano leaves or 1 tablespoon dried
2 cloves garlic, minced
¼ teaspoon fine sea salt
¼ teaspoon freshly ground black pepper
1 pound ground bison (buffalo) or ground beef, lamb, or turkey
4 whole wheat pitas or hamburger buns (see gluten-free substitute below), optional
Optional toppings like avocado or hummus
Preheat the grill to medium-high.
In a large mixing bowl, combine the egg, feta, almond flour or meal, oregano, garlic, salt, and pepper. Add the meat and use your hands to combine, being careful not to overwork the meat. Form into 4 equal-size patties about 1 inch think.
Grill the burgers, flipping once, until a thermometer inserted in the center registers 160F and the meat is no longer pink, 3 or 4 minutes per side. In the last minute, warm the pitas or buns on the grill (if using).
Split the pitas or buns open, stuff each with a burger, and top with your favorite toppings.
For a gluten-free alternative to buns, serve the burgers between 2 slices of grilled egg plant rounds. Simply slice 1 large eggplant into 1-inch-thick slices, brush with olive oil, sprinkle with sea salt, and grill for 3 to 4 minutes per side.
Never try anything new the night before or on race day. Practice eating new foods before your training runs and learn what you digest best.