Boston Marathon
Temperatures and spirits high for 120th running of Boston Marathon
'Best race in the world'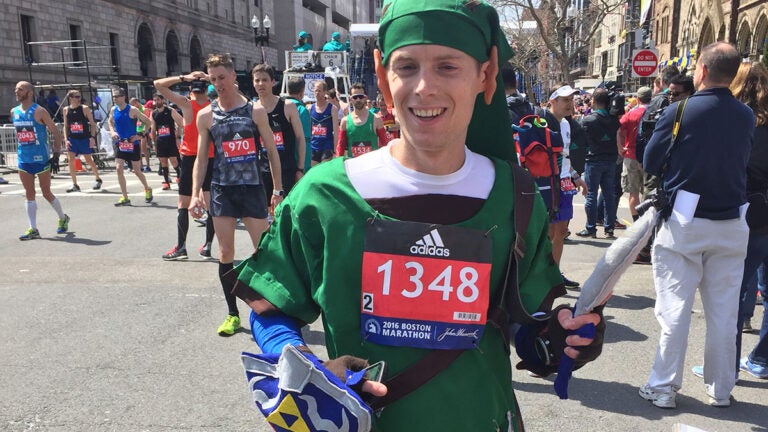 John Kelly figures he has the record.
The 31-year-old native of Rockville Md. crossed the finish line of the 120th Boston Marathon on Monday with a time of two hours, 57 minutes, which by his estimation is some 12 minutes faster than Neil Light managed in last year's Virgin Money London Marathon.
"Unless someone has run something else recently that I don't know about," Kelly said standing on Boylston Street wearing a green, felt cape, stocking cap, and makeshift boots that likened him to the character "Link" from The Legend of Zelda. Light finished the London Marathon in three hours, nine minutes dressed as Sonic the Hedgehog, which should give Kelly the official Guinness record for fastest marathon finish dressed as a video game character.
"I was always a huge Zelda fan growing up, and I wanted to come out here and have fun and give myself some objective to shoot for," Kelly said.
Thousands of Kelly's fellow marathoners crossed the Boylston threshold on Monday, achieving their ultimate goal, even if all of them didn't do it in exactly the same spirit.
With an official temperature of 69 degrees in Hopkinton for the start of the women's elite race at 9:32 a.m. (it was 71 degrees for the men 28 minutes later), the race became a challenge of dealing with the heat along with the infamous grind of the 26.2-mile course.
"A little warm, and I think that caused a lot of problems for some people," said 60-year-old Dave Walters of Chicago. "Overall, it was decent, just warm."
Walters, running his 26th marathon and sixth in Boston, was pleased with his time of 2:45, especially considering the conditions.
"That's decent on this course," he said. "I was hoping for faster, but it's just the heat. It kind of killed things.
"I was ecstatic. Any time you finish decently on a day like today. I was able to finish strong. And any time you can finish strong and enjoy the last miles, it's awesome."
So, how does the heat affect a guy dressed in costume? Not so bad, according to Kelly, thanks to some Under Armor heat gear which tended to keep him cool.
"It's pretty neat," he said. "It wasn't that bad. I was really dreading that and it really wasn't as bad as I expected. I kept dumping water on myself at every aid station."
It was a balance, however, considering the warm weather did welcome hundreds of thousands of spectators to cheer the runners on throughout morning and afternoon.
"That seemed like the most people on the course, period," said 31-year-old Alex White of Washington, Mich., who finished running his third marathon. "Great spectator weather. Not great for running. But we had a little bit of headwind, so that was cool."
Hearing the crowd seemed to be the goal for Mario DaSilva, who ran the marathon Monday the same way he has for every race the last decade, dressed in little more than a pair of Speedo shorts, tattoo sleeves, and blue running socks, pulled up to his knees.
"It helps with the heat, but it also draws crowd attention. So it gets you really pumped up," the 41-year-old Tampa native said. "Crowds were fantastic, the weather was perfect, it brought them all out, it was just amazing."
DaSilva said he finished with a time of 3:20.
"It was a little better than I expected," he said. "It wasn't what I'd like it to be, but at 3:20, I'll take it any day of the year."
According to the Boston Athletic Administration, the surface temperature at the Boylston Street finish line was around 64 degrees at 2:30 p.m. In Wellesley, where runner Ryan Starbuck said he remembered the temperatures being the warmest along the race course, surface temperatures were reported to be around 70 degrees.
But as with all the runners, it was the crowd that pushed him on.
"Lots of college kids going crazy, and that's always fun," the 31-year-old Starbuck said, in addition to his Cambridge family members cheering for the runners at miles 16 and 23. "And lots of spectators doing semi-official water stops, handing out bottles of water, which is great."
For Megan Jaswell. 28, of Wakefield, RI., the first half of the course proved to be the most difficult because of the heat.
"It cooled off toward the end actually," she said. "You could tell a change, but it started off, and it was hot."
Twenty-five-year-old Melissa DiVecchia was expecting the course's old, familiar hurdles to slow her down during her first Boston Marathon, but that wasn't the case.
"Surprisingly it wasn't Heartbreak Hill," the Arlington, Va. native said about the most difficult challenges the race presented to her. "I really felt like it was tough the last five miles, because I thought it was going to be easy because it was flat and downhill, and it's never easy at the end. Just really spent."
Racers like White were already preparing a return.
"Every year until I die," he said. "Best race in the world."
Photos from the 2016 Boston Marathon
[bdc-gallery id="691677″]