Boston Marathon
This runner seized his moment early in the Boston Marathon
He fell back into the leaders' pack after four miles.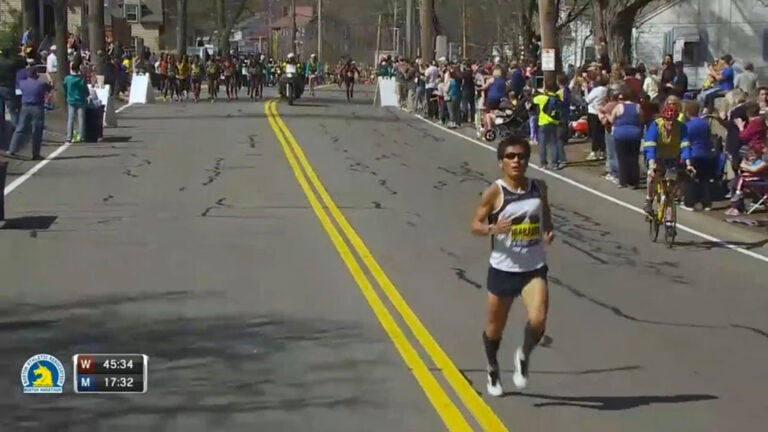 Shingo Igarashi jumped out to an early lead in the men's division of the Boston Marathon — though not for long.
The Japanese runner ran the first two miles of the race in nine minutes and 53 seconds. At one point, he had a 15-second lead, putting him well ahead of the pack. However, the leaders caught him by the fourth mile.
Via Competitor.com, Igarashi finished 19th overall in the men's division with a time of two hours, 26 minutes, and 24 seconds.
El japonés Shingo Igarashi, a la aventura (PB 2h13:15 · Hitachinaka, 31/01/2016)#BostonMarathon pic.twitter.com/LuDKehDCwR

— SoyCobarde (@SoyCobarde2) April 18, 2016
Early men's leader 2:13 guy Igarishi of Japan. Huge solo lead. He was 9:53 at 2 miles. That's 2:10 pace, so not like he's crazy fast early.

— RW Advanced (@RWAdvanced) April 18, 2016
At the 2 mile mark the men have a split time of 5:03 with Shingo Igarashi (??JPN) leading #BostonMarathon

— Boston Marathon (@bostonmarathon) April 18, 2016
Men's pack has caught early lead Igarashi. Leaders 20:02 at 4 miles for 5:07 split.

— RW Advanced (@RWAdvanced) April 18, 2016
Photos: Scenes from the 2016 Boston Marathon
[bdc-gallery id="691078″]