Boston Marathon
Watch the thrilling finish to the Boston Marathon's men's wheelchair race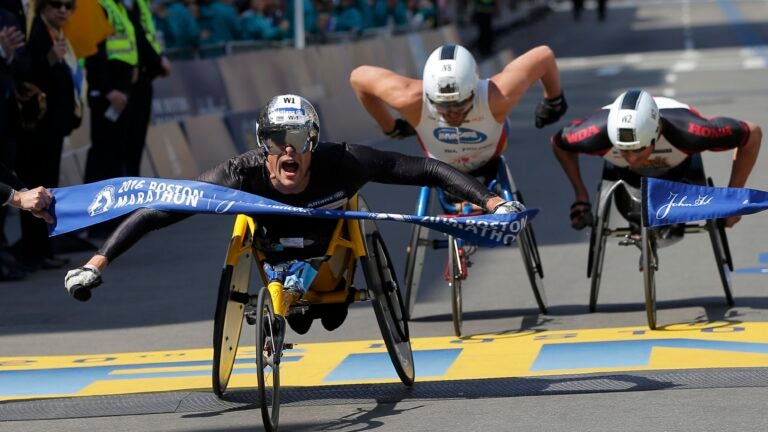 This was one tight race.
Marcel Hug of Switzerland narrowly edged a pair of challengers in a thrilling finish to the men's wheelchair race at the 2016 Boston Marathon. Hug, ten-time champion Ernst Van Dyk of South Africa, and Kurt Fearnley of Australia were all hauling it to the finish line on Boylston.
After a close race Marcel Hug holds his title as men's wheelchair race champion @dailyfreepress pic.twitter.com/BUFeHomFZR

— kyler (@kysum_) April 18, 2016
Men's wheelchair competition is severe. #BostonMarathon @BUNewsService pic.twitter.com/6r9K18wSeG

— Jiaxun Fan (@JiaxunFan) April 18, 2016
Exciting last moments of Men's wheelchair race at the #BostonMarathon pic.twitter.com/WpxSx9YFBH

— Andrew Mitchell (@snapchatandrew) April 18, 2016
Marcel Hug with the mad dash to a 2nd straight #BostonMarathon win in men's wheelchair pic.twitter.com/wETa394x0G

— Eric Levenson (@ejleven) April 18, 2016
Hug finished in 1:24:05 for his second straight Boston Marathon victory. He beat his 2015 finish time of 1:29:53.
Photos: Scenes from the 2016 Boston Marathon
[bdc-gallery id="691078″]