Boston Marathon
These Boston Marathon course records are waiting to be broken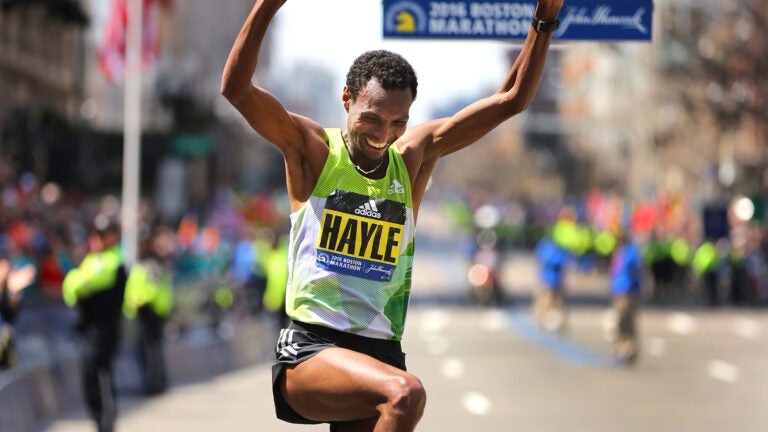 Current world record holder Dennis Kimetto's highly anticipated Boston Marathon debut won't be happening in 2017. The Kenyan, who recorded the fastest marathon time ever (2:02:57) at the 2014 Berlin Marathon, recently announced that a knee injury has forced him to pull out of the race.
Fellow Kenyan and former world record holder Patrick Makau also won't be competing due to a recent knee injury.
With two of the top runners out of contention, defending men's open champion Lemi Berhanu Hayle will be looking to repeat his title, as he is now one of just seven male qualifiers with lifetime bests under 2:05:30. All are in reach of breaking Geoffrey Mutai's men's open course record (2:03:02) that was set in 2011.
On the women's side, Ethiopia's Atsede Baysa will be looking to defend her 2016 victory against an elite field that includes countrywoman, and current women's open course record holder, Buzunesh Deba.
The women's open record (2:19:59) previously belonged to Kenya's Rita Jeptoo (2:18:57) but was corrected in December 2016 to reflect the time of rightful winner Deba. Jeptoo was stripped of her 2014 title for doping, invalidating her time.
While Deba's 2016 Boston Marathon time (2:33:56) was about 14 minutes slower than her 2014 showing, two other female qualifiers, Gladys Cherono and Edna Kiplagat, also boast lifetime bests under 2:20:00.
As the runners cross the finish line on Monday, you'll want to keep an eye on these record times:
Men's Open: Geoffrey Mutai (Kenya) — 2:03:02 (2011)
Women's Open: Buzunesh Deba (Ethiopia) — 2:19:59 (2014)
Men's Masters: John Campbell (New Zealand) — 2:11:04 (1990)
Women's Masters: Firaya Sultanova (Russia) — 2:27:58 (2002)
Men's Veterans: John Weston (Canada) — 2:24:05 (1983)
Women's Veterans: Joan Samuelson (USA) — 2:50:29 (2013)
Men's Seniors: Clive Davies (USA) — 2:43:56 (1981)
Women's Seniors: Barbara Miller (USA) — 3:11:57 (2000)
Men's Wheelchair: Joshua Cassidy (Canada) — 1:18:25 (2012)
Women's Wheelchair: Wakako Tsuchida (Japan) — 1:34:06 (2011)
Photos: The Boston Marathon through the years
[bdc-gallery id="138482″]