Boston Marathon
Boston Police Commissioner William Evans shares his tips for running the Boston Marathon
"Do not miss a water stop," and other advice for how to tackle the hills and what to do after crossing the finish line.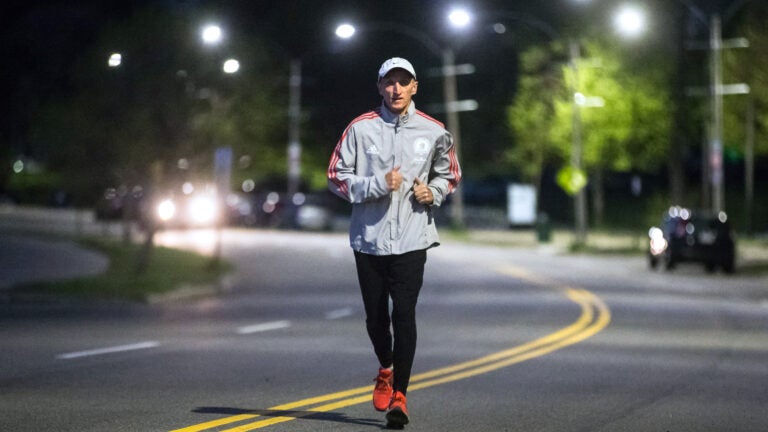 Boston Police Commissioner William Evans says he used to think people who ran marathons were "crazy." He got into running when he joined the department in his 20s, but back then, he said he never wanted to run a marathon.
Now, he's completed 51.
Evans ran his first marathon in Boston in 1989 and got hooked. The 57-year-old has run the city's race 18 times, and he usually aims to complete two marathons a year — one in the fall and one in the spring.
The commissioner, who has his sights set on getting 20 Boston races under his belt and bringing his total number up to 60, says he hasn't decided whether he'll run Monday yet. He hasn't run the Boston Marathon since 2013.
Ahead of Marathon Monday, Boston.com talked with Evans about running, what makes Boston's race the best, and tips for first-time competitors.
Boston.com: What is it about marathons in particular that drew you to them?
William Evans: Well, I think it's always good to have a goal ahead of you, and I like training for them. It's good for the mind, it's good for the body. And I think that's a good way that I deal with some of the stress on my job. This morning I was up at quarter of five, doing my six miles. I try to do that every day. As long as I can do my run, I feel like there's nothing that I can't handle during the day.
BDC: Is there anything runners should do to prepare in the days before the race?
WE: Start to relax. Try to get off your feet as much as you can. I think it's key to get a good night's sleep a couple nights leading up to the marathon, especially for first-timers. Because — I still get it sometimes — you drink so much [water] and your nerves that you really don't sleep. You're up going to the bathroom all night. So don't count on a good night's sleep the night before.
It's a great feeling. I'll never forget the first time going up Hereford Street and the crowds yelling and taking that left onto Boylston. It brings tears to your eyes, and I'll never forget that.
And now with the tragedy of 2013, I think the Boston Marathon has all the more meaning and importance to people who accomplish that goal for a lot of great charities.
BDC: What advice do you have for runners during the race?
WE:  There's a tendency for a lot of people to go out too fast. You should go out and maintain the pace you think that you can maintain the whole race. To me, the Boston Marathon doesn't start till mile 17 when you hit the hills. So you should always have plenty left in you to get ready to hit those hills.
Do not miss a water stop. I've run 51 marathons, I can tell you, there's never been a mile stop that I haven't taken water in all 51. You might think you don't need it at mile two, three, four, but it will catch up with you if you don't hydrate.
Take a water, relaxing, not going out too fast, I think that's the key. You can really enjoy it if you just learn to get into that pace and just carry it. And to me it's all a mental game. When you hit that 20 mile mark and you don't think you can do it, you just say to yourself, 'You know what, there are only six miles left, I can do this in my sleep.' And if you did the right training you should have no problem.
It's always a challenge when I'm in it, but when I finish, there's no greater feeling of accomplishment.
BDC: Once they cross finish line, do you have advice for how runners should recover?
WE: You just got to keep moving — don't slow down too much. I think the more you move and continue to move those legs, I think the better off you are. A lot of runners actually try and go out for a run the next day just to get the legs moving. But I always take two or three days off after a marathon and sort of rest up the legs. I ride the bike the next day, and that makes you feel better. Makes the legs less tight.
And get in a hot tub if you can. That's what I love doing after a race. No better feeling than getting in a hot tub and having a beer.
BDC: Is there one thing you wish someone had told you before you ran your first marathon?
WE: I always like to tell people stay focused throughout the race. Don't be losing a lot of energy by speeding up and slowing down. It's 26.2 miles. Just stay focused and when you come to the hill, I always tell people, 'Relax.' The hill should be a time that you relax, not attack them. Because if you attack those hills both up and down, your legs are really going to pay the price. So shorten your strides up and down and try to relax going over those hills as opposed to letting the hills beat you up.
BDC: What would you say to runners who are nervous or concerned about safety, who maybe haven't run Boston before?
WE: We've had several meetings. Don't worry about the security, leave that to us. You're in good hands. There's no threats to this race. And from Hopkinton to Boston, there's excellent police coverage, excellent police forces, excellent communication. So leave the security to us, enjoy your day.
BDC: You've run marathons across the country and in Canada — what do you think sets Boston apart from other races?
WE: I think what sets Boston apart is the tradition. It's the premiere marathon in the world. Everybody runs all across the U.S. and across other countries just to get in to Boston. There are not many races like that. The rich history, the course, the tradition. Boston is the best marathon in the world, and everybody wants to run Boston.
BDC: Do you have a favorite spot on the course?
WE: Yeah, the finish line! No, honestly, I like the hills, believe it or not. Because if you're a distance runner, that whole first 16 miles is just waiting for the challenge to happen. I always say anybody can train till 16, but the real part of the Boston Marathon comes at mile 17 when the hills are.
I like the challenge of going up and down the hills. The crowds are great. And when you finally get to BC, you get over them and take a left onto Beacon and see that Citgo sign, it looks close. But it's still about five miles away, which is deceiving. But it's a good feeling that you got over those hills, and you still feel pretty good.
BDC: Any other advice?
WE: Enjoy the day. Take in the experience. When you've worked as hard as you did, when you take that left onto Boylston — again, there's no better feeling. You'll never forget that experience of running Boston.
This interview has been condensed and edited.
Photos: The Boston Marathon Through the Years
[bdc-gallery id="138482″]