Marathon
The last American woman to win the Boston Marathon on the past and future of running
Lisa Rainsberger talks about her 1985 win, the sport's doping problem, and her daughter's track career.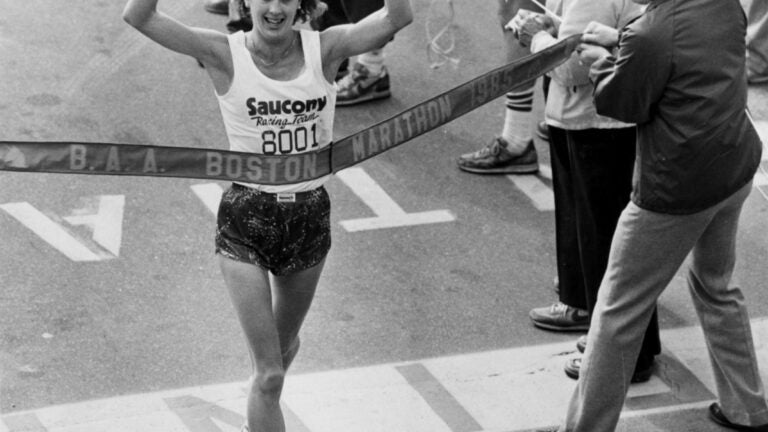 For more than three decades, Lisa Rainsberger has held a famous distinction in the United States: She's the last American woman to win the Boston Marathon. While younger compatriots have gotten close over the years, no one has equaled her finish in the 1985 Boston Marathon. The drought has become too long for Rainsberger. Still, she remains optimistic.
"It's going to happen," said Rainsberger — who ran as Lisa Larsen Weidenbach in 1985 — in a recent interview. "It really is. Why not this year?"
Rainsberger has made no secret about her desire to surrender her the label of being the "last American woman to win Boston." As someone who not only competed at a high level but is a coach and a mother of a talented young runner (her daughter, Katie, is a freshman at Oregon), Rainsberger has seen the sport from many angles.
Ahead of the 121st Boston Marathon — the latest chance for her streak to end –Rainsberger explained her hopes, concerns and general thoughts on the sport of running, as well as her memories of winning 32 years ago.
What are you up to in 2017? Are you still involved in coaching?
Lisa Rainsberger: Yes. I own and operate a youth track and field team. Mostly track, and mostly cross-country, and no field. I work with kids and youth. I put on summer camps and host youth-only races. Anything running related for kids I seem to find myself involved with.
And you're living in Colorado? I'm sure that's good territory to train?
LR: It's beautiful here. We're surrounded with trails and elevation and all the ideal aspects of distance running.
Your daughter, also a distance runner, is off to a great start in college. Do you see her running Boston someday?
LR: You know, when she was maybe 11 or 12, Kara Goucher was running the Boston Marathon and she would say, 'Mommy, I really love Kara, but I don't want her to win.' And I said why would you say such a thing? She looked at me and said, 'Because I want to be the next American to win the Boston Marathon.' It was so sweet, but now if you ask her if she's going to run a marathon, she's like oh good gravy, no way. Anything longer than 10 miles is a marathon for her, because she sees herself as a 1500-meter runner. So maybe one day she'll venture to marathons, but right now she's just totally wrapped up in college running and preserving her speed and development.
When you think back on your own youth at a similar age, were you of the same attitude? Or did you eye a marathon as something you wanted to do?
LR: No, I was going to be an Olympic swimmer. I swam my whole childhood. And then in 1980, we boycotted the Olympics. So that summer, I'd qualified for the Olympic trials, but they were cancelled because Jimmy Carter decided no one was going. I thought what am I going to do? I took the summer off, and I started to gain weight, and I used running as a form of fitness to get back in shape to start my sophomore year at Michigan. And I found that I really loved running. My roommate was on the track team, and she goes, 'Oh my God, you can run.' Flash forward: I ended up turning in my scholarship as a swimmer and walking on as a runner. That's how it all started. So I didn't really have young aspirations to be a runner. It just evolved as kind of a Plan B.
So, if it had not been for the U.S. boycott of the Olympics, you might not have gotten into running?
LR: I never would have, no. There's always a blessing in disguise out of that. You know I kind of feel the same way with all of the drug cheats. There will be a blessing eventually that comes out of all of this.
You came along in a very interesting time in the history of elite women's running. Both the world record and the Boston record were progressing in leaps and bounds at that time.
LR: Yeah, it was very exciting. We were pioneers, if you will. For so long, opportunity wasn't available. So if you opened up the doors, it was like that old saying, 'If you build it, they will come.' And so the doors opened for women. It was exciting.
There was Grete Waitz and Ingrid Kristiansen and Joan Samuelson, women who were leading the way, and it just gave us other runners something to dream about — that fantasy of, 'Hey, I can do that.' And that's contagious and infectious. It's what we need right now. But yet all of the media coverage and everything that's being reported about it is the sensationalism about the drugs and cheats and this and that. That's not going to propel a young girl or a young man into our sport. We're in a tipping point for the future of our sport right now. Unless we get this under control, it's very sad, but when I was going through it, it was exciting. Clothing started to change, and lycra was developed, and technology in running shoes. Just leaps and bounds in every aspect of our sport. I just loved it. It was much more positive than it is right now.
The drug problems have certainly received more attention lately, especially after someone like Rita Jeptoo was disqualified after winning in 2014. But despite that, the popularity has continued to grow. There are more women who will run in Boston than there are men. Do you still take away positive from that, maybe at a grassroots level?
LR: Yes, grassroots, definitely. With a lot of the charity runs it gives stay-at-home moms an event and something to do. It just makes a much healthier atmosphere for a lot of women in our society. I look at running from a competitive angle and not from the participation angle. So I'm a little skewed. I admit that. But when I'm driving down the street and I see a mom pushing a baby stroller while running, it just warms my heart. It's like here we have women in our country have the opportunity to wear a sports bra and go out and run and wear shorts and be out there, comfortable. And be accepted. So I think a lot of that has maintained, and will grow.
But there are two faces of running. There is the participation face, and there is the competitive face. And they intertwine. Right now the competitive face of our sport is very tainted
Do you believe that there is a way out of the current challenges posed to the professional side of running by drugs? And do you think we're heading towards that?
LR: Yeah, I think we're headed that way. If anyone were to ask us former runners, it needs to be swift and final. You fail a drug test, you're done. If you're a doctor, and you screw up a surgery, you're done. That's probably not the best analogy, but we're professionals. You shouldn't be given a second chance with drugs. You get one chance. And you make it right. The only way that our sport is going to be cleaned up is if you fail a drug test, you're never allowed back into professional sports. It just has to be that way. You send a message. And not only do you ban the athlete, you ban the coach. And you ban the agent. Because it's a trickle-down effect. Where the money's involved, everyone's involved. It has to be changed. An 18-month, two-year, four-year suspension isn't enough for someone who's making a half million dollars a year. They're just going to ride it out and come back. That's what they're doing. Get rid of the drugs by getting rid of the athletes who cheat.
I asked you about your era of running and how interesting it was from a progression standpoint. But do you remember seeing drug use in that time?
LR: Oh yeah, it was there in my era. The difference being in my era, running road races and competitive races in the United States weren't necessarily opened to the world. You didn't see Europeans coming to the States. You didn't see the Kenyans. Races that offered prize money were run by Americans, and maybe some Canadians. It wasn't until the wall came down that the Russians started to come over. Later you started to see a higher level of (drugs). Let's face it, we as women know how hard we train. And I know what it took to [reach] a certain performance standard. When you saw athletes jump and improve that much and you saw their body morph from what once looked like a normal woman to what now looks like a very fit man, you know something's not right here.
But if we stood up and said something because there wasn't science behind it like there is now with drug testing and biological passports, it was sour grapes. You were the one that was wrong, not the athlete that was cheating. Pictures tell a thousand words, and you go look at some of the athletes competing from the '80s and you think how did that happen? But now we have the technology and the science to stop it.
Flashing back to when you won Boston in 1985, take us back to that day. Did you feel good in your training and on the morning of the race? Did you have any indication that it would be a special day?
LR: Absolutely, going into Boston it had been just a remarkable year for me. I had set a record in the 30K and an American record in the 5 mile. So going into Boston, I had some pretty lofty goals. I was excited and very anxious. It was that feeling of I can't wait, so bring it on. I woke up that morning, and I remember that I stayed in a really nice family's house in Hopkinton. When I woke up and got myself ready, they were already gone. They were volunteers with the race and they had to get out there really early. I woke up and had some toast, had my normal breakfast, and I found myself in this kind of very surreal, kind of lonely moment of walking from their house to the starting line all by myself, realizing just how warm a day it was going to be.
The race started at noon back then, so high noon. By then it was already 72 degrees. And me, being kind of young and impetuous, I thought it doesn't matter. I'm still going to go for it. I went hard from the gun and suffered later in the stages. Back then they had water on the course every five miles. It wasn't like now with the sports drinks and the aid stations and the gels. None of that existed back then. So I was pretty much running on fumes when I got to the top of Heartbreak [Hill]. There would be little kids standing on the side of roads with little paper cups filled with fluid. I had no idea what was in those, but I was grabbing them and drinking them and pouring them, just having this get-me-to-the-finish-line desperation feeling because it was hot. It was the second-hottest day in history for the Boston Marathon.
Once you got a ways into the race, were you by yourself? Or were you in a pack of other elite runners?
LR: I was pretty much the head woman the whole way. And I found myself in a field of a couple men. There was this one guy, we ran like I want to say the last six miles together. He wore this black singlet. I thought to myself, 'He must be baking!' There was just this quiet understanding that we had together of just getting to the finish line. We were coming down Boylston to the finish line and we were together. We would kind of wait for each other. He would surge and I'd catch back up, and I would pull away and he'd catch back up. We ended up running the last bit of the race together. I never got his name or got to talk. I think we hugged at the finish line and then walked away. That was it, but there was that feeling of support and friendship as we came down the last couple of miles.
Did you run Boston again in other years?
LR: Yes, a couple of times. I was planning to run it in '89. I was in really good shape, and the day before the race I got hit by a car. I was coming over the bridge across Storrow Drive. There's a foot bridge. I was coming across the foot bridge crossing the street and there was this car zipping down an alley. He just ran right into me and I went up and over and broke my tailbone.
Another year, I think I was fourth or fifth. Ingrid Kristiansen won that year. It's a love-hate relationship with Boston, but it keeps you coming back because you want to get it right.
You might not even want to discuss this, but … what if your daughter was somehow the next American woman to win in Boston? How would the next dinner discussion go between you two?
LR: Oh, I'm sure she would remind me how much faster she ran it than I did. You know, she's so much better than I was at this point now, so the discussions have changed, but there was a time when she was like 12 or 13 when she would ask me what my personal best was in the mile or the 5K. I could see her wheels spinning in her head thinking how long it was going to take before she broke all of those records. It's a fun family banter that we have. It would definitely be unique dinner discussion if it ever happened. It would just be remarkable, actually. But again, she's just creating her own story right now. And her story is at Oregon. There's a chance that they'll be three-season national champions, and she's having a remarkable freshman year. She's healthy and just loves running.