Boston Marathon
These are the closest finishes in Boston Marathon history
The Boston Marathon has a long history of coming down to the wire.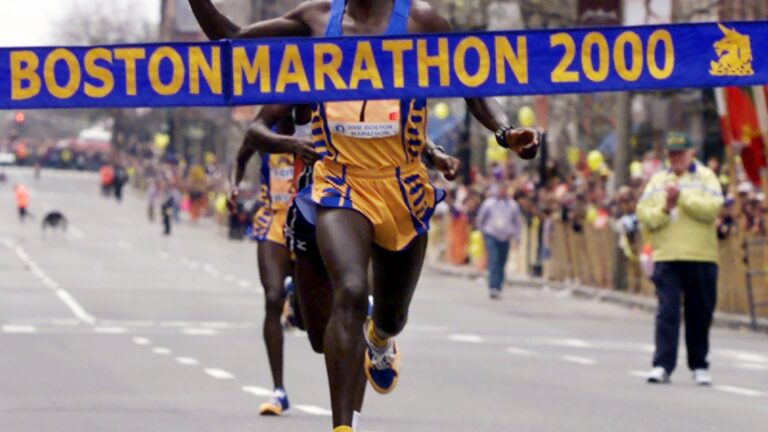 On April 19, 1897, 15 runners participated in the first-ever Boston Marathon, with John "J.J." McDermott finishing the 24.5-mile course first with a time of 2:55:10. The race was hardly a finish line thriller: To this day, McDermott's 6:52 margin of victory over runner-up James Kiernan remains the largest in the 120 years of the men's race.
These days, the field is considerably larger than 15, with an average of 30,000 people — including the best marathoners in the world — running the 26.2 miles from Hopkinton to the Back Bay.
As such, many of the best finishes in race history have occurred in the last 20 years, as elite athletes continue to push each other toward unfathomable times. In 2016, the men's wheelchair race had three competitors record identical times down to the second, and in 2019, the finish to the men's race went down to the wire.
Here are the closest finishes in Boston Marathon history for each of the four major race divisions.
Men's Division
1. Elijah Lagat vs. Gezahegne Abera
Year: 2000
Margin: <1 second
Times: Lagat, 2:09:47, Abera, 2:09:47
Kenyan Elijah Lagat and Ethiopian Gezahegne Abera finished with an identical 2:09:47 in the 2000 race, with Kenyan Moses Tanui finishing just behind the pair in 2:09:50. Lagat was an underdog to his teammate Tanui, who won in 1996 and 1998. But Tanui kicked too early, and Lagat — who had only started running seven years earlier after a doctor told him if he didn't lose 30 pounds he could die — had enough left in the tank to finish just ahead of Abera.
2. Ibrahim Hussein vs. Juma Ikangaa
Year: 1988
Margin: 1 second
Times: Hussein, 2:08:43, Ikangaa, 2:08:44
Coming into the final stretch on a rainy Monday, the Tanzanian Juma Ikangaa was steps ahead of Kenyan Ibrahim Hussein. Ikangaa began to sprint, hoping to put some distance between himself and Hussein after miles of side-by-side racing. He checked his left shoulder, and couldn't see Hussein. But he was still there, hiding behind the Tanzanian, until a final kick propelled him to the win. "I couldn't even hear his shoes and what I [thought] was that he was far away from me," Ikangaa told the Globe after the race. "But he was so clever, not to use his whole [feet], but to use only his [toes] to run on so I could not hear him. I was so surprised to see him pass me by."
3 (Tie). Lawrence Cherono vs. Lelisa Desisa
Year: 2019
Margin: 2 seconds
Times: Cherono, 2:07:57, Desisa, 2:07:59
Heading from Hereford Street onto Boylston Street, Ethiopia's Lelisa Desisa was at the front of a three-man pack with Kenyan runners Lawrence Cherono and Kenneth Kipkemoi. As the group ran down the final stretch of Boylston, Cherono passed Desisa, even after the Ethiopian moved in front of him and at one point put out his arm in an ultimately futile gesture. "I was so focused, because I never win a major marathon. But to me, I was so determined, to win," Cherono said in a post-race interview. "I'm so happy. I'm so grateful, so thankful to people of Boston. They were so amazing, they were cheerful until the end."
3 (Tie). Bill Rodgers vs. Jeff Wells
Year: 1978
Margin: 2 seconds
Times: Rodgers, 2:10:13, Wells, 2:10:15.
Arguably the best local racer in Boston Marathon history and credited with helping kickstart running's popularity, Bill Rodgers (aka "Boston Billy") had his hands full in the 1978 race, gutting out a 2:10:13 finish with the hard-charging Californian Jeff Wells right on his tail. "My legs were gone," Rodgers told the Globe's Bob Ryan after the race. "The last six miles they were real bad."
3 (Tie). Alberto Salazar vs. Dick Beardsley
Year: 1982
Margin: 2 seconds
Times: Salazar, 2:08:52, Beardsley 2:08:54.
Alberto Salazar, a Wayland native who was one of the best distance runners in the world at the time, had his hands full with relative unknown Dick Beardsley in the "Duel in the Sun," the best-known race in Boston Marathon history. Every other racer melted away from Salazar and Beardsley by the time they hit Newton, with the duo trading places multiple times over the final nine miles. "I honestly thought I could win this thing … and you know, we just ran out of room," Beardsley told Boston.com in 2016. "Honest to goodness, if that race had been another 50 meters, I don't know if either one of us would've finished."
Women's Division
1. Salina Kosgei vs. Dire Tune 
Year: 2009
Margin: 1 second
Times:  Kosgei, 2:32:16,  Tune, 2:32:17
One year after winning the race, Ethiopian Dire Tune was edged by Kenyan Salina Kosgei. Moments after crossing the finish line, Tune fell to the ground and required medical attention. American Kara Goucher finished nine seconds behind in third place, after staying with the leaders for most of the race.
2 (Tie). Sharon Cherop vs. Jemima Jelagat Sumgong
Year: 2012
Margin: 2 seconds
Times: Cherop, 2:31:50, Sumgong 2:31:52
After finishing third in 2011, Sharon Cherop surged past fellow Kenyan Jemima Jelagat Sumgong as the pair turned onto Boylston Street and never looked back. Cherop overcame temperatures that reached the mid-80s, causing more than 2,100 runners to seek medical attention during the race.
2 (Tie). Caroline Kilel vs. Desiree Davila
Year: 2011
Margin: 2 seconds
Times: Kilel 2:22:36, Davila 2:22:38
With 250 meters remaining in the 2011 women's race, Desiree Davila was in the lead, looking to become the first American woman to win the Boston Marathon since 1985. But in the end, the Michigan native was out-kicked by Kenyan Caroline Kilel, and finished second ahead of 2012 winner Sharon Cherop.
2 (Tie). Dire Tune vs. Alevtina Biktimirova
Year: 2008
Margin: 2 seconds
Times: Tune, 2:25:25, Biktimirova, 2:25:27
Before falling just short in 2009, Dire Tune successfully pulled out a close race over Russian Alevtina Biktimirova by two seconds. With both women hoping to bolster their chances of competing at the Beijing Olympics that summer, Tune finally took the lead for good 150 yards from the finish line. When she hit the tape, Tune immediately dropped to her knees, with Biktimirova having to swerve slightly to avoid her.
Men's Wheelchair Division
1 (Tie). Marcel Hug vs. Ernst van Dyk vs. Kurt Fearnley
Year: 2016
Margin: <1 second
Times: Hug, 1:24:06, van Dyk, 1:24:06, Fearnley, 1:24:06
Those who watched the men's wheelchair race in 2016 witnessed one of the great finishes in Boston Marathon history, with Marcel Hug of Switzerland just barely beating 10-time winner Ernst van Dyk of South Africa, and Kurt Fearnley of Australia. All three recorded an official time of 1:24:06.
1 (Tie). Marcel Hug vs. Ernst van Dyk
Year: 2017
Margin: <1 second
Times: Hug, 1:18:04, van Dyk, 1:18:04
Hug won a nail-biter over van Dyk again the next year, with the duo both recording official times of 1:18:04. Just like in 2016, Hug narrowly beat van Dyk.
2. Masazumi Soejima vs. Kurt Fearnley vs. Ernst van Dyk
Year: 2011
Margin: <1 second
Times: Soejima, 1:18:50, Fearnley, 1:18:51, van Dyk, 1:18:51
Fearnley and van Dyk were involved in another three-way battle in 2011, with the pair finishing second and third, respectively, to Masazumi Soejima of Japan. The loss was a tough one for Fearnley, who, despite owning the fourth-best and 12th-best course times in men's wheelchair history, has still never won the race.
3. Jim Knaub vs. George Murray
Year: 1982
Margin: 2 seconds
Times: Knaub, 1:51:31, Murray, 1:51:33
Overshadowed by the drama of Salazar vs. Beardsley, the 1982 men's wheelchair race was just as close, with Jim Knaub edging out George Murray. In the Globe, Knaub complained about the poor conditions of the course, the lack of security, and nearly being hit by a security motorcycle near mile 24. Despite those hardships, like Salazar, Knaub set a then-course record for the men's wheelchair division.
Women's Wheelchair Division
1 (Tie). Louise Sauvage vs. Jean Driscoll

Year: 1998
Margin: <1 second
Times: Sauvage, 1:41:19, Driscoll, 1:41:19
In a heartbreaking finish, Australian Louise Sauvage overtook American Jean Driscoll at the last moment, passing her just before the finish line. Driscoll was in the lead heading down Boylston Street, and appeared to be coasting before suddenly realizing Sauvage was hot on her tail. Part of her confusion could be attributed to the fact that the public address announcer also failed to notice Sauvage approaching, filling Driscoll's ears with words of impending victory.
1 (Tie). Louise Sauvage vs. Jean Driscoll
Year: 1999
Margin: <1 second
Times: Sauvage, 1:42:23, Driscoll, 1:42:23

A year after their legendary battle, Sauvage once again beat Driscoll by less than a second, though it wasn't in the same dramatic come-from-behind fashion. Instead, Driscoll was firmly planted just behind Sauvage as the duo crossed the finish line.
3. Shirley Reilly vs. Wakako Tsuchida
Year: 2012
Margin: 1 second
Times: Reilly, 1:37:36, Tsuchida, 1:37:37
In 2011, Wakako Tsuchida of Japan won her fifth straight Boston Marathon, setting a course record and world record in the process that still stands today. So it was a bit shocking when American Shirley Reilly managed to fend off Tsuchida in 2012. Despite sweltering temperatures that reached the mid-80s, Reilly, an Alaska native who trained in Arizona, finished on top.
Photos: The Boston Marathon through the years
[bdc-gallery id="138482″]