Boston Marathon
What you need to know about the 2017 Boston Marathon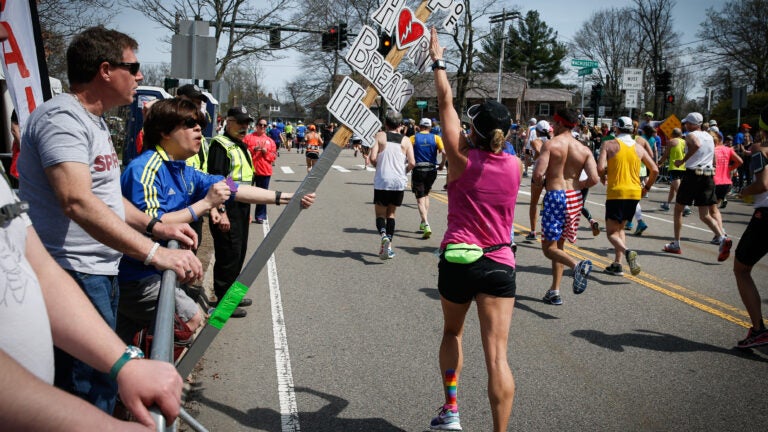 An estimated 30,000 runners and 500,000 spectators will descend on the city for the Boston Marathon on Monday morning. If you're planning on joining the masses to cheer on a loved one or to to gain some serious inspiration, take note of the following.
What time does the race start? 
The start times for this year's marathon participants fall between 8:50 a.m. and 11:30 a.m. on Monday, April 17. Runners depart the Hopkinton starting point for their 26.2 mile journey to the finish line in a predetermined order, depending on which category they fall into (e.g., elite men and women).
Why am I up so early? I'm up to adjust to the Boston time zone. Long day & night ahead to get to @BostonMarathon. pic.twitter.com/ytlPRebTeo

— meb keflezighi (@runmeb) April 13, 2017
Where should I stand?
Find prime viewing points, accessible T stations, and restaurants and restrooms near the rout on this interactive marathon map. T.K. Skendarian, the communications director for the Boston Athletic Association (BAA), also shared pointers on the best great viewing spots, from the starting line to the finish line on Boylston Street, which was installed on Thursday. 
The finish line was installed today as the @BAA​ and @CityOfBoston ​prepare to welcome thousands of finishers for Monday's Boston Marathon! pic.twitter.com/aHPrEu1uxS

— Boston Marathon (@bostonmarathon) April 13, 2017
If you're looking to enjoy the atmosphere—and some libations—without standing among the crowds, here are 10 Boston bars where you can see the marathon live.
And how should I get there?
The city recommends forgoing personal vehicles in favor of public transportation on Marathon Monday due to road closures and traffic. If you do plan on driving, here's a list of traffic restrictions that will be happing in and around Boston.
However, public transportation users aren't exempt from changes. The MBTA's Copley station will be closed for all of Monday because of its proximity to the finish line, with additional Green Line station closures from 10 a.m. to 6 p.m., including the South Street (B branch), Kent Street (C branch), and St. Mary's Street (C branch) stops. For additional public transportation and commute info, check here.
What should I leave at home?
The BAA has released a list of items that will be prohibited from race routes and other high-security areas, including obvious items like weapons and fireworks, but also everyday items like blankets and backpacks, so take a look at the full list of banned objects before you head out.
What's the weather going to be like?
It's shaping up to be a great day weather-wise for both runners and spectators, with temperatures expected to range from 60 to 66 degrees. Spectators will enjoy a mostly sunny sky, and runners will be happy to know that despite the higher temperature, humidity is going to be very low and winds are going to be favorable for running. Read Boston.com meteorologist David Epstein's full forecast here.
How can I watch from elsewhere?
Whether you're stuck at work or just want to avoid the crowds, here's how you can watch the marathon on TV, listen on the radio, or live stream the event online.
Gallery: The Boston Marathon through the years
[bdc-gallery id="138482″]