Marathon
Bobby Carpenter and Denna Laing, 2 former hockey stars, combined for an inspired Boston Marathon finish
"I felt like everybody was screaming my name."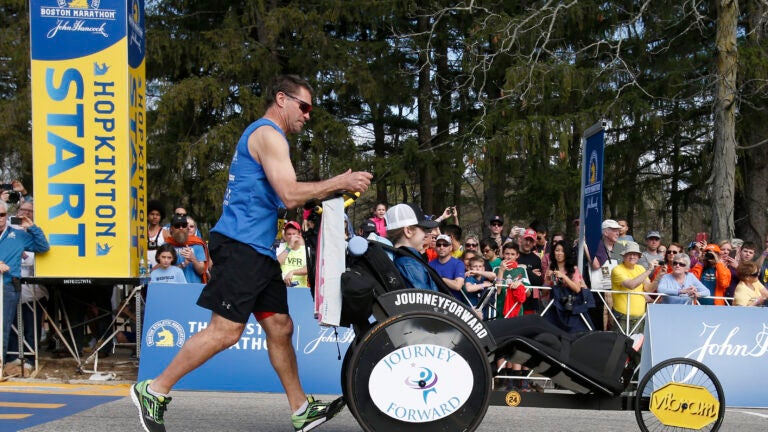 Following a 2016 spinal cord injury that left her paralyzed, former Boston Pride hockey player Denna Laing likely never expected to be crossing the Boston Marathon finish line. Even before the injury, Laing says she was never "much of a runner."
The 25-year-old Marblehead-native also likely never anticipated that she would team up with fellow Bay Stater and U.S. Hockey Hall of Famer Bobby Carpenter.
Nevertheless, there they were Monday afternoon, two former hockey stars turning heads at the Boylston Street finish line. And in not too shabby of a time, either.
Congratulations to former NHL star Bobby Carpenter and NWHL player Denna Laing on completing this year's race in 4:32:30! pic.twitter.com/jXlSvQGhu9

— Boston Marathon (@bostonmarathon) April 17, 2017
WBZ-TV producer Scott Sullivan captured to the footage of the two former hockey players crossing the finish line.
INSPIRATIONAL!
Former #Bruins Bobby Carpenter and former @TheBostonPride player Denna Laing cross #BostonMarathon finish line#wbz @dlaing14 pic.twitter.com/M15PiTD1vy

— Scott Sullivan (@SullyBunz) April 17, 2017
Carpenter recently told Boston.com that he had actually played with Laing's father, Dennis, and had followed Denna's early hockey career as he brought his own kids up through the sport.
The former NHL star and Peabody native — who ran the marathon for the first time last year — said he approached Laing's family last June with the idea of pushing her in the marathon for Journey Forward, a Canton nonprofit devoted to improving the lives of those affected by spinal cord injuries.
"It's really nice to see someone being so unselfish and just really reaching out to help me and to support an organization that is so important to my life and to the people who go there as well," Laing said of Carpenter.
Heading into Monday's race, the duo had raised over $80,000 for the nonprofit — surpassing their goal of $53,000 by more than 50 percent.
"My voice is gone because I said hello to everybody in the crowd," Laing told WBZ-TV after the race. "I felt like everybody was screaming my name. It was so awesome."
The two finished with an official time of 4 hours, 32 minutes, and 30 seconds — and even received some props from the hockey community for the accomplishment.
Awesome job!! ? https://t.co/IrbtTEH02g

— Boston Bruins (@NHLBruins) April 17, 2017
Way to go, @dlaing14! https://t.co/b09mC1dxzj

— NWHL (@NWHL) April 17, 2017
Just saw @dlaing14 and Bobby running into Kenmore and they look STRONG! @NWHL #BostonMarathon #Inspiration ?? pic.twitter.com/qCkcltbBME

— Anya Battaglino (@battaglinoa) April 17, 2017
Photos: The Boston Marathon through the years:
[bdc-gallery id="138482″]