Boston Marathon
Female runners share how Kathrine Switzer inspires them to be 261 Fearless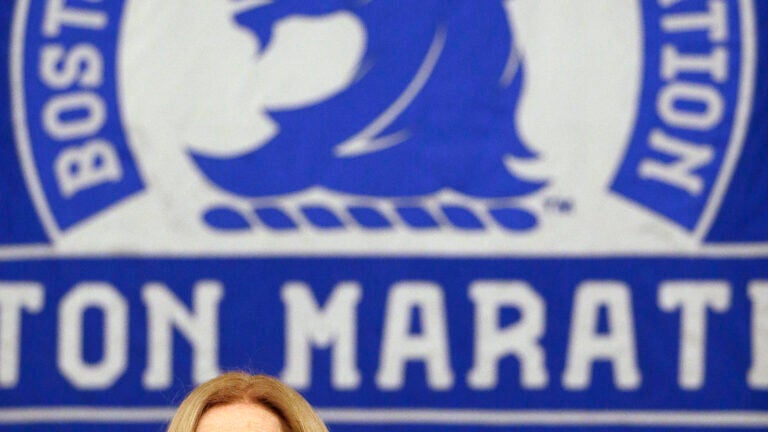 Before Kathrine Switzer, 261 was just a number. Fifty years later, it is a movement.
In 1967, Switzer became the first woman to run the Boston Marathon with an official race bib and number. Though she was nearly forced off the course once race organizers realized what was happening, her perseverance in finishing the 26.2-mile race made history and inspired generations of female athletes.
In 2017, Switzer, at age 70, is back running Boston. She will be joined by members of the 261 Fearless Boston Marathon Team. Dedicated to empowering women through running, 261 Fearless is a supportive community that includes running clubs around the globe. Ahead of the 2017 Boston Marathon, members of those clubs shared what Switzer and No. 261 mean to them:
Tawni Leon
Denver, Colorado
Age 50
Dear Kathrine,

Thank you for teaching me to be fearless. To be courageous and strong. To step outside of my box, stand tall and be proud. I run because it gives me strength and I feel powerful and beautiful! Thank you for believing in me!

With love, Tawni
Valerie S. Sestir
Gouverneur, New York
Age 65
My admiration for Kathrine and inspiration from her comes from something we have in common: age. I will be 66 in June, so Kathrine is a little over three years older than me.  And I also experienced the theme of "No, you're a woman" when, in the early 70s, I tried to get a checking account, and then a credit card in my own name.  Infuriating and frustrating.  But Kathrine did something about it.  It didn't happen all at once, but she worked hard to be able to allow women to be accepted in long distance running.  And I also find inspiration in her present situation — at 70, training for this marathon. Kathrine is my role model.  I hope to continue my running journey as long as possible.  She has reaffirmed my belief that neither age (nor gender) have to be barriers in running.  And I thank her for that.

I am so honored to be part of the 261 Fearless team!!

Be Fearless / Be Free / Be Grateful
Marla Hibbitts
Brackettville, Texas
Age 47
Kathrine Switzer inspired me when she made way for herself and others to run in a "man's world." She carried this "I can too" attitude with everything she did from her job and everyday life to fighting for a women's marathon in the Olympics.
Kristen Conklin
New York City
Age 47
In October 2015, I met Kathrine at a charity event & she told her story.  I was captivated and moved to tears.  Her journey resonated on every level and it served as utter inspiration.  As she signed my copy of Marathon Woman that morning, I shared with her how I was trying to qualify for Boston at the November 2016 New York City Marathon.  She looked me in the eye and said with confidence, "You will qualify and we will run Boston together in 2017."

There was no doubt, only belief, admiration and determination.  I was standing before a real (in my lifetime) hero.  I was born in 1970 and was raised by a single mom.  Divorce meant shame back in those days, and here was a woman who rose above it all and paved the road for countless women.  I began racing in 2011 because I was on the verge of a nervous breakdown and stressed beyond what I believed I could handle.  Running saved my life.  I ran a PR of 3:32:58 and here we are, lining up at the start, together.  What an incredible journey of ordinary women creating extraordinary experiences!!
Tracey Weatherly
Overland Park, Kansas
Age 54
Calm determination.
Rosy Spraker
Lorton, Virginia
Age 53 years
I was honored to meet Kathrine at my first Boston Marathon in 2007. I was so inspired by her story that I knew at that moment I would be coming back to Boston every year. This will be my 11th Boston with a goal of 25 consecutive Boston Marathons. Running gives me a sense of fearlessness, freedom, and empowerment; and I want to share that feeling with other women around the world. Running with the Kathrine and the women of 261 Fearless makes me feel like I am part of a team that is working toward a common goal to share fearless. Through this fundraising effort, we will be helping women in our own backyard and across the globe. We are changing the world one run at a time. And on Monday we will be running in Kathrine's footsteps, literally!
Christine Behrens
Dresden, Germany
Through running and 261 Fearless I learned one thing: limits are a chance for extending my physical strength, staying open minded, keeping proficiency in my business, encouraging women and being encouraged by other women. In 261Fearless we live sisterhood and celebrate running in our local 261Fearless clubs once a week in order to make other women feel their own strength and encourage them to live a fearless life.
Andie Armbrust
Colorado Springs, Colorado
Age 40
I've been a runner since I was in middle school (I just turned 40 this past October). I had honestly never heard of Kathrine Switzer until I came to watch my sister run in the 2015 Boston Marathon. I tried to meet Kathrine at that time, but she was always on the go! When I checked out her 261Fearless Facebook page, I was delighted to see so many inspirational posts on the page. After I was accepted to be a 261Fearless Ambassador, I became more aware of just how much being a runner prepares you for life. And what I have gained from Kathrine was the message that when you are fearless, you are free. I previously had a job where I was being put down by my manager and was under appreciated. I had put up with that for many years but after seeing so many positive posts and support from women towards other women on the 261 pages, I gained the confidence I needed to leave the security of my full time job in order to pursue a new career. I've been so much happier since making that change.

Kathrine's determination 50 years ago is still just as relevant today. Be fearless, be free!
Alison King
Stratford-upon-Avon, United Kingdom
Age 40
Kathrine has taught me to live, not just watch the world go by wishing I could do things. I'm setting all kinds of goals in life and business and have had such a blast going out and achieving them.
Elizabeth Jensen
Vadnais Heights, Minnesota
Age 39
Kathrine's story has inspired me since I first heard her story while running the Boston Marathon for the first time in 2006. Since then, I've had 4 children and had an opportunity to meet Kathrine in person when she spoke at a marathon expo in Minnesota in 2013. At that expo, Kathrine spoke about planning to run the Boston Marathon for the 50th anniversary in 2017 and I committed to trying to qualify for Boston once again to run with her. Unfortunately, my two attempted qualification marathons in January and May 2016 ended in a metatarsal stress fracture and missing the qualification time by 10 minutes respectively. Kathrine's example inspired me to continue to be fearless despite setbacks and tackle a new challenge for 2017, my first ever trail 50 mile race which I just successfully completed on April 8th with two other fearless women!  Thank you, Kathrine for leading all women to be fearless in all areas of our lives.
Lesley Mason
Australia
Age 40
Running, especially the marathon, changed my life. If it wasn't for Kathrine and her efforts, millions of women would not be running today. Just thinking about it gives me chills.
Charlotte Ryan
Texas
Age 60
Kathrine = Possibility

If you can put one foot in front of the other; if you can just run one mile, then you can do anything!

I can visualize Kathrine's father telling her, 'if you can run a mile, you can do anything'. I coach Girls on the Run and I always give a women's running history lesson about K.V. Switzer!
Katarzyna Zbikowska-Jusis
Lodz, Poland
Age 33
That's mantra that keeps me going — on every hard run and in life. I often think how strong and fearless Kathrine must have been to overcome fear in 1967 in Boston and how many times after that she must have been so strong to pursue and keep going while she was changing the world and making a way for future generations of women runners.
Diane Mindrum
California
I am inspired not only with Kathrine's running accomplishments but also with the hard work and effort she has put into building this organization from the ground up. It isn't easy. It takes years of planning and pushing and meeting after meeting. Plus it takes dedicated support people. Kathrine has worked harder than we know. This weekend will be the best weekend for all of us because of all that hard work. Thank you Kathrine !!!!!!! I can't wait to meet you in person.
Edith Zuschmann
Austria
Age 40

Kathrine inspired me with her vision. And I'm happy to inspire other women to become fearless through running, connect each other through running and create a better world. She started a social revolution and we are able to continue this effort with ever running step. THANKS KATHRINE!
Dawn Kaiser
Oscoda, Michigan
Age 51
At the time I received Kathrine's book, Marathon Woman, I was 47, out of shape and overweight. After reading her book, I signed up for a half-marathon. I thought, 'If Kathrine can endure the fear that she faced at Boston in 1967, I can run a half-marathon.'  And I did. I never ran before, and I still have a love/hate relationship with running. Becoming a runner and a 261 Ambassador have been major highlights of my life, and I would have neither without Kathrine. The best part is that I share Kathrine's dream concerning a supportive community of running/walking for women with every woman I meet. Thank you, Kathrine!!!
Katie MacIntyre
Seneca Falls, New York
Meeting and knowing Kathrine Switzer has changed my life. I am grateful for her commitment to women and equality. Her life work has made life better for many, many people, especially women. Kathrine is tireless, bold and certainly fearless.

When I applied to be on her team last fall I was waiting to find out if I had breast cancer and applying was a big, bold and fearless thing that I just had to do. It is one of my lifetime highlights to be at the start line with her as part of her 261 Fearless team running the 2017 Boston Marathon.
C.C. Tellez
Philadelphia, Pennsylvania
Age 39
Show up.  Kathrine's actions have taught me the power of showing up in life.  Everything we do in life, no matter how small we might think it is — it matters! So its important to really show up and make it count.
Juliet Morris
Greenwich, London
Age 50
When Kathrine ran the Boston Marathon in 1967 I was two weeks old. It seems inconceivable that in the year I was born, women were not considered physically robust enough to cope with the demands of a marathon and to take part in one was practically and act of civil disobedience.

As a 30-year-old who started running by completing laps of my local park, I had no knowledge of the path that Kathrine had paved through her determination to run a marathon building her strength mile by mile. When I set out with my trainers now however and see fellow women running shamelessly and fearlessly around the streets and parks of London, I wonder whether we would be doing this if it were not for Kathrine's determination to open the doors of opportunity to women.

As a 261 Fearless group leader I am still inspired by Kathrine's spirit and this April ran my first marathon with my 261 partner; the knowledge that Kathrine is prepared to accept the challenge at 76 enabled me to take it on at 50! Running provides me with opportunity, challenge and freedom and I have the blisters to prove it! Thanks Kathrine for paving the way for so many women.
Paula Winter
Rock Island, Illinois
Age 60
Age is just a number and Kathrine Switzer is proof of that.
Cristin Bleess
Tirana, Albania
Age 44
Kathrine Switzer, with her true desire to empower women, has motivated me to help women in Albania to become Fearless. Women here do not always feel that they can or should go out to run or exercise in public. With the support of 261 Fearless, there is now a community of women that meet once a week to run around the lake and gain strength through and with each other. It has been great to see the club grow as women see us out in the park and decide they want to join us. All this is thanks to what Kathrine did for women's running fifty years ago in the 1967 Boston Marathon.
Tracy Chamberlain Higginbotham
Syracuse, New York
Age 52
This will be my first marathon. I have promoted successful women in business 22 years through my company Women TIES but never met a woman quite like Kathrine Switzer. She is hands-down my favorite "feminist" because she has individually changed the world for women and girls for five decades through running.

Her advice and example of fearlessness gave me the courage to accept her invitation to go to New York City two years ago as one of the first 261 Fearless "Train the Trainers." I was too scared to travel to NYC because my friend was killed in one of the two 9/11 planes that came in from Boston.I remember Kathrine telling me, "To be fearless, means you are free," so right on 9/11/15 after running about the decision I called Kathrine and accepted her invitation. I became fearless to visit New York, Boston, fly again and now run my first marathon.

She is right "Being fearless gives you freedom and freedom truly is a blessing."
Christine Valdivieso
Laguna Niguel,
Age: 49
In the past six months I have …

Read Kathrine's book Marathon Woman.

Had the privilege to join and be part of the 261Fearless team.

Had the opportunity to hear Kathrine speak during our amazing conference calls through 261.

Through these experiences I have gained tremendous insight into Kathrine's approach to life- being Fearless.  I am inspired that although there have been roadblocks and signs that what Kathrine wanted to accomplish was not possible, she persevered and made her own path to her aspirations. She is a role model, and I am inspired to continue living my life and creating my own path to success with this Fearless mindset!
Tanja Bucher
Frick, Switzerland
Age 35
This is what Kathrine is doing for us and what we try to do as 261 Fearless club coaches: A strong woman stands up for herself. A stronger woman stands up for others.
Ellen Bintz Meuch
Wheaton, Illinois
Age 57
Kathrine ran the Boston Marathon in 1967 not to prove anything, but because she could. She knew she physically could. It wasn't until she was IN the race — and almost forced out — that she realized she had to finish for the sake of all the women who were watching her, who were wondering if they, too, might be able to run a marathon. The energy of knowing you can, of facing the challenge (no matter how scary) is POWER — not to be confused with force. That energy of power combined with endurance created change, opportunities, and growth for women. Fifty years later, Kathrine's power will be multiplied more than 100 times as we stand at the starting line as Team 261 Fearless. Just imagine the change this is going to inspire!
Melany Arrison
Clarence, New York
Age 41
I learned about Kathy Switzer while completing a storytelling manual for Toastmasters. I had to tell someone's inspiring story and do it justice over the course of writing and presenting short projects to my peers. I gave a few vivid speeches in regard to her Boston marathon story, her lifelong efforts to promote women in running and uncovered and shared with others how she planned to run again, at age 70, and has come full circle 50 years later.

I dreamt of aiding her launch of the 261 Fearless charitable foundation and felt like I was a decent candidate for the team. I boldly accepted the challenge realizing preparing for a full distance marathon and fundraising thousands of dollars would be difficult. I have pushed day in and out for ten weeks since I joined the team with as much respect, grace and courage as I could muster to do things that are not very comfortable, train long distance and ask others for donations. I found Kathy's legacy so thought provoking, inspiring and challenging all at once. I have fearlessly been able to discuss the subject of gender discrimination and the need to be supportive of women in sports! I gently ask my audience to consider where we are today, as a community, as a nation. Are we accepting females as capable, are we fair minded and how well do we communicate and connect with others? Talking about gender can be tricky nowadays, this is all an eye and heart opening experience for me!

When I signed the 261 Fearless contract promising to finish this process, Kathy asked us to respond that we'd finish even on our hands and knees (she said this in 1967 during the race). I did state this in my reply and absolutely meant it! In my mind Kathy is the quintessence of a fearless woman. I am fearlessly prepared to run beside her and am now willing to speak out for the right of women to participate in sports, and in life."
Laura Gustafson
Myrtle Beach, South Carolina
Age 51
After the 2013 bombings in Boston, I told my husband that I would run the Boston Marathon one day. I was a smoker, and certainly not athletic. Everyone told me I couldn't run Boston. I knew I would never qualify. Still, I quit my 31-year smoking habit and started running. Kathrine has now given me the opportunity to run the Boston Marathon. First, by forging the way for women to actually run the race, and by forming the 261 Fearless Boston Marathon Team. When everyone told me I couldn't, Kathrine's voice always tells me, "Yes, you can."