Marathon
Meb Keflezighi stopped to embrace Martin Richard's family after final Boston Marathon
"I just told them to be strong. We think about them often."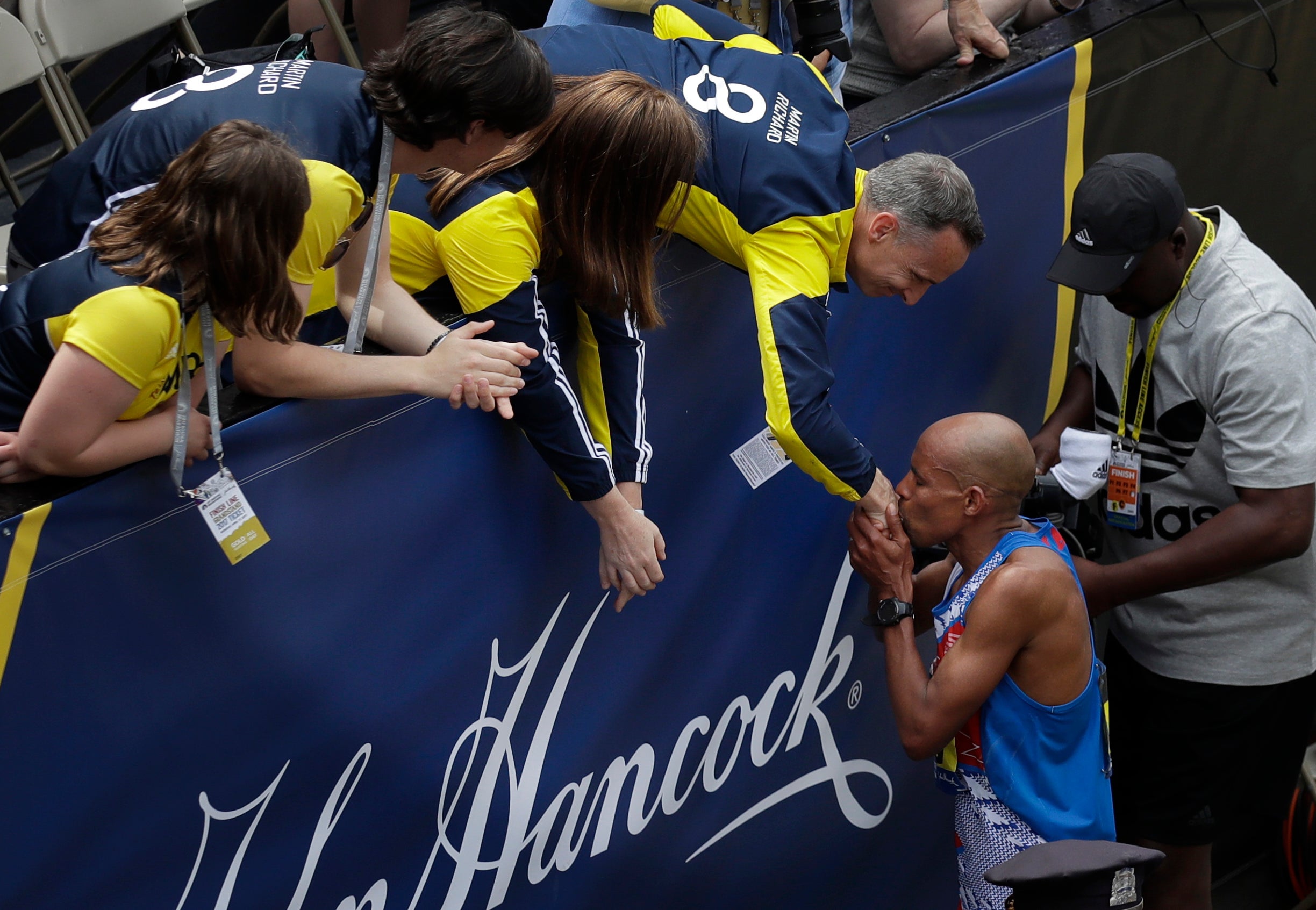 Moments after waving a final farewell at the finish line of his last Boston Marathon, Meb Keflezighi singled out a particular family in the crowd. In the immediate aftermath, the 2014 champion found the family of Martin Richard, the 8-year-old boy killed in the 2013 bombing.
"I've become good friends with Bill Richard and his wife and daughter and son," Keflezighi said afterward in a WBZ interview. "I just told them to be strong. We think about them often."
At Finish Line 2014 @bostonmarthon Champ @Runmeb shakes hands with the Richard Family @TeamMR8 pic.twitter.com/7OqmJC7yQb

— Jessi Miller Bradley (@JessiWBZ) April 17, 2017
In 2014, a year after Richard was killed by an explosion near the finish line, Keflezighi famously became the first American man to win the Boston Marathon in 31 years. On his bib that year, he wrote the names of the victims, including Martin Richard.
"I have an 8-year-old," Keflezighi said. "That's why the first time when I saw Martin on the news, I said I have a daughter and that could've been my daughter. So it's personal. But I try to be there for them as much as I can, especially with texts and emails and whenever we see each other. He was a beautiful little kid who was ahead of his time, with a beautiful smile. And he was a great runner."
Keflezighi finished the 2017 Boston Marathon in a respectable 2:17:01 despite battling through an injury.
MEB!!
2014 #BostonMarathon champ Meb Keflezighi finishes with an impressive time of 2:17:05@runmeb #wbz pic.twitter.com/ct3cerlHkc

— Scott Sullivan (@SullyBunz) April 17, 2017
"Body was hurting pretty bad," Keflezighi explained. "But at the same time, the crowd gets you through it."
As he reflects on the 25 marathons he's run, Keflezighi holds his Boston win above all others.
"To win in 2014 was special," said the 41-year-old. "The most meaningful victory of my career."
And as he savored the moment at the finish line, Keflezighi had a simple message for the fans.
"This is my last Boston. Thank you, Boston."