Boston Marathon
Two of Edna Kiplagat's kids stole the show at the Boston Marathon finish line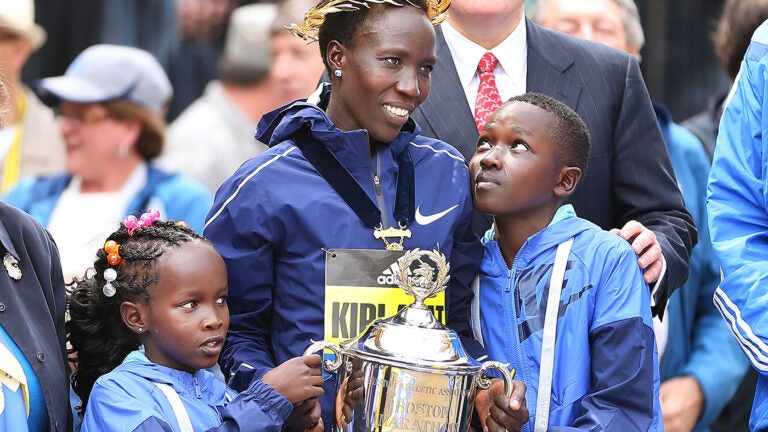 After breaking through the finish-line tape, the 2017 Boston Marathon elite women's winner Edna Kiplagat kept going — directly into the embrace of two of her children.
Kiplagat, a Kenyan policewoman, took home the trophy after breaking open a huge lead over the other elite women runners. She crossed the finish line Monday with an official time of 2 hours, 21 minutes, 52 seconds — in her Boston Marathon debut, no less.
Kiplagat made running 26.2 miles look easy, but the 37-year-old's response upon crossing the finish line illustrated the grueling physical and emotional journey the race truly is. And 9-year-old Wendy and 13-year-old Carlos, Kiplagat's two children, were waiting just feet beyond the line to receive their tired, smiling mother.
WOMEN'S WINNER!#Kenya Edna Kiplagat is the #BostonMarathon women's winner finishing in 2:21:52 @KiplagatEdna #wbz pic.twitter.com/ZA2m0qnPff

— Scott Sullivan (@SullyBunz) April 17, 2017
Shortly thereafter, the two kids accompanied their mom onto the winner's podium to help her hoist her prize.
In a post-race interview on WBZ-TV, Kiplagat thanked Carlos and Wendy for giving her the time to train and prepare for the race.
"I'm so happy that they are here today with me," she said.
In addition to her two biological children, Kiplagat and her husband adopted two children from her sister, who died of breast cancer in 2003, and a fifth child from a neighbor who died during childbirth in 2013, according to The Guardian.
The elite marathoner, who won the 2010 Los Angeles and New York races, also has a foundation to raise breast cancer awareness.
Photos: The Boston Marathon through the years:
[bdc-gallery id="138482″]