Boston Marathon
The 2017 Boston Marathon by the numbers
Every U.S. state was represented, along with 99 countries.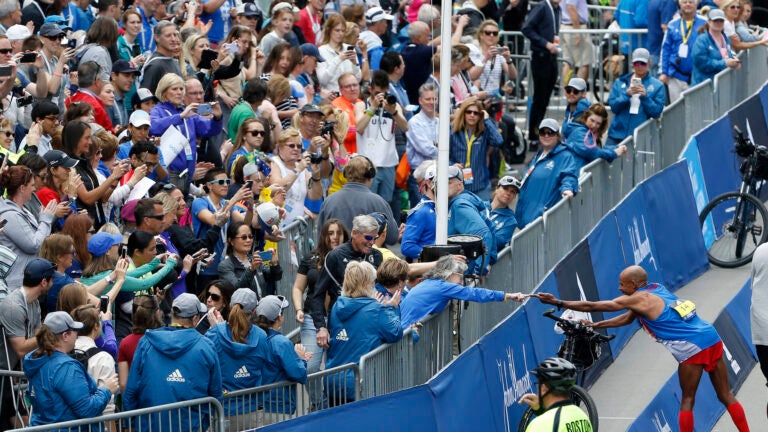 With the 121st Boston Marathon in the books, it's time to take stock of the statistics produced by those who trekked from Hopkinton to Boylston Street. As the oldest annual marathon in the world, Boston continues to attract elite runners and motivated fundraisers. The dedication and diversity of the crowd is reflected in the numbers compiled by the Boston Athletic Association on the 2017 race.
Here's a glance at some of the notable stats:
Of the 30,004 runners who entered, 27,221 started. Approximately 9.5 percent didn't make it to the starting line (potentially because of injuries during training in some cases).
Of the 27,221 who started, 26,411 runners finished (97 percent).
Of the 26,411 runners who finished, 14,438 were men and 11,973 were women.
Additionally, 53 wheelchair and 28 handcycle racers finished the marathon.
All 50 states were represented, along with the District of Columbia. Six other U.S. territories were also represented, including two runners (both of whom finished) from the Virgin Islands.
Unsurprisingly, Massachusetts, with 4,592 runners, contributed the largest number. Wyoming had the fewest runners complete the marathon, with 21.
In total, 99 countries were represented, including one runner from San Marino (a nation barely big enough to run a marathon in).
From Greece, the origin of marathons, 10 runners started and finished.
Technically, the only division to finish the marathon with a perfect completion percentage was the 80+ female age group. The lone runner, an 84-year-old from Santa Cruz, California, churned out a steady official time of 6:04:07.