Boston Marathon
Why I'm Running: Caitlyn Callinan is running Boston on her 18th birthday to honor her grandfather
"I will be the youngest marathon runner on April 16, 2018."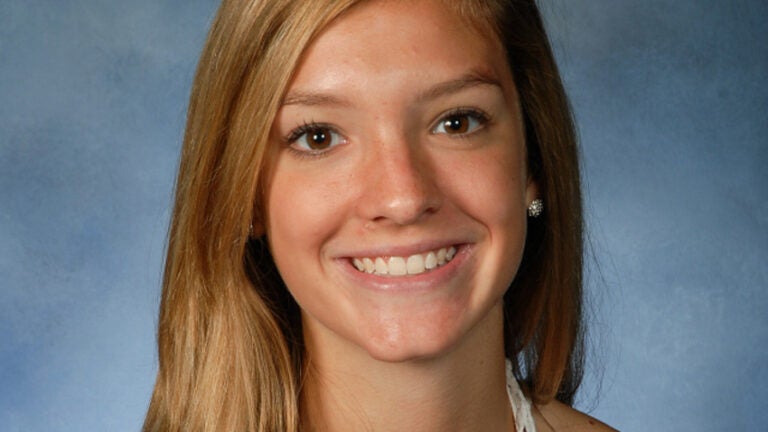 In our "Why I'm Running" series, Boston Marathon runners share what's inspiring them to make the 26.2-mile trek from Hopkinton to Boston on April 16, 2018. Are you running Boston? Here's how to share your story on Boston.com.
Name: Caitlyn Callinan
Age: 17
From: Litchfield, New Hampshire
Bib #: 26400
My name is Caitlyn Callinan, and I am a member of the 2018 Boston Marathon American Liver Foundation team. I will be the youngest marathon runner on April 16, 2018. I am running the marathon on my 18th birthday as my senior project for Campbell High School in Litchfield and in support of my grandfather (Wayne Gagne) who has later stage, non-alcoholic cirrhosis. I am running the marathon for a purpose — to honor my grandfather and his medical struggles. This purpose will get me through the grueling 26.2 miles.
Here is an email my grandfather sent to his co-workers on my behalf:
My granddaughter, Caitlyn Callinan (Catie), is a talented cross country runner, who as a high school senior has elected to run the Boston Marathon as her senior project. […] Because she didn't have the time to qualify (before graduation) she learned she could qualify by raising money running for a charity of her choice. Thus, with me, her grandfather, in mind, she chose the American Liver Foundation, to raise awareness to my debilitating disease: non-alcoholic cirrhosis of the liver.
Catie had to complete an application of intent and a series of interviews with the Liver Foundation staff before she was accepted and registered. This is a huge undertaking. Catie will be running on her 18th birthday, April 16th, 2018.  What a birthday celebration this will be!
Check out our entire "Why I'm Running" series.
___
Editor's note: Entries may have been lightly edited for clarity or grammar.