Boston Marathon
For a marathon cheater, the biggest obstacle isn't in Boston
Meet Derek Murphy, the middle-aged financial analyst who has made a name for himself exposing everyone from course-cutters to bib-swappers.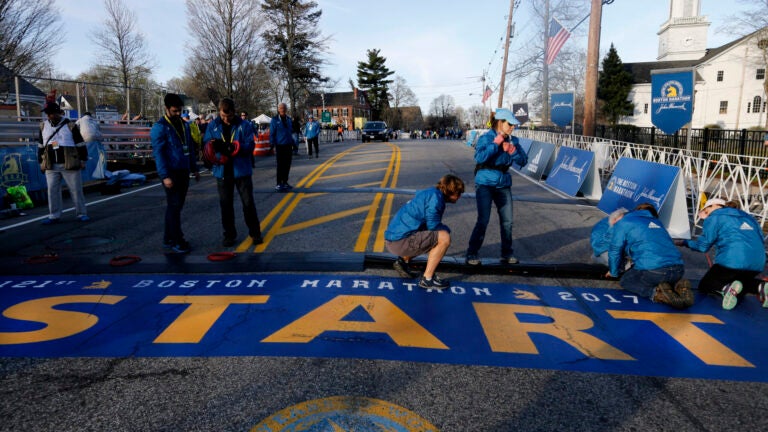 The story of Rosie Ruiz is perhaps the most well-told account of cheating at the Boston Marathon. But it's hardly the last.
For the runners who still try to cut corners — figuratively or literally — one of their biggest obstacles is a 47-year-old financial analyst in Cincinnati. Derek Murphy, who runs the website MarathonInvestigation.com, estimates that he has gotten "hundreds" of runners disqualified, not just from Boston, since he began the venture in 2015.
Before last year's Boston Marathon, he got 15 runners booted by the Boston Athletic Association. In 2015, an investigation by Murphy and Runner's World found at least 47 alleged cheaters. In addition to his full-time job, Murphy says he devotes up to 20 hours a week on his website, scouring race times, responding to tips, and following leads.
Murphy says he became fascinated by the stories of marathon cheaters, like Ruiz — who infamously cut the 26.2-mile course in 1980 to (temporarily) claim the women's title — and thus began to start digging into the data.
"I'm very analytical; I work with numbers all day," he said.
Course-cutting cases like Ruiz are rare today, due to the runner-tracking technology in bibs and timing-mat checkpoints, as well as the nature of the Boston Marathon itself. The point-to-point course — running one way from Hopkinton to Boylston Street, rather than down-and-back or in a loop — means that any such cheating has to be premeditated.
"Point-to-points, you're not going to cheat on a whim," Murphy said.
That doesn't mean there aren't cases each year of suspiciously missed timing mats. And when there are, Murphy is quick to turn them around into a blog post.
Last year, he flagged a German runner who witnesses said took the Green Line from Woodland Station in Newton (just short of the 17-mile mark) to Fenway and jumped back into the race a little before mile 25. Murphy pulled up the runner's splits and found he had missed the 18.6- and 21.7-mile checkpoints.
With the help of followers, Murphy found the runner's blog, which said he intended to finish all the major international marathons in less than three hours. While his other times looked legitimate, his splits in the 2017 Boston Marathon at around 15 miles, headed toward Heartbreak Hill, suggested he wasn't going to make it under three hours. So apparently he resorted to desperate measures.
After Murphy presented his findings to the BAA, the runner was disqualified and his time was removed from the results.
As Murphy's sleuthing has gained more attention — he's been profiled by national outlets like NPR and NBC News — he says tips from followers have accounted for an increasing amount of his leads, from small races to ultramarathons.
"I get a lot of emails from like local 5Ks like 'Hey, this person cheated,'" he said, adding that he now tries to focus on only the most egregious examples in major races, like Boston.
According to Murphy, the most common form of cheating at the 121-year-old marathon happens well before Patriots Day, as a result of the elite race's competitive qualifying requirements. In order to get into the race, some runners give their bibs to a faster runner during qualifying races to ensure they finish under the requisite time standard. Or they simply run the marathon using a qualified runner's bib number — sometimes with their permission, sometimes without.
More than two thirds of the runners Murphy's investigation helped get disqualified in 2015 had allegedly engaged in this sort of cheating, known as bib muling and bib swapping or copying, respectively.
To sniff them out, Murphy pulls runners' qualifying times and compares their predicted finish times to their actual times after the race. He does factor in for a certain amount of difference, given that the early spring marathon doesn't lend itself to much good training weather. Murphy also recognizes that some people slow down and run Boston as a sort of "victory lap" after the accomplishment of qualifying.
That said, some bib-swapping cases are clearcut.
"I can quickly flag the runners who qualify in 2:45 and finish in five-and-a-half hours," he said.
Murphy said he used to get blown off more during his early sleuthing days, but now most race directors take him seriously. The Boston Athletic Association, which runs the Boston Marathon, has "always been pretty cooperative and pretty responsive," he said.
Tom Grilk, the executive director of the BAA, told Runner's World in 2015 that cheaters make up an "infinitesimal percentage" of the marathon's field, which regularly tops 30,000 each year. But they remain on the lookout.
"We take this stuff seriously and take measures to address it," Grilk said.
Murphy says he will continue to monitor the field ahead of and during this month's race, and has no plans of stopping his operation.
"As long as I feel like it's making a difference," he said.
Photos: The Boston Marathon through the years:
[bdc-gallery id="138482″]