Boston Marathon
How Shalane Flanagan went from almost retiring to being a top contender in the 2018 Boston Marathon
Can Flanagan continue the momentum from her win in New York City?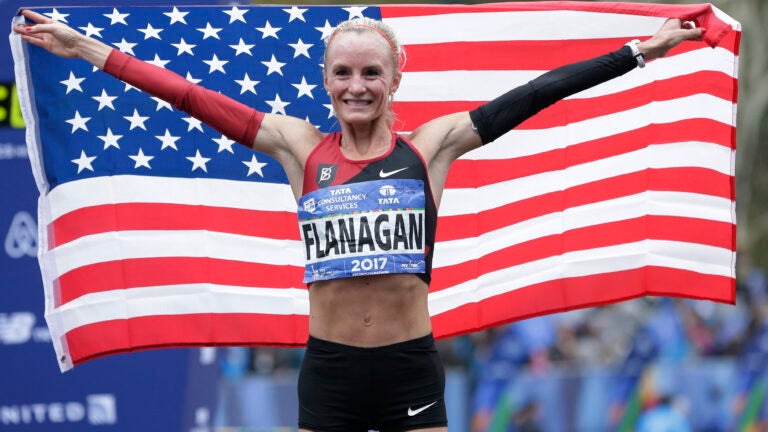 Shalane Flanagan says she felt "hungover" after her historic New York City Marathon finish in November.
"I was in a state of such overwhelming happiness, a state of bliss," she told Boston.com. "It felt better than I ever dreamed it would feel. But when I came down a little bit a week later, my head hurt and my teeth hurt from constant smiling. I just had never experienced such elation to that degree and for that long, so when I finally came back to a little bit of normalcy, I felt like I had been raging."
Not only was Flanagan's victory her first world marathon major win, but it also was the first time an American woman had won the race in 40 years. The 36-year-old crossed the finish line with a time of 2:26:53 — just 5 minutes and 39 seconds shy of the personal record she had set at the 2014 Berlin Marathon.
Once her "happiness hangover" subsided, Flanagan — who missed the 2017 Boston Marathon due to a lower back injury — faced a sobering question: Was it time to call it quits? Despite contemplating retirement prior to running in NYC, the Marblehead native expressed a potential change of heart in the days following her win.
She had her eye on one upcoming race in particular: the 2018 Boston Marathon.
"I feel like I would be pretty sad and it would not feel right if I was not on the starting line," Flanagan told Runner's World in an interview published in November.
Her participation was confirmed less than a month later. Headlining an elite field of American female contenders, Flanagan is returning to Boylston Street with hopes of owning the event that first inspired her to one day tackle 26.2 miles.
As a beginning runner at age 14, Flanagan says she remembers sitting on the corner of Hereford and Boylston watching her father, Steve, compete in the 100th anniversary of the Boston Marathon in 1996. When Germany's Uta Pippig crossed the finish line with a time of 2:27.12 to take the women's field, Flanagan says she was astonished by Pippig's mile pace (5:37).
It was faster than her time for a single mile.
"That completely blew my mind," she said. "These people are superhuman."
Her goal to run a marathon began as simply a bucket list item. Flanagan says she never expected she'd be competing at an elite level or be in a position to stand on a medal podium — laurel wreath and all.
Oh, how times have changed.
Flanagan holds the fastest time by an American woman in Boston Marathon history — and is hoping she can carry the confidence and the momentum from her NYC win come April 16. She says she's busier now than she's ever been, navigating the chaotic, albeit rewarding, balance of relishing post-victory opportunities while training for her fourth go-around in Boston.
The hours can be taxing, but Flanagan's optimistic it'll all be worth it.
"I have confidence in my training and the preparation I do on any given day," she said. "I legitimately have a chance. It allows me to keep dreaming the dream of winning the Boston Marathon. I felt very validated in my dream by winning New York. I put in all the work and it paid off. I know that I have a shot if I put in the same work again."
The Marblehead native, who now resides in Portland, Ore., recently went to Colorado for five weeks of high-altitude training from mid-February to mid-March. Living in what she calls "a cute cabin" overlooking Pikes Peak, Flanagan says she would get up around 6 a.m. every morning to train at 8,600 ft of elevation.
"It feels like you're breathing through a straw," she said.
Flanagan, along with her training partner Gwen Jorgensen, ran twice a day in Colorado, typically notching 12 miles in the morning and six to eight during the evening. Between runs, she visited the gym, prepared meals, napped, and visited a physical therapist in Colorado Springs. She tried to go to bed by 9 p.m. every night.
Her daily routine wasn't necessarily exciting, but it was effective.
"I call it 'Groundhog Day,'" Flanagan said, referencing the 1993 film. "It's kind of a grind when I get into this training mode, but it yields good results. The monotony of everything is what is key to endurance athletes."
Flanagan says she's been training this way since she graduated from the University of North Carolina at Chapel Hill and turned pro in 2004.
As she explained, "studies have proven when you go to a high toxic environment, like high altitude, your body produces extra red blood cells, which allows you to carry more oxygen, so when you come down to sea level, like Boston, you're carrying these extra red blood cells, which help you carry more oxygen and benefits you over the course of the marathon."
"It helps me be able to run easier over a longer period of time," she said. "Most of my competition is from east Africa. and they all live in and train in high altitude, so I look at it as a disadvantage if I didn't do it. I have to callus my body."
Flanagan says the runs can be challenging at such a high elevation, but the results are instantly tangible. Upon returning to sea level, she says she feels a psychological and mental boost from the ease at which she can run.
"It gives you kind of a mental edge when you get to sea level and you feel really good after getting used to suffering," she said.  "I remember the first time I trained at such high altitude, everything felt like it was heavy and lactic. My breathing was just out of control. I felt like a freight train. You just work so much harder. The masochist in me was like, 'Oh this is great. I'm going to get so fit.'"
Flanagan emphasizes the importance of nutrition, hydration, and recovery when training in such a draining environment. For her meals, she frequently relies on her cook book, Run Fast, Eat Slow. One of her favorite breakfast options is the "Can't Beet Me Smoothie," which unsurprisingly calls for cooked beets — an ingredient Flanagan says is great for endurance athletes.
Lunch typically consists of eggs, chicken, and a big hearty salad with grains, while dinner is usually veggies on the grill with steak or whatever protein she is craving. For those seeking "more abbreviated, simpler recipes," Flanagan's next cook book, Run Fast, Cook Fast, Eat Slow, is scheduled to be released in August.
Flanagan says she doesn't have a go-to pre-race meal because of the variety of places in which she runs, though she says she's made her lasagna before past Boston Marathons. Prior to working out, however, she says she often likes to take HOTSHOT, a spicy sports shot developed by a pair of Boston-based doctors.
"It provides relief for muscle soreness, which is huge for marathon training because I feel like I'm always sore," Flanagan said.
After her five weeks in Colorado, Flanagan returned to her home in Portland, where she'll stay until arriving in Boston the Thursday before the marathon. When asked what she misses most about the city, Flanagan — whose family still lives in Marblehead — said the people.
"There's definitely a different personality," she said. "I find the people of New England to be really endearing in the sense that they're really honest — and very loyal as well. From the outside, people sometimes describe Bostonians as being a bit crass, but I just find them very authentic and real, with a great work ethic."
As much as she's loves returning to Boston and "hearing the accents," Flanagan is also looking forward to conquering a course that she calls one of the hardest routes she's ever run.
"There's nothing easy about it," she said. "It makes my body question if I've ever run before."
"It's just unrelenting," she continued. "I have trained on the course numerous times. I know it in and out, I know every divot in the road. If you were to break it up and run certain chunks of it, people would walk away, including myself, and say, 'It's not that hard. It's not that big of a deal.' But when you string the whole thing together, it is brutal. I don't know what it is."
Flanagan says the difficulties are hard to articulate, although she did mention she's experienced "an unparalleled world of pain" running through the infamous hills in the second half of the race. Regardless of what the course's unique challenges may be, Flanagan expressed confidence this year is her year.
"Everyone has a chance to define themselves and have this life-changing moment," she said. "I'm motivated because I just had a life-changing moment and want to have another one. It feels so good. It feels so validating."
"You're only as good as your last race, and the last one was pretty good."
Photos: The Boston Marathon through the years:
[bdc-gallery id="138482″]