Boston Marathon
Double Boston: The marathon so nice they run it twice
"I do get a lot of questions that are simply like, 'Why?'"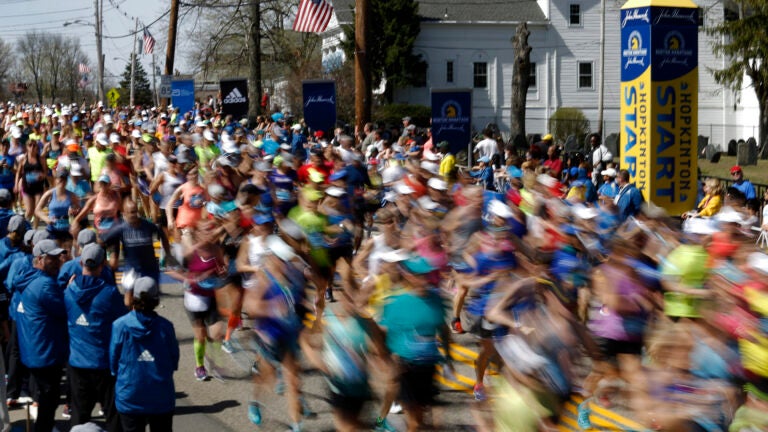 Kyle Robidoux says he gets a similar reaction when he tells friends his plans for the Boston Marathon.
"Whether they're runners or not, the response is pretty similar," Robidoux said. "It's like, 'You're doing what?'"
"'Isn't running one marathon enough?'"
The 42-year-old Roxbury resident is among the handful of runners who will set their alarm clocks a bit earlier than the rest of the marathon field on Patriots Day and head to Copley Square. For them, the iconic finish line is also the starting line.
Last year, Robidoux completed the so-called Double Boston, running the full course backward from Boylston Street to Hopkinton in the early light, before turning around and running the 26.2 miles again with the rest of the crowd. The legally blind ultra-marathoner enjoyed the experience so much he plans to do it again this year.
Running a single marathon seems like an impossibly daunting task to most people. But it's striking how normal — fun, even — running it twice sounds from Robidoux's ilk of extreme long-distance runners.
"I do get a lot of questions that are simply like, 'Why?'" said Jason Burke. "I'm not sure I have an answer for that."
A 60-time marathoner who first ran the Double Boston in 2002, Burke says he didn't know what to call the 52-mile feat when he did it at the time in preparation for an upcoming ultra-marathon. The 40-year-old Brookline resident had seen other people doing it on the news and says Double Boston seemed like the logical term.
"I'd love to say I coined it, but I think if you asked a 6-year-old what it was, they would probably call it a Double Boston," he said.
Burke, a qualified runner going on his 23rd straight Boston Marathon this year, also plans to do the Double for the first time in 16 years.
Greg Soutiea, a 34-year-old Quincy resident, says that watching the marathon when he moved to the area nearly 10 years ago motivated him to get into long-distance running. This year will be his fifth official race and his second Double. Having qualified in the past, Soutiea says he now takes the marathon "as a fun day" rather than a race.
"What could be possibly better than running the Boston Marathon?" he asked, rhetorically.
Of course, his answer is doing it twice.
Sarah Stanley, a 37-year-old Denver resident who was the only women to run the Double in 2010, said she found out about the challenge the week before the marathon. Having recently gotten into ultra-marathons, including a 100-mile trail run, she immediately agreed.
"You hear the word crazy a lot, like 'Oh my God, that's crazy,''' Stanley said. "But it's all relative. I think it's crazy to sit on the couch and watch TV for five hours."
The small group who run the Double Boston — around a half dozen each year — begin by gathering at Copley Square as early as 4:30 a.m. Robidoux says that last year he and his running guide took off at about 5 a.m. Burke says he has it timed to leave by 6 a.m., giving himself three and a half hours to reach the starting line.
Avid marathoners view Boston as a unique opportunity to relish the celebratory crowd. But one appeal of running it twice is how calm the course is in those first few hours.
"It's really neat to see a scene that is empty, knowing that several hours later the 'entire world' will be there," Burke said.
For Robidoux last year, the first five or six miles were in the pitch dark.
"We crested Heartbreak Hill as the sun was coming up," he said.
As they get farther and farther west, the more they see the course take shape, as spectators and volunteers alike start milling about. Gradually, more tents and barricades and barbecues begin lining the barren course. Closing in on the starting line, Robidoux says one of the coolest things was seeing the first wave of wheelchair and hand-cycle racers come flying down that first hill. As long as they run with their bib, they're able to run all the way to the starting line.
"The beauty of running it in reverse was seeing the course truly wake up and come alive," he said.
The Double Boston runners try to time it so that they make it to Hopkinton before the first big wave of marathoners takes off at 10 a.m., so they don't get caught trying to "swim upstream" in the crowd. While arriving at different times, they generally give themselves around 45 minutes to an hour to rest and refuel.
"You get to the start and it's like 'Oh, I just ran a marathon,'" Stanley said.
Robidoux, who is running with Team with a Vision, has the benefit of having fellow team members and guides at the Hopkinton Vision Center waiting with a change of clothes and food. But it's a relative luxury. Burke says he plans to drive out the weekend before the race and stash clothes and maybe even a sandwich somewhere within a few miles of the starting line.
With one marathon in the books, they turn around and run the course again with the rest of the 30,000 entrants. The energy their legs may lack is supplemented by the thousands of spectators — now out in full force — lining the course.
"You get a little bit of cheering on the way out, but it's really on the way back that you get the full experience," Soutiea said.
As crazy as it sounds, Robidoux says that having already finished one marathon allowed him to truly enjoy the "magic" of the Boston Marathon last year, which he says he didn't get to do the first three times he ran it with time goals on his mind.
"I get caught up making sure my pace is on point," he said. "Though I enjoyed the crowds, I never fully took them in. I never stopped to give my family and friends high fives or hugs."
Having cleared his conscious of those first 26.2 miles, Robidoux says many high fives and hugs will be given out again on his way back this year.
But that doesn't mean it isn't still incredibly challenging. Burke notes that you still have 26 miles on your legs when that starting-line gun goes off. And after the hourlong break, it takes a few miles for their legs to loosen up again. Robidoux said he was always warned those first few miles on the way back would be the worst part.
Fifty-two miles on pavement also takes a toll on the body. It's a challenge even for those who are relatively light-footed, according to Burke. Stanley says it's part of the reason she has since taken more to trail running.
"Your feet get the impact, but it goes all the way up to your lower back and your neck," she said, adding that trails don't leave the body feeling as "beat up."
Of course, the Boston Marathon does offer thousands of boisterous fans to take the pressure off.
"It's such an amazing experience with the crowds that some of that makes you forget about being 30, 40, 50 miles into your day," Burke said.
Still, the second-most common reaction by which the Double Boston Marathoners get greeted is bafflement.
Burke recalls running the reverse route through Newton Hills his first time in 2002, passing people preparing marathon day parties. One man settin up chairs stopped as Burke ran by with his bib, looked down at his watch, and then looked back at up at him with an "absolutely confused" face.
"I'm sure that sort of thing will absolutely happen this year," Burke said.
Photos: The Boston Marathon through the years:
[bdc-gallery id="138482″]