Boston Marathon
U.S. Olympian Molly Huddle upbeat ahead of Boston Marathon debut
"I just think if you could pick a day and place to win, it would be Patriot's Day in Boston."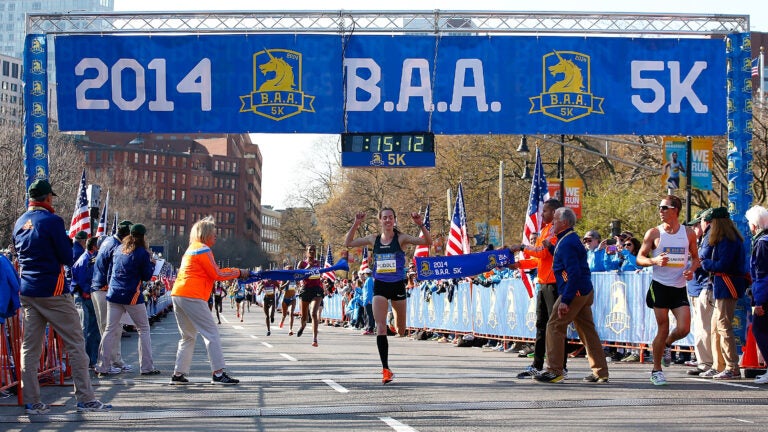 Molly Huddle is a two-time Olympian, owns the U.S. women's record in both the 5,000 and 10,000 meter races, and recorded a third-place finish in the 2016 New York City Marathon. Yet in 2018, at the age of 33, she will be making her Boston Marathon debut.
It won't be her first race in Boston, as Huddle has run (and won) multiple versions of the Boston Athletic Association 5K. Yet as she enters a new period in her career oriented more around marathons, Huddle is eyeing Boston as a challenge and opportunity.
Huddle recently answered a few questions ahead of the 2018 Boston Marathon covering a range of topics.
This interview has been lightly edited and condensed for length and clarity.
Marathon Monday is rapidly approaching. How's your preparation going?
Molly Huddle: It's getting so close! We're wrapping up some of our hardest workouts, and then it starts to lighten up before. It's been good, it's been better than my last and only marathon buildup before this, so I'm hoping that leads to some improvements on race day. And I feel very lucky to have not had really any interruptions. I think in my last buildup I had to miss a few days for things here and there. This time's it's been pretty smooth sailing, so knock on wood. It's always exciting going into a race when things have gone the way you want them to go.
Was your first marathon literally the only time you've run 26.2 miles, or have you done that in training?
MH: Yes, that was literally the only time. That's still my longest run to date.
How do you feel now having done it once, now going into your second?
MH: I do feel that I have more confidence in the training that we've done for this one on paper, but anything can happen on race day. So I just need to make sure that I get everything right that day as far as avoiding any cramps and blisters and getting my fueling right which I think we've practiced really well, and just not getting sick and all of those hurdles that can crop up on race day. I think I've handled some of the long runs and workouts a lot better [this time]. I've just been able to do a lot more work and stay healthy this time, so there's confidence in that. For sure.
You regularly train in Providence, but considering the ongoing wintery conditions, have you been training in a warmer climate?
MH: Yeah, Providence, Rhode Island is my hometown, but for the winters for the last six years, we've been going to Scottsdale, Arizona. So I've done a majority of my buildup, just between Flagstaff and Scottsdale. We've had a lot of snow back in Rhode Island, so I think it was a good move this year.
I know you've run and won the B.A.A. 5K before, but I wanted to know if you've ever been in Boston on Marathon Monday before?
MH: I have. I watched the finish line a couple of years in a row. My training partner ran in 2011, so I was there that year. I've been on Boylston watching people come down, and it's super exciting. Since I've been there watching the race the last couple of years, I've really wanted to do it myself. This has been kind of a bucket list item.
This year it looks like it will be a strong U.S. women's field of runners. What are your thoughts on running in such a group?
MH: I feel like that's one of the main storylines of the race is just having such great head-to-head match-ups on the women's side. Shalane has just won a major in New York, and Desiree [Linden] has always run so well in Boston. Jordan is running really fast in the marathon right now. I think between the four of us it's just going to be a story within a story on race day. I like that. I think if it brings more people to watch the women's race, I think that's always a great thing. Competition I think brings out the best in people, so all four of us in the same race on the same day will kind of be like a preview of the Olympic trials in a few years. I'm sure it'll be exciting and kind of dramatic. I personally was thrilled to see that field. I didn't know they were racing when I signed up [for Boston], so it was exciting to see everything come together.
Since no U.S. woman has won in Boston since 1985, would it mean anything extra to you to break that streak?
MH: That would be amazing. I mean, it would be amazing just to win a marathon major, just because of the quality of competition. It's similar to that of a World Championship, they just happen to have six of them a year. Just that right there would really be great proof that I'm a marathoner, and it's an event I can do. It would probably be the biggest win of my career. Just to win Boston, it's such an iconic race. Everyone who runs knows what the Boston Marathon is about and how much history is there. I just think if you could pick a day and place to win, it would be Patriot's Day in Boston. It would be a dream, but I'm just trying to focus on one step at a time until the start line.
Will you only run marathons from here on out in your career, or will you still participate in other disciplines as well?
MH: I might still run a few track races in between marathons, but I just think that I'm at an age where the marathon, if I was going to do it at all, I'd have to start. I would love to run it at the next Olympics. The marathon seems like an event you can have success with later into your 30s, so I feel like it almost allow me to extend my career if I prove I'm as good at it as I was on the track. That's exciting to me. And just that it's a new event, I just think when you're in the sport for so long, you need those new challenges. So that really drew me to it. And there have been many challenges. It's such a long event that you have to worry about so many things on race day, and that kind of gives you hope. Because if you get yours right, you could beat someone who maybe you wouldn't normally beat.
Has there been an area of your preparation that you've really focused on?
MH: We've really been trying to dial in on the fueling and I went to the Gatorade Sports Science Institute to really nail that. I feel like that's an area where if I get that right, that could be the difference between winning and losing. It's not something I overlook. I was a science major in college, and so to me that's one of the things I've focused on and don't take lightly.
The route of the Boston Marathon is notable for its unevenness and elevation changes. How much have you trained for that and how familiar with the course are you?
MH: My coach has run Boston and a few of my training partners, and even some of my friends who have run have all said the same thing. You can't underestimate the downhills and when you get to the Newton hills, your legs are going to feel really bad from all that downhill running. So we tried to keep that in the training. You don't want to do downhill running to the point where you hurt yourself. It's kind of a reckless thing to do in training, but we have tried to workouts for that. I've run the course fully through one time at an easy pace just to kind of see where the landmarks are.
Photos: The Boston Marathon through the years:
[bdc-gallery id="138482″]