Boston Marathon
Could 2018 see the first U.S. women's Boston Marathon winner since 1985?
Four of the five fastest women's marathoners in U.S. history will run in Boston.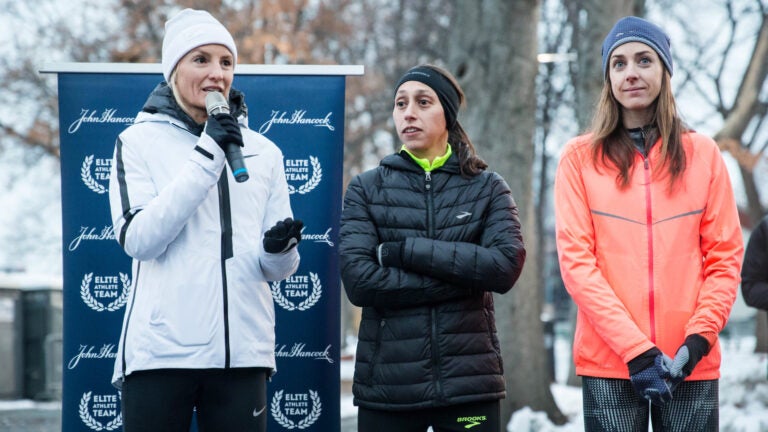 For nearly three decades, American runners tried and failed to win the Boston Marathon. After Lisa Rainsberger in 1985, there were no American victories again until 2014. Then, behind a miraculous effort from 38-year-old Meb Keflezighi, the U.S. men had their first win since 1983.
American women are still searching for a 21st century champion. Several attempts have come close, including Kara Goucher's third-place effort in 2009 and Desiree Linden's second-place finish in 2011. Yet an American win continues to prove elusive.
In 2018, the drought may finally end. Unlike Keflezighi's win, which was an upset by any measurement, the U.S. women have several pre-race contenders in the field. Among the 20 fastest personal records in the elite women's field, seven are held by American runners.
With Shalane Flanagan, Jordan Hasay, Deena Kastor and Linden, four of the five fastest U.S. women's marathoners will toe the starting line in Hopkinton. They will be joined by fellow American runners Serena Burla, Molly Huddle and Kellyn Taylor, all of whom have top-20 times as well. It's one of the strongest fields of U.S. runners in decades.
"I feel like that's one of the main storylines of the race is just having such great head-to-head match-ups on the women's side," Huddle said in an interview with Boston.com.
Flanagan, who experienced a dramatic 2017 victory in New York, returns to Boston after ending speculation that she would retire. The 36-year-old, who grew up in Massachusetts, felt compelled to return after missing the 2017 edition with an injury.
"To me, Boston is just so personal," Flanagan told CBS Boston in December. "And I felt like I would have a lot of regret if I didn't come back."
Hasay, 26, made her marathon debut in 2017 with a pair of impressive third-place finishes. Her first competitive marathon came in Boston last April, where she ran the fastest debut time for a U.S. runner ever (2:23). In October, she ran the second-fastest marathon by a U.S. female runner (2:20:57).
Linden has come closer than any U.S. runner in the 2018 group to actually winning in Boston. Along with multiple top-5 finishes, Linden challenged all the way to Boylston Street in 2011, losing within sight of the finish line. The 34-year-old is in a minority of runners who have set their personal record in Boston, given its challenging course.
Kastor is one of the most successful U.S. runners of all time, with two wins at marathon majors (Chicago in 2005 and London in 2006). Her victory in London smashed the U.S. women's record, at 2:19:36. Kastor, 45, broke the U.S. masters marathon record at Chicago in 2015.
Huddle makes her Boston debut in 2018, though she enters as an experienced Olympian and U.S. record holder in several disciplines. At 33, she's begun focusing on marathons following her 2016 debut in New York (where she finished third at 2:28:13).
Even amid a wealth of talent, chances of seeing an American female champion in 2018 remain uncertain. The defending champion, 38-year-old Edna Kiplagat, returns to try and repeat. And 33-year-old Aselefech Mergia comes to Boston with the best personal record time of any female runner in the field (2:19:31).
Buzunesh Deba, the 2014 champion (crowned after Rita Jeptoo was stripped of the title for drug usage), returns to try and top her course record (2:19:59). And 25-year-old Gladys Chesir is a rising talent, having placed second in her marathon debut in Amsterdam last October.
One additional factor to consider is Boston's course and conditions, which have always been a wild card (rain and wind is predicted for Marathon Monday). Mergia has never run in Boston, and will find its fluctuating elevation different than Dubai, where she set her field-leading personal record in 2012. Conversely, aside from Huddle, all of the major U.S. contenders have experience in Boston.
Photos: The Boston Marathon through the years:
[bdc-gallery id="138482″]