Boston Marathon
Pretend you can fly at this Boylston Street Boston Marathon mural
Find the wings near the finish line.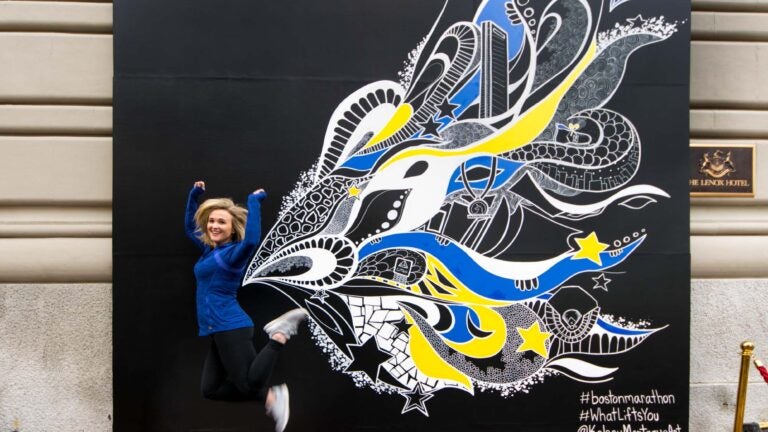 At the end of March, giant blue and yellow wings appeared on the corner of Boylston and Exeter Streets.
The "wings," part of a detailed acrylic mural gracing the side of The Lenox Hotel between its main entrance and the Lindt Chocolate Shop, are the historic building's 2018 Boston Marathon tribute.
They're also part of Denver-based artist Kelsey Montague's #whatliftsyou series, which has unveiled wings in cities from San Diego to New York. Even the Smithsonian has a pair. This edition, in the marathon's signature colors and only 250 feet from the finish line, follows Montague's debut in Boston on the Rose Kennedy Greenway last year.  
"We wanted something super interactive, and her work is also very beautiful," said Alison Majka, the Lenox's director of catering.
Using acrylic pens, Montague specializes in social media-friendly street art, which is deliberately positioned for passersby to pose with.
"The idea was that people could stand in front in a running motion and have the wings on their backs," Majka said. "But people have taken up all sorts of positions — someone even had the wings coming out of their mouth. It's been a big hit on Instagram."
Montague said she wants to use social media in a positive way, and that she took inspiration directly from the Boston Marathon while she was working.
"The focus was this magical wind that lifts you up," she said. "There's all this energy vibrating from you."
As this year marks the fifth anniversary of the marathon bombings, that day in 2013 was also on both Montague's and the Lenox Hotel staff's minds as they collaborated.  
"We are celebrating the resilience of the city," Majka said. "We really wanted something that is positive, and creative. We wanted to deflect from the negative impact of 2013."
Majka said the mural will remain in place through April and maybe into May. Then it will be taken down and stored for future appearances. In the meantime, Montague will return to Boston in a few weeks to work on a commission for the Boston Ballet.
For now, Montague advises people to check out the marathon mural.
"Step into it and enjoy it," she said.
Photos: The Boston Marathon through the years:
[bdc-gallery id="138482″]