Boston Marathon
Mary Shertenlieb is running the Boston Marathon to show there is hope with a cancer diagnosis
"You can be in such a dark place and then five years later be running a marathon."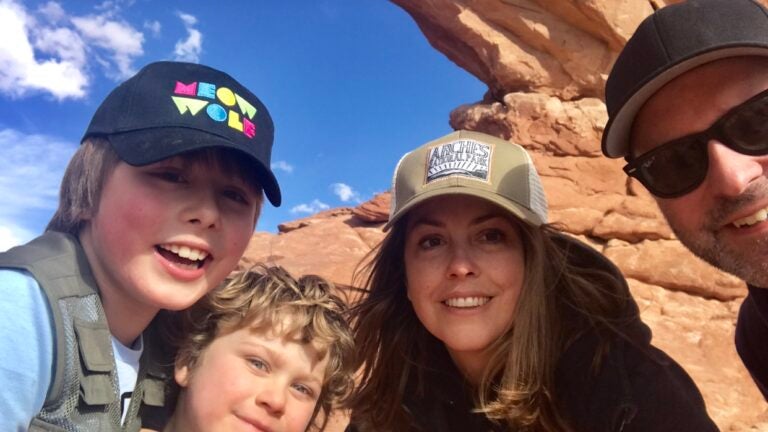 Five years ago, Mary Shertenlieb was with her family in their apartment, eight floors above 755 Boylston St., as runners made their way toward the finish line of the Boston Marathon.
It was an unusual Marathon Monday for Shertenlieb.
On Patriots Day, she usually took her two young sons, Hank and Max, downstairs to watch the runners complete the 26.2-mile race. But in 2013, her doctors had ordered her to stay inside.
It was too risky, she was told, to be in the crowd, surrounded by people's germs while she was undergoing her chemotherapy treatments. She'd received the shocking news in February that she had leukemia — notified by a call in the middle of the night after having some blood work done that she had to go to the emergency room and start chemotherapy "within the hour."
She spent five weeks in the hospital and achieved remission, but still had to undergo treatments for another three months, which took their toll on her immune system and left her vulnerable to what would normally be harmless infections and germs.
Shertenlieb said when a bomb went off at street level just before 3 p.m. that afternoon, she and her husband, Rich Shertenlieb, one of the hosts of 98.5 The Sports Hub's Toucher & Rich show, didn't know what to do.
"The building that we lived in shook," the 42-year-old recalled in an interview with Boston.com. "We didn't know if maybe the building was falling. No one knew exactly what was going on. But in that moment, we took the boys, ran down the stairs."
When they reached the ground floor, they found the glass door to the building blown out — the lobby filled with people injured from the blast.
"After that — I still haven't gone down to watch the marathon," she said. "And it was one of my favorite days of the year. I used to go down every single year. And since then, even though I've had good friends running in it — it's been hard for me to get down there."
But this year, Shertenlieb will return to Boylston Street, this time as a participant in the 122nd Boston Marathon.
"Face my fear of going down to the finish line and just run it," she said of her decision to take on the race.
There's been more than one obstacle in her path to running.
On the day of the bombings, Shertenlieb and her family rushed from the building to the nearby home of a friend on Marlborough Street, where they stayed the night. For the next two weeks they stayed at a hotel, unable to get back into their home while investigators evaluated the scene and the structural integrity of the building.
"Thankfully we have a great community who all kind of came together," Shertenlieb said.
Friends gave them clothes, brought toys to keep their children, 5 and 2 years old at the time, entertained, and a nurse at Beth Israel Deaconess Medical Center, where she was a patient, brought her medicine outside to her when the hospital was in lock down.
But even once they were able to return, Shertenlieb said things were not the same. A year after the bombings, they moved.
"Just about every day that we would go into the building, somebody would be there taking pictures of the spot," she said. "It just made my husband and I so sad that something so tragic had turned a little bit into a tourist stop or something. And it was hard to walk through our doors."
There were other difficulties too.
It turned out that Shertenlieb's battle against leukemia wasn't over.
She found out three days before Christmas in 2013 that her cancer had returned and she needed a bone marrow transplant. Luckily, her sister was a match and the procedure was performed in February 2014 at Dana-Farber.
But then in July 2014, she got the news that she'd had another relapse.
"This time they were like, 'We're going to hit you with every heavy chemo that we possibly have because we really want to nuke this thing once and for all,'" the mother of two said. "So I tried this med that only 20 other people in the country had tried, so I sort of like signed my life away. I was like, 'Whatever it takes.'"
She's been cancer-free since August 2014.
Shertenlieb said as she started to feel healthier and started to return to running a little bit (she ran track in high school), her thoughts turned toward running the Boston Marathon.
"When I was sick I sort of clung to stories of hope of people who had made it through and ended up doing something," she said. "And I thought that if maybe I could just give one person a bit of hope by doing this, then I feel like it's worth running all these 26 miles."
Tackling the race on the five-year anniversary of the bombings and her diagnosis just seemed right.
Training has not been easy, however. A broken toe prevented her from running in December, and in mid-January, she was diagnosed with a bad case of shingles that landed her in the hospital because of the immunosuppressants she still has to take and she was told she couldn't run for three weeks.
Then she got a bad case of the flu in February.
"The training for it has not been what I wanted it to be," she said.
Shertenlieb said she considered postponing her run to another year — she'd already met her fundraising goal for Dana-Farber.
"My husband's like, 'You know what, even if you have to walk a chunk of it, I think you should do it. Because what if you get sick again next year?'" she said. "We have this joke because every January I seem to get this odd illness, like the shingles, that people don't usually get, because of the immunosuppressants."
In the weeks before the marathon, Shertenlieb said she is feeling determined — her time may not be good, but she is going to finish the race and her family, her sons now 10 and 7 years old, will be there on Boylston Street to cheer her on.
"I'm think I'm going to finish it, and I'd like to finish it before they take the clock away," she said. "That's my goal."
Shertenlieb said positive stories and messages from her husband's listeners and the community around Boston helped her during the weeks she was in the hospital.
Now she hopes her own run will help spread awareness and hope for others battling cancer and their families.
"You can be in such a dark place and then five years later be running a marathon," she said.
Photos: The Boston Marathon through the years:
[bdc-gallery id="138482″]