Boston Marathon
Here's David Epstein's forecast for the weekend and Marathon Monday
On Monday, a storm system approaching from the west will drag a series of frontal systems through the region.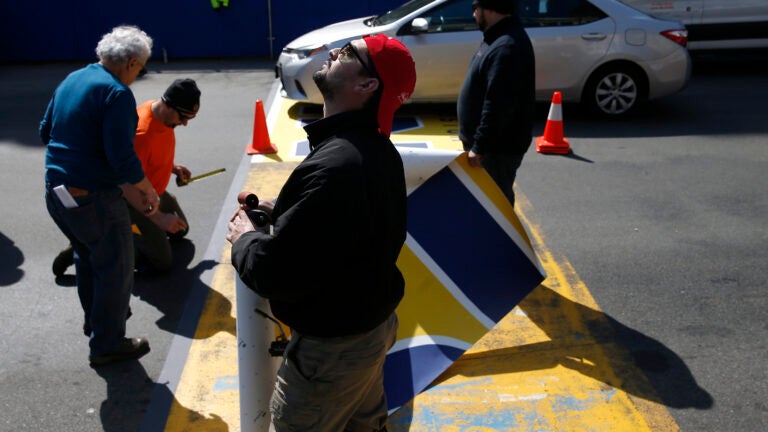 You likely noticed that it's finally a lot milder and felt more like spring Thursday. We have one more nice day Friday before the chill comes back Saturday and Sunday.
The weather pattern remains quite changeable with cold air still firmly entrenched across Canada. It doesn't take much to push that air back into New England. Optimistically, I do see this pattern we've been in relaxing once we get beyond Tuesday. This doesn't mean we're going to have beach weather, but I think it will be more conducive to what you'd expect April to be like rather than the way it has felt the past several weeks.
Friday will feature a blend of clouds and sunshine, but at times the clouds may be the dominant feature in the sky. Although Friday will be quite warm, it's not going to last. There's a backdoor cold front that is going to slip south from Maine and usher in much colder air for Saturday and Sunday.
Back to that winter feeling
From a meteorologist's standpoint, it's incredibly interesting to me what's going to happen on Saturday. The front that will come down from Maine will have one of the greatest temperature contrasts we'll see all year. Between the warm side and the cold side of the front, there will be about a 50-degree difference, and, while that is not unprecedented, it's the speed at which the temperature could change that is so remarkable.
On Saturday morning the exact position of this front will determine whether you wake up and step outside to very chilly air or whether it feels like spring. No matter what happens during the morning, by afternoon the cold air will win out and all of us will be back into the 20s and 30s by Sunday morning.
Sunday is one of those days where the cold will feel like it's going through you. Temperatures in the afternoon will be in the upper 30s and lower 40s along with a lot of clouds and perhaps some drizzle, a shower, or some sleet. There could even be freezing rain along the border of Massachusetts and New Hampshire. There will be more serious freezing rain and sleet in northern New England, and it could turn into an ice storm in northern Vermont, New Hampshire, and western Maine.
Lousy marathon weather
On Monday, a storm system approaching from the west will drag a series of frontal systems through the region. As the warm front pushes through, we will see some showers. Behind this front, temperatures will get into the 50s. Later in the day, a cold front will sweep eastward and bring a band of heavy rain and even the potential for thunderstorms. Basically it's another one of those days where every few hours the weather will be a little bit different.
For the runners, it will be quite chilly in the morning as they arrive in Hopkinton. With showers around, the wet will only add to the chill. The good news is that temperatures will get into the 50s, and perhaps even 60s, late in the morning or in the early part of the afternoon.
https://giphy.com/gifs/g0vZb54ncTjXKLhp27
Winds will be gusty from the south, which is neither a head nor a tail wind but blows the runners from the right side toward the left for most of the race. There could be some thunderstorms as well in the afternoon, which I'll be keeping an eye on.
There may be enough rain in the area to postpone the Red Sox game, but we'll have to wait and see just what radars look like as we get closer to Monday.
Tuesday clears out, and it's a more typical April pattern the rest of the week. By the way, I think we are done with accumulating snow unless there is some highly anomalous event in May.