Boston Marathon
14 runners who will inspire you on Marathon Monday
Thousands of runners are bringing their grit and determination to Boston.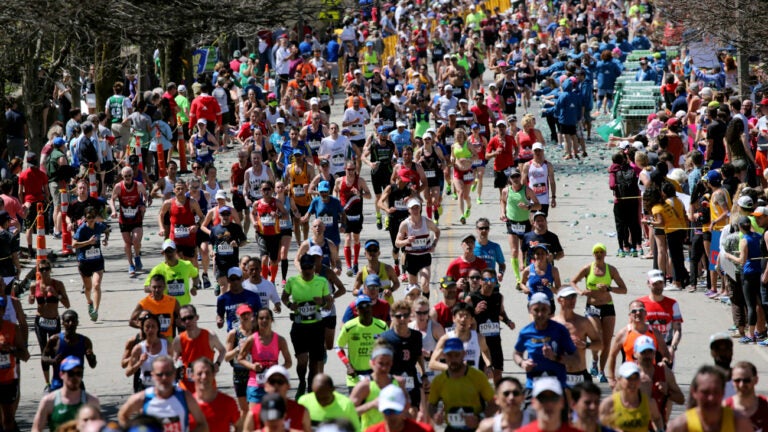 On Monday, thousands of people will fulfill a goal they've been working toward for months, if not years — to cross the finish line of the Boston Marathon.
They all have their own reasons for conquering the run from Hopkinton to Boston. For some, the podium is the goal. For others, it will be the first time they make the 26.2-mile trek. And for many, the race is a way to remember loved ones, give back to communities, and create change.
No matter the reason, it won't be hard to find inspiration watching the athletes — professional and not — persevere through the miles on Monday. Here are just a few of the runners participating in this year's race whose drive — and dedication to causes bigger than themselves — will give you hope and make you cheer.
1. Jennie Sheridan
When Marblehead resident Sheridan crosses the finish line on Marathon Monday, it will be the 46-year-old's 10th — and last time — completing the 26.2-mile trek to Boston, running to raise money for Dana-Farber.
"10 years ago, the ball was set in motion to become a member of the Dana-Farber Marathon Challenge team for the first time," she says on her 2018 fundraising page. "My older sister, Molly, lost her life to cancer a few months before, and 2 of my other siblings, Mary and John, were in the thick of continued treatments. It was the right time for me to do something. Over the coming 3 years, cancer's impact on our family would continue to grow as both John and Mary lost their lives to this horrid disease. They inspired me to take the first steps and have carried me over the miles every year since."
She's raised more than $366,000 for cancer research through running in the last decade, and was honored by Dana-Farber this year as one of their top fundraising marathon runners of all time. (Sheridan's fundraising page)
2. Jaymi Cohen
Cohen was cheering for runners on Boylston Street in 2013 when the two bombs went off near the finish line. The second explosion sent shrapnel into the legs of the Tufts lacrosse player, creating 40 to 50 dime-sized wounds. The 24-year-old was helped by two strangers and treated at Massachusetts General Hospital.
Now she's running on the hospital's marathon team to raise money for the fight against pediatric cancer.
"April 15th, 2013, was not an awful day. Sure, two brothers tried to instill fear in Boston, but they messed with the wrong city," Cohen said. "And that's why I run. I run because two strangers approached me and wrapped their sweatshirts around my legs to stop the bleeding. I run because the staff at MGH were so supportive and calm in a time of confusion. And I run to use my athleticism as a vehicle to help others." (Boston.com)
3. Brendan Good
This 30-year-old has run the Boston Marathon seven times. He'd already qualified for the 2018 race in September when he went to the doctor after he began experiencing some numbness in his face.
He was told it was most likely Lyme disease — instead he was diagnosed with multiple sclerosis.
"Brendan runs because he refuses to be defined by his condition," the 30-year-old's fiancée, Kelly Lannan, said. "He runs because running has always been a huge part of his life. He runs because he loves the city of Boston and Marathon Monday is his favorite day. Brendan runs to inspire and encourage those next to him on Boylston Street to just keep going." (Boston.com)
4. Mary Shertenlieb
The road to running the 26.2 miles from Hopkinton to Boston has not been an easy one for Shertenlieb, 42. The Boston resident was diagnosed with leukemia in February 2013 and was forced to undergo multiple treatments — including a bone marrow transplant — when the cancer kept returning. She and her family were also living above Boylston Street where the second bomb went off in April 2013.
For Shertenlieb, who is running for Dana-Farber, tackling the marathon is a way to face her fear of returning to the finish line of the race while also spreading awareness that there is hope with a cancer diagnosis.
"You can be in such a dark place and then five years later be running a marathon," she said. (Boston.com)
5. Scott Magoon
The 45-year-old illustrator and New England native was running the Boston Marathon in 2013 as an unofficial entrant when the bombs went off near the finish line. Magoon was between the two sites of the bombs — his wife and two sons in the crowd nearby. While they all avoided injury, Magoon has said he and his family struggled with PTSD in the aftermath.
Five years later, Magoon has illustrated a children's book, "Rescue & Jessica," written by bombing survivors Jessica Kensky and Patrick Downes about Kensky's recovery and her relationship with her service dog, Rescue. Magoon is running the 2018 Boston Marathon to raise awareness and funds for the National Education for Assistance Dog Services (NEADS). The Massachusetts-based nonprofit trained Rescue. (Magoon's fundraising page)
6. Chaz Davis
This 24-year-old says he has always dreamed of running the Boston Marathon — but he never thought he would be running blind. Davis was a freshman student-athlete at the University of Hartford in 2013 when he lost his eyesight. At the advice of his doctor, he slowly started running again.
"It was with the help of many organizations and individuals that I began to run again and run at a level I hadn't before," Davis said. "I believe that I would not be where I am without the assistance I received."
By the time he was a senior, he was running in cross country races and in 2016, he represented the U.S. at the Paralympics in the 5,000-meter and 1,500-meter.
Davis is running for the Massachusetts Association for the Blind's Team with a Vision on Marathon Monday.
"As blind people navigate the world, we are often seen as incapable or unable to do things," Davis told the BAA. "Anytime I race, I want to crush that stigma and perhaps empower others to do the same." (Davis' fundraising page)
7. Caitlyn Callinan
What did you do to celebrate your 18th birthday? When this teen from Litchfield, New Hampshire, runs from Hopkinton to Boston the day she turns 18 — Marathon Monday — she'll be the youngest participant in the 2018 race.
"I am running the marathon on my 18th birthday as my senior project for Campbell High School in Litchfield and in support of my grandfather (Wayne Gagne) who has later stage, non-alcoholic cirrhosis," Callinan said. "I am running the marathon for a purpose — to honor my grandfather and his medical struggles. This purpose will get me through the grueling 26.2 miles."
She is running to raise money for the American Liver Foundation. (Boston.com)
8. Thomas Smith
Ten years ago, Smith ran the Boston Marathon as a senior in high school. A few months after that race, the hockey player went headfirst into the boards during a tournament, becoming paralyzed from the neck down. He made a "miracle recovery" after intense rehabilitation and was able to return to the ice.
A year later he again was paralyzed after going headfirst into the boards during hockey practice. Smith once again, paralyzed from the waist down, began to recover. But months later, he was paralyzed for a third time when a distracted driver crashed into his car. Progressive and demanding physical rehabilitation gave him the ability to walk with assistance of canes.
He'll be walking the Boston Marathon on Monday to raise funds for Journey Forward, a nonprofit that assists people living with disabilities or spinal cord injuries.  
"This is going to be a crazy journey for me as it marks 10 years since I ran the Boston Marathon and 10 years since my first paralyzing accident," Smith wrote on his fundraising page. "However, I feel so blessed to be able to walk with my canes everyday and I am honored to be apart of the Journey Forward Marathon Team. No one deserves to live a life that is bound to a wheelchair." (Smith's fundraising page)
9. Loren Zitomersky
The 33-year-old Disney movie production lawyer has an unusual goal for Marathon Monday — to break the world record (3:43:39 set in 2004) for the fastest marathon run backward. Not finish to start backwards — running turned around without being able to see where he's going backwards.
"It's literally going to be the hardest thing I've ever done in my life,"  Zitomersky told the AP. "I'm by no means 100 percent sure I'll manage it, but I'm going to give it my all. I'll be a wreck, crying my eyes out. I'm going to be a running meme."
Zitomersky is hoping his way of competing in the race will help raise money and awareness for an epilepsy cure. His brother, Brian, died of epilepsy in 1977 before he was born.
"I never got to meet Brian, but his loss obviously had a huge impact on my dad," the L.A. resident said. "He and I started riding bikes and running marathons to raise money for the Epilepsy Foundation. Nobody wants to talk about epilepsy — it's such a stigmatized disorder — yet one in 26 people has it." (The Associated Press)
10. Deshanthi Perera
#CharitySpotlight: For Deshanthi Perera, the opportunity to run this year's #BostonMarathon for @helpkids and raise awareness for organ donation is once in a lifetime. Read more: https://t.co/A7Rg8Vygky #Boston2018 #TogetherForward pic.twitter.com/FzuSXTOy77

— Boston Marathon (@bostonmarathon) February 7, 2018
Four months after Perera's family immigrated to the United States from Sri Lanka, her baby brother, Dinesh, was born with congenital rubella syndrome. She recalls "chasing" nurses around Boston Children's Hospital as a 3-year-old, asking them what she could do to help her little brother feel better. Dinesh passed away around Perera's fourth birthday, and the now 26-year-old says it was her brother's short life that motivated her to become a nurse.
"My parents came to America with their kids, whatever would fit in their suitcases and a dream to give their kids a good education and endless opportunity," the Boston resident said of why she's running. "With Dinesh's passing came grief, heartache and many, many tears, nothing they had expected or dreamed of coming to America. But throughout the entire process, my family felt so supported by the nursing staff and medical team at Boston Children's Hospital. They didn't only take care of my brother, but they took care of my family as a whole. I am forever grateful for the team that was able to provide this type of support to my parents, at the most difficult time in their lives. I was too young to know how."
Perera is running to raise awareness and funds for Boston Children's Hospital, where she is now a nurse on the transplant floor. (Perera's fundraising page)
11. Melissa Greven
On April 16, this "born and bred Massachusetts girl" will be running her third marathon. But it will be the first time the 43-year-old runs the Boston Marathon. The Concord woman is running for the Boston Children's Hospital Miles for Miracles team in honor of her friend's son, Wyatt, who was born with hypoplastic right heart and heterotaxy syndrome and dextrocardia and has been treated at the Massachusetts hospital.
"The reason I'm running isn't about me, and it isn't really about running," Greven said. "It's about hope, and the tireless efforts of Boston Children's Hospital to care for Wyatt and all of the other little miracles out there." (Boston.com)
12. John Young
While most marathoners take 35,000 steps to reach the finish line, a high school math teacher from Salem has to take 80,000. Young, 52, has become an inspiration to other athletes with dwarfism, completing 10 marathons and 50 triathlons.
"A lot of people in my life, especially when I was younger, said, 'You can't do that — you're too small. You can't do that — you're too short. You might get hurt,'" he told the Associated Press.
"I heard that a lot and I used to listen," he said. "Now I don't listen."
This year's Boston Marathon will also mark the beginning of his next goal — to complete 12 marathons in 12 months. (The Associated Press)
13. Lori Riggles
When Riggles was hit by a truck while out on a run two years ago, she wasn't expected to survive. But the 50-year-old teacher from Ramer, Alabama, did more than just recover.
"As I was being wheeled into my home in a wheelchair from a rehabilitation center in the summer, I somehow knew that I would run again," she said. "Hard work does not come close to describing what I have worked on. Now, I am running miles at a time without the wheelchair, thanks to great medical services, physical therapists, occupational therapists, and the inspiration from other runners."
Almost two years to the date from her injuries, Riggles will run the Boston Marathon in honor of her late-grandmother and for Team Fearless, which was founded by pioneer runner Kathrine Switzer. (Boston.com)
14. Tracy Paradise
Paradise is running the 2018 Boston Marathon to raise awareness and funds for Spaulding Hospital , which she credits for saving her wife's life. In 2016, the 40-year-old West Roxbury resident's wife, Jen, was playing golf when she was struck in the head by a ball. The accident left Paradise's wife without the ability to speak.
Five days after Jen was transported to Spaulding for rehabilitation, Paradise went into labor with the couple's first child.
"We have been on unfathomable journey," Paradise said. "I always knew Jen was a fighter and I am so very grateful every day that she had Spaulding to support her and push her to work to her fullest potential. It is because of her therapists' kindness, skill, and know-how that she was able to make such great strides. As with most TBIs, Jen has had her ups and downs, but six months post-accident, Jen returned to teaching part time and within 15 months was back to teaching full time. And, even more importantly, she has not missed a moment of her daughter's life." (Paradise's fundraising page)
Gallery: The Boston Marathon through the years
[bdc-gallery id="138482″]