Boston Marathon
Here's David Epstein's 2018 Boston Marathon weather forecast
Total rainfall from the system will be near 2 inches in many places.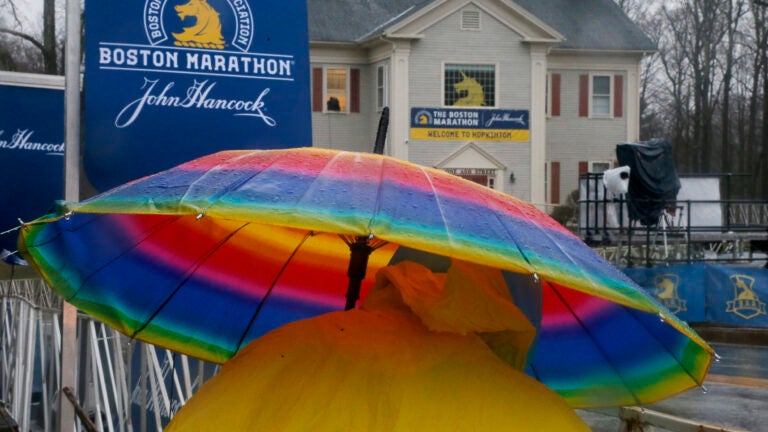 Marathon Monday has arrived, and, unfortunately for those running the race, so has rain, cold temperatures, and gusty winds.
After the record cold on Sunday and a bit of freezing rain and sleet overnight, temperatures will slowly warm about 2 degrees per hour throughout the day. Monday morning temperatures in the upper 30s will warm to the mid-40s by the time the elite runners cross the finish line around noon. It will continue to warm into the mid- to upper 40s later in the afternoon and evening.
It will be gusty too, with winds as high as 35 miles per hour, and it will mainly be a headwind for the runners, driving rain into their faces as they're heading toward Boston. The wind chill will be nasty too, in the 20s and lower 30s for much of the race. Even though they are running, there will be a risk of hypothermia, so people should be prepared to take breaks or find other ways to stay warm.
Monday morning will feature moderate showers that could be briefly heavy. But there's a wall of water to our south and west that we will be watching. As of around 8 a.m. Monday, that band of heavy rain and thunderstorms was moving northeast toward us, and it should arrive in the early to mid-afternoon Monday. There could be some brief torrential rain and street flooding.
Total rainfall from the system will be near 2 inches in many places.
https://giphy.com/gifs/9Dxh2lZwaKGPtjy5q2
One positive side to all this wet weather is that the likelihood of a drought this spring is quite small, especially considering the pattern we continue to be in. I do see some improvement later Monday evening as skies partially clear, and temperatures will not be too cold overnight, generally remaining in the 40-degree range.
Tuesday features a blend of clouds and sunshine, but I can't rule out the risk of a shower. It will be a much better day and actually would have been a good day for the race. Wednesday is my pick for the workweek, with temperatures in the low to perhaps mid-50s in a few spots, along with a blend of clouds and sunshine.
This weekend presently is looking quite nice, with temperatures in the low to mid-50s and a blend of clouds and sunshine. It's something to look forward to after the past couple of days.
Gallery: The Boston Marathon through the years
[bdc-gallery id="138482″]