Boston Marathon
15 notable finishers at the 2018 Boston Marathon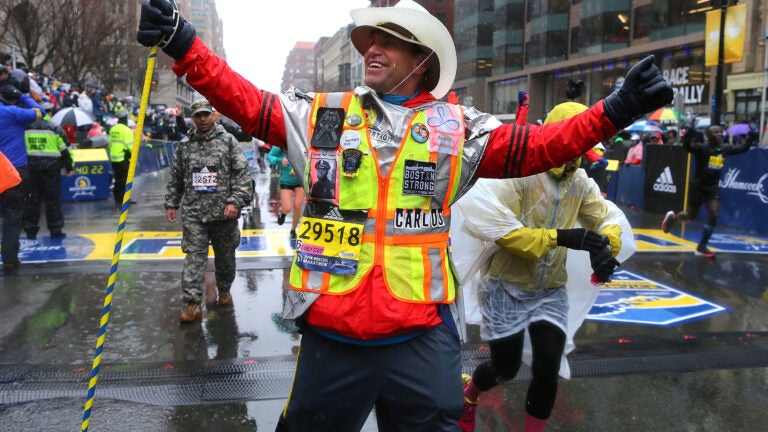 Dreary weather during Monday's Boston Marathon did not deter 27,048 athletes from participating. Here's a look at some of the more notable finishers.
Carlos Arredondo: Famous for his heroics in aiding those wounded in the 2013 Boston Marathon bombing, Arredondo ran the race for the first time, finishing in 6:50:06.
Bennett Beach: The 68-year-old runner from Maryland ran his 51st straight Boston Marathon. He completed the race in 5:48:35.
Amby Burfoot: Fifty years after winning the race in 1968, he finished in 4:53:22 at age 71.
Caitlyn Callinan: The field's youngest runner, an 18-year-old from Litchfield, New Hampshire (Monday was her birthday) completed the marathon in 3:49:14.
Chaz Davis: The 24-year-old Grafton, Mass., native and Team USA Paralympian became visually impaired during his freshman year of college. He finished in 2:56:22.
William Evans: The 59-year-old Boston police commissioner ran his 20th Boston Marathon and 53rd overall, finishing in 4:21:54.
Joe Finn: Boston's fire commissioner finished in 5:25:44.
Patricia Hung: The 72-year-old Hung finished in 5:10:13, extending her record streak for a woman finishing the Boston Marathon to 31 years.
Meb Keflezighi: The 2014 champion completed the race in 3:00:13, this time running for the Martin Richard Foundation as a charity runner.
Mike Myers: The former Red Sox lefthander known for his submarine-style pitching was a member of the 2004 World Series championship team. The 13-year MLB veteran logged a 5:07:43 finish.
Jose Luis Sanchez: The former Marine staff sergeant most well-known for carrying a large American flag down Boylston Street in 2017, finished for the third straight year. His time was 5:48:46.
Ryan Wendell: A Super Bowl XLIX champion and seven-year New England Patriot, Wendell ran for the Andruzzi Foundation and finished in 5:54:31.
Sean Quirk: It was a 5:53:31 finish for the Boston Cannons and former Endicott men's lacrosse head coach.
Emma Clark, Brittany Miller, and Sarah Shute: Boston University's assistant women's soccer coach, men's ice hockey director of hockey operations, and field hockey associate head coach all completed the race.