Boston Marathon
5 things to know about Boston Marathon winner Desiree Linden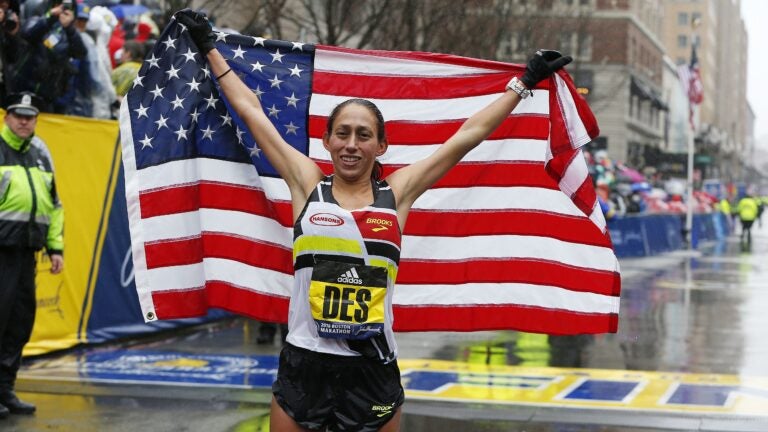 Is it Des, Desi, or Desiree Linden? Whatever you call her, call her Boston Marathon champion.
"I feel like people who are really comfortable with me will just call me Des," Linden told Citius Mag. "My mom calls me Desi. And people who are the fence tend to call me Desi, because that's what my coaches call me. And then everyone else should just call me Desiree, [Gosh] damn it–no, I'm just kidding. Yeah, I mean I don't have a preference. People who know me will just call me Des."
With her win on Monday, Linden became the first American woman to break the tape in Boston since Lisa Rainsberger in 1985, ending the drought on a day when the runners faced a deluge of rain.
Here's what you need to know about the Boston Marathon winner:
Linden came two seconds from winning Boston in 2011.
Before the race, Linden told Boston.com that her goal was to "compete up front and hopefully have that battle on Boylston again. And have a different outcome this time, for sure."
The first battle she was referring to came in 2011, when she matched Caroline Kilel stride for stride down the stretch but fell two seconds short of a laurel wreath. Linden, racing in her marathon debut, crossed the line in a personal best of 2:22:38. People expected her to feel ecstatic about the result, but she had spent four months convincing herself every day that she was going to win the race.
"So when I crossed the finish line second, it was the first time in four months that I wasn't the winner of the Boston Marathon and I was pretty pissed," Linden said.
There was no one to battle on Boylston this time around as she pulled away from the pack and raced alone to the finish line.
Linden, a self-described "bourbon geek," will probably celebrate this win with whiskey.
In an interview with Outside Online, Linden was asked how she drinks her whiskey.
"Frequently!" she responded.
During her travels around the globe for races, Linden has amassed quite the collection of unique bottles. She told the magazine she's collected a Pappy Van Winkle 23, worth a couple thousand dollars, a Black Maple Hill she had yet to open, and a Jefferson's Ocean Aged at Sea Voyage 4. In college Linden drank Jim Beam and Coke, enjoying the vanilla and oak taste, but eventually ditched the Coke and kept the bourbon.
"I try to be a normal human when it comes to having a drink every now and then," she said. "Obviously, I'm not going to over-indulge the day before a big workout or long run, but if I feel like a drink after a long day I'll go for it."
"Desi's husband" is a fast runner in his own right, just not as fast as her.
Ryan Linden ran his personal best in the 2010 Chicago Marathon, blazing to a 2:26:21 finish. Coincidentally, and Des insisted to Salty Running it was a coincidence, she ran her own personal best that day and beat him by one second: 2:26:20. They were dating and training together at the time, but barely saw each other on the course until reuniting at the finish line.
The couple met when Des joined the Hansons-Brooks group Ryan had been training with in Michigan. Des was fresh out of college, working customer service for an online retailer, and Ryan wasn't sure she had what it took to run with the elite group. She did.
Later, in one of his races, spectators shouted "Go Desi Linden's husband!" as he ran past. But Ryan joked that in an Ironman, "I could float on my back and shoot water out of my mouth and still beat her by an hour."
Linden considered riding off into the sunset after a frustrating finish in last year's Boston Marathon.
After a fourth-place finish on Patriot's Day, 2017, Linden was burnt out and basically took five months away from the sport. She told Runner's World that during that time period, she "hated everything about running."
She had crossed the line in a very respectable 2:25:06, but she was in the race to win it. Plus, she was tired and feeling the effects of a post-Olympics hangover. Linden spent the summer fishing and drifting in a kayak on a Michigan lake, then returned to training in September.
"I feel like I'm not getting any better, which is totally normal," she said in November. "And fourth at Boston, 2:25, is a totally fine place to plateau. If I could ride off into the sunset there, it wouldn't be the worst thing. But I feel like I would rather try to shake things up and fail miserably, but at least try, than just keep doing the same thing and getting the same result."
In an Instagram post, Linden wrote, "Did I fail? Yes, but it's OK, live and learn. Go back to work and try again."
Linden worked with, and even waited for, Shalane Flanagan during the race.
Before the race, Linden talked about the camraderie between the American women as they attempted to end the 35-year drought.
"Everyone's looking at this field of American women and I think people are really excited about our chances," she said.
On of those Americans, Shalane Flanagan, had to make a pit stop during the race as she stopped to use a "portable facility" around the midway point. When she got back on the course, she had company in her chase to catch up with the pack: Linden.
The two Americans were spotted chatting during the early miles of the race before they made a move to the front, and when Flanagan took her detour Linden held back. The race's slower pace allowed them to make up the lost ground, and Linden more than made up for it as she burst away on Boylston.
Actions and behaviors show people who you are. Much respect for @des_linden in waiting and helping Shalane get back up to the pack. To me, this shows that they are in it to get an American to win, regardless of which on it is.

— Steve Magness (@stevemagness) April 16, 2018
Bonus: Des Linden has a puppy named Boston.
.@des_linden has a new puppy…and his name is Boston…thinking we need an @jhboston26 team dog ?#packleaders #bostonmarathon pic.twitter.com/M26TeYzHL3

— Boston Marathon JH (@jhboston26) July 11, 2017
Gallery: The Boston Marathon through the years
[bdc-gallery id="138482″]