Boston Marathon
American Desiree Linden wins women's race in Boston Marathon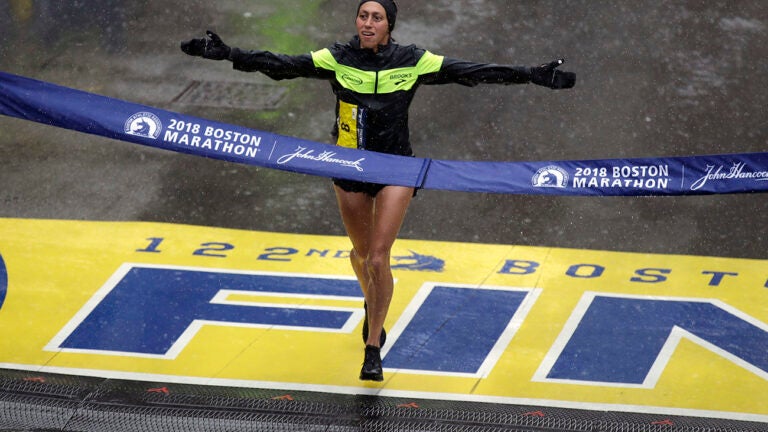 In the first win for an American woman in 33 years, Desiree Linden of Washington, Mich., won the Boston Marathon with a time of 2:33:41 Monday.
With conditions soggy and cold, it was never going to be easy, and Linden made her push on Heartbreak Hill, often described as the hardest point of the course.
It was there that Linden overtook Mamitu Daska of Ethiopia and then Gladys Chesir of Kenya. Daska had been in the lead since the 20k mark, and it was actually Chesir who overtook her first. Coming up the hill, she and Linden chipped away at what had been a 27-second lead for Daska. As they hit the 35 kilometer mark, though, Linden moved into first and didn't look back.
From there, Linden was not challenged. She ran alone, keeping her black outer layer with a yellow stripe on for the whole race. As she ran toward the finish, she looked back to see no challengers, and as she made her final push down Boylston Street, there were only gusts of wind and the cheers of onlookers to keep her company.
It was a tough race in general, with Linden's time the slowest women's open winning time in 40 years, far off Bezunesh Deba's record of 2:19:59 from 2014.
Linden, a two-time Olympian, finished fourth in Boston last year. This was her sixth time running the race, including a finish just two seconds off the winning time in 2011, when she ran the course in 2:22:38.