Boston Marathon
Runners go to their bag of tricks to beat the elements at the Boston Marathon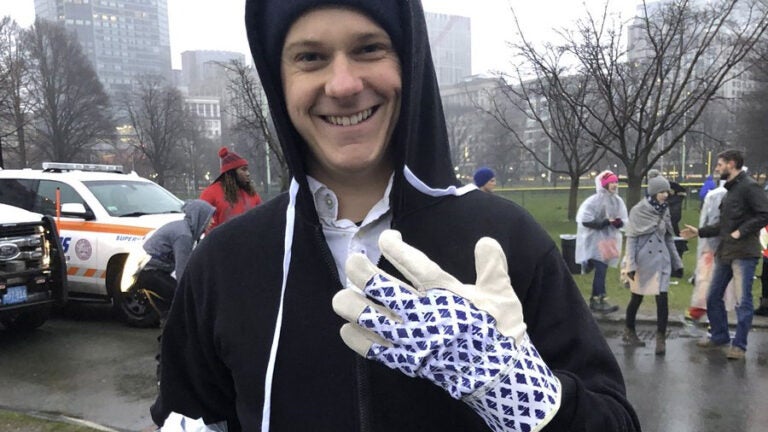 Mitch Raney had two goals after he qualified for the Boston Marathon following his performance at the Grand Rapids Marathon in Michigan last October. He simply hoped to finish the race, and run a time faster than three hours and 25 minutes to qualify him for Boston next year.
Then Raney refocused his goal and the race took on a more profound meaning after an unexpected gut punch.
"My brother-in-law passed away on my birthday a few weeks ago, so I'll be thinking of him when I'm running the whole time,'' Raney said. "Today, it's going to be hard.''
Raney's focus on remembering his brother-in-law, Franz, helped distract from the biting weather. He took shelter in an entrance to the Tremont Street parking garage, one of the few warm spots on Boston Common, as he waited to board a bus for Hopkinton.
Of course, warm was a relative term on Monday morning. It was a chill-inducing 38 degrees at the starting line in Hopkinton, described as the coldest in 30 years at the Boston Marathon. Wind and rain whipped intermittently as runners boarded the school buses.
"I'm feeling super super nervous and have been for the last couple days, but I'm also excited,'' said Raney, who is from Bloomington, Indiana.
Liz Libby, one of several volunteers on hand, did her best to greet participants and direct them accordingly. The Lynn resident has volunteered more years than she can remember, having lost count after 20 Boston Marathons.
Monday was undoubtedly the worst conditions.
"We're just trying to tell them to be happy,'' Libby said. "Just trying to give them that good high before they get on the bus. They're so focused. We're just trying to give them one smile and take pictures for their loved ones.
"It's really inspiring. They're still out there running. A lot of them are not from here so we're just trying to show them the nice side of Boston.''
Libby's nieces, Marcia Libby and Michelle Carter, have also volunteered for 14 and 17 years, respectively.
"I just love all the exuberance you can give to the runners,'' Marcia Libby said. "They're not even awake yet.''
Trash bags were popular for runners trying to preserve themselves from the elements. The cheap, and more importantly, disposable household item provided just enough protection from the rain. Plastic shopping bags were effective, too, as runners tied them around their sneakers to keep them dry from the rain and mud.
John Ellenbecker, a runner from Minneapolis, Minnesota, arrived last Wednesday when temperatures were warmer. As the forecast began to predict less favorable conditions, Ellenbecker went to Target and bought a hat and gardening gloves – the durable, waterproof material a key for the race.
"This isn't too bad with the winter we had in Minneapolis,'' Ellenbecker said. "It was probably negative 10 a couple of those days [training].''
There was an abundance of support from relatives and friends sending off participants, which was why Baxter Overton and Susan Snyder stood in the rain all morning. They were wishing their son Kenny well in his first Boston Marathon after qualifying in Toronto.
Kenny's girlfriend, Sylvia Alba, helped waterproof all of his gear. Their secret was camp dry spray, often used on the outside of tents to keep rain from seeping in. Alba sprayed his shoes, shorts and socks, all part of the effort to help Kenny Snyder to his goal of three hours.
After a quick kiss and hug, Snyder was off to the bus, while his family hoped to catch a quick nap before meeting him at Heartbreak Hill.
"We just told him,' Be careful, we love you, and good luck,'' Susan Snyder said.